Sci-Fi Movies That Are Going To Blow Everyone Away In 2018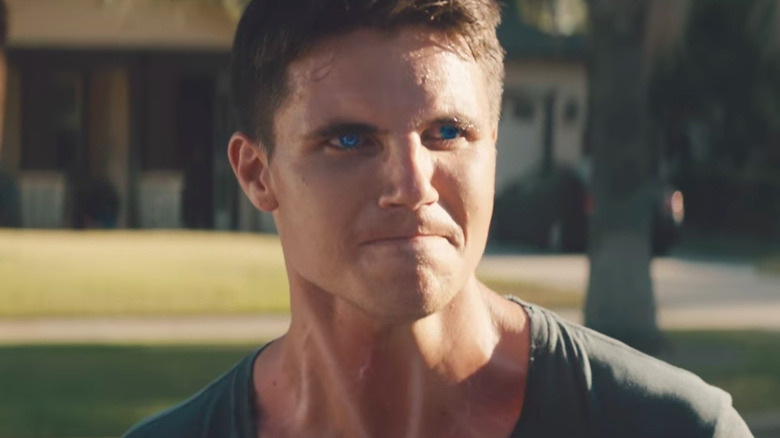 It looks like 2018 is shaping up to be a great year of big-screen eye candy for science fiction fans. From the latest entry in the Star Wars saga to new movies based on favorite books and mangas, there's going to be something for just about every type of genre enthusiast in 2018's slate of sci-fi films. 
Thanks to early trailers and promo clips, we've already gotten our first glimpse at many of the year's top releases — and although in other cases it's a little hard to predict how good a movie will be when trailers or even plot details aren't fully available yet, we can make some educated guesses on which ones will be worth your time and your hard-earned movie dollar. Here's a look at the upcoming sci-fi movies that we think will be the ones you'll want to watch for when they hit theaters in 2018.
Solo: A Star Wars Story - May 25, 2018
Solo: A Star Wars Story hit some bumps along the way, but it's still one of the must-watch movies of 2018. The movie focuses on a young Han Solo (Alden Ehrenreich) and his exploits before the events of Star Wars: A New Hope. The rest of the main cast includes Donald Glover as Lando Calrissian and Joonas Suotamo as Chewbacca. Woody Harrelson, Emilia Clarke, Thandie Newton, and Phoebe Waller-Bridge appear in supporting roles.
Lucasfilm/Disney paused production on Solo in early 2017 when co-directors Phil Lord and Christopher Miller were fired after "creative differences" with executive Kathleen Kennedy and screenwriter Lawrence Kasdan. Ron Howard stepped in to finish filming, which wrapped in October 2017. Disney gave fans a brief glimpse of  Solo during the Super Bowl before revealing the first full-length teaser the next day. On April 5, the first official trailer appeared on the Star Wars YouTube channel, followed by dozens of clips, teasers, cast and crew interviews, and other behind-the-scenes features. Among the best is the "Becoming Solo" featurette, which offers a glimpse into Solo's Empire-controlled galaxy and explains how it shaped the titular character into the man we know and love from the Skywalker saga.
The film's world premiere on May 10 generated plenty of excitement and optimism among attendees, and early reviews indicate that the cast and crew of Solo absolutely killed it. Even Harrison Ford himself had nothing but praise for star Alden Ehrenreich. "I just thought it was spectacular, and I thought he was so smart about what he did and how he did it," Ford told Entertainment Tonight. "I just couldn't be happier." Advance sales for the film opened on May 4 (of course).
Future World - May 25, 2018
The upcoming science fiction film Future World definitely sounds intriguing, and has a cast filled with star power. Starring James Franco (who also co-directed), Future World's distribution rights in China were immediately snapped up by Phoenix Legend/Road Pictures in late 2017. Lionsgate landed the domestic rights, setting a release date of May 25, 2018. The film will also be available on streaming services the same day. Bruce Thierry Cheung (Bukowski) joined Franco for directing duties on Future World, working from a screenplay adapted from a original short story written by the star.
The official trailer was revealed in April 2018, and Future World looks to be a wild ride inspired by a wide range of sci-fi classics. In some scenes, it looks like Mad Max, while others are more reminiscent of Resident Evil. According to the plot synopsis, Future World is set in a not-too-distant future and focuses on a prince (Jeffrey Wahlberg) who must leave his safe haven at "The Oasis" and travel across the violent post-apocalyptic wasteland to find a cure for his dying mother (Lucy Liu). During his journey, the prince meets a warlord (Franco) and his robot Ash (Suki Waterhouse), the last of the sentient robots that nearly wiped out humankind. Franco, Wahlberg, Liu and Waterhouse are joined by an eclectic supporting cast including Milla Jovovich, Scott Haze, Method Man, and Snoop Dogg.
Jurassic World: Fallen Kingdom - June 22, 2018
Due to hit theaters on June 22, 2018, the newest installment in the Jurassic Park film franchise promises a return to its roots as well as a much darker tone along the lines of The Empire Strikes Back. While we don't have full plot details yet, here's what we know so far: Chris Pratt, Bryce Dallas Howard, and B. D. Wong will reprise their roles from Jurassic World, and Jeff Goldblum is back as the philosophical Dr. Ian Malcolm — his first return to the franchise since 1997's The Lost World. Malcolm's importance in this sequel is hinted at strongly in the film's tagline: "Life Finds a Way." Joining this returning cast are some new faces, including Academy Award nominee James Cromwell as the former partner of Jurassic Park founder John Hammond, as well as Daniella Pineda, Ted Levine, Rafe Spall, Toby Jones, Geraldine Chaplin, Daniella Pineda, and Justice Smith in supporting roles.
Universal released the first official trailer for Fallen Kingdom in December 2017, which was followed by a "final trailer" in April and several other other teasers. These clips reveal that Fallen Kingdom focuses largely on the abandoned Isla Nublar and its remaining dinosaurs, including the original Jurassic Park Tyrannosaurus Rex. An imminent volcanic eruption puts them all at risk, but that's not the only danger they face. As Claire and Owen try to save the creatures and his trained raptor Blue, they also uncover a conspiracy of epic proportions. A greedy businessman and his lab plan to steal dinosaurs from the island and even hatch their own to sell to the highest bidder. With a promise that this sequel will be "more suspenseful and scary" than previous installments, and horror film director J.A. Bayona at the helm, we're sure Jurassic World: Fallen Kingdom will rank among the biggest summer blockbusters of 2018.
The Darkest Minds - August 3, 2018
The Darkest Minds is an upcoming science fiction/superpowers movie based on the novel of the same name by Alexandra Bracken. It's being directed by Annie Award-winning Kung Fu Panda 2 director Jennifer Yuh Nelson, who will be making her live-action directorial debut with The Darkest Minds. 20th Century Fox released the first official trailer for the film on March 28.
Years after a disease sweeps America, killing nearly all of the children, the surviving kids develop uncontrollable superhuman abilities and are confined to internment camps around the nation. Amandla Stenberg — who you may recognize as "Rue" from The Hunger Games — will star as Ruby, a girl who decides to break out of the camp and join a group of rebel teens in a plot to bring down the authoritarian government which wants them kept under lock and key.
Joining Stenberg are Harris Dickinson, Mandy Moore, Patrick Gibson, Skylan Brooks, and Gwendoline Christie, who will play a brutal bounty hunter tasked with tracking down the missing teens. Being based on a young-adult novel, the live-action adaptation of The Darkest Minds will likely be a PG-13 film that will appeal to teens and families in addition to adult fans of the books and dystopian sci-fi in general. It's scheduled to premiere on August 3, 2018.
Replicas - August 24, 2018
Slated for an August 24 release, Replicas is an upcoming science fiction thriller from director Jeffrey Nachmanoff (The Day After Tomorrow, The Tourist). Although Replicas isn't due to hit theaters until August, the film premiered at the Toronto International Film Festival in September 2017 — and a full trailer for the movie is available already. Replicas stars Keanu Reeves as Will Foster, a synthetic biologist who uses a cutting edge (and highly illegal) experimental procedure to bring his family back to "life" after they're killed in a car accident. In the process, Foster puts himself and his family at risk by drawing the attention of a special police force and a government-controlled laboratory. Alice Eve (Star Trek Into Darkness) plays Will's wife Mona, with Thomas Middleditch, Emily Alyn Lind, John Ortiz, Emjay Anthony, and Nyasha Hatendi rounding out the main supporting roles. 
The Predator - September 14, 2018
The upcoming sci-fi sequel The Predator should provide plenty of entertainment for diehard fans of the Predator franchise and new audiences alike. Set in 2018, The Predator's storyline occurs between the events of Predator 2 (1990) and Predators (2010). The first official trailer dropped in May 2018, providing fans with a tantalizing first look at the film. In it, the Predators enjoy their favorite Earth pastime — hunting humans — while government officials try to figure out how to stop them without revealing their existence to the world. Even worse, it appears that the Predators have been experimenting with hybridization to make them even more powerful as hunters. 
The Predator stars Boyd Holbrook as Quinn McKenna, an ex-Marine who recruits a team to help him hunt the Predators. Rounding out his team include Game of Thrones star Alfie Allen, Olivia Munn, Trevante Rhodes, Keegan Michael-Key, and Sterling K. Brown. Jake Busey makes an appearance as the son of "Peter Keyes" from Predator 2 — a character previously played by Jake's real-life father, Gary Busey.  Other supporting cast members include child actor Jacob Tremblay as Quinn's son, Yvonne Strahovski, and Edward James Olmos.
Filming wrapped in June 2017, and the movie will open in theaters on September 14, 2018. Shane Black (who played "Hawkins" in the original Predator) has returned to the franchise — this time as the director. In an interview with Collider, Trevante Rhodes revealed that he "can't wait" for people to see The Predator, and called it "ha-ha hard R" — referring both to the violent traditions of the Predator franchise and director/writer Shane Black's legendary sense of humor. Black apparently wants to keep the spirit of the original film alive with this sequel, and has made it clear that it won't be rated PG-13. Cast member Sterling K. Brown has also dropped hints that The Predator will have many "wicked" funny moments, much like the original film. If Black can truly capture the nostalgia of Predator while keeping the story fresh, The Predator should be a 2018 sci-fi blockbuster.
Mortal Engines - December 14, 2018
Based on the novel of the same name by Philip Reeve, Mortal Engines will take us into a futuristic steampunk world following the ravages of a "Sixty Minute War." In this future, cities are now mobile, moving around the world propelled by gigantic engines and wheels. Along the way, the cities cannibalize smaller towns to replenish their own resources. We've gotten a glimpse of this horrifying concept brought to life for the big screen in the first Mortal Engines teaser trailer, which was released in December 2017.
Long-time Peter Jackson storyboard artist and collaborator Christian Rivers will make his feature-film directorial debut with Mortal Engines, while Jackson will produce. The screenplay was also written by Jackson, along with his frequent writing partners Philippa Boyens and Fran Walsh. According to fans of Philip Reeve's novel, it looks like the Mortal Engines movie will focus primarily on the character of Hester instead of Tom, the main character of the book. That's not necessarily a bad, thing, though. Even the author himself approves of the switch, which could be helpful in setting the stage for a new Mortal Engines film franchise. "The first book was seen through Tom's eyes, but [Hester] is the reason there were sequels," Reeve told The Bookseller. "She is the heart and soul. More important than the moving cities, in fact."
Several other crew members from The Lord of the Rings and The Hobbit films are also on board for Mortal Engines, including Zane Weiner and Amanda Walker. Starring Robert Sheehan, Hera Hilmar, Ronan Raftery, and Hugo Weaving, science fiction fans have a lot to look forward to on December 14, 2018 — Mortal Engines should be a visual extravaganza with a compelling story that will blow viewers away.
Alita: Battle Angel - December 21, 2018
Following in the footsteps of Oldboy and Ghost in the Shell, Alita: Battle Angel will bring us the latest science fiction movie based on a manga when it hits theaters on July 20, 2018. The movie is directed by famed director Robert Rodriguez, who has brought us such gems as El Mariachi, Desperado, From Dusk til Dawn, Sin City, Four Rooms, and Spy Kids. 
Starring as the title character is Rosa Salazar, with a supporting cast including Christoph Waltz, Mahershala Ali, Ed Skrein, Michelle Rodriguez, Keean Johnson, and Jennifer Connelly, among others. Plot details have been scarce so far, but we do know that it will focus primarily on the plot of the manga's first four volumes, particularly on the futuristic sport of "motorball." Along with revealing a unique and stylized look for Alita in the film, the first full trailer also teased a battle between the cyborg heroine and Makaku — her first major adversary from the manga. Attendees at CinemaCon in April 2018 got an unexpected treat when Rodriguez and Avatar producer Jon Landau previewed additional Alita footage and behind-the-scenes clips for the audience.
The film has been a passion project of producer James Cameron, who became a fan of Yukito Kishiro's original manga nearly two decades ago. He's been trying to get the film made ever since then, although he's had to delay production along the way in order to finish his Avatar films and develop the additional technology needed to do Alita correctly. With Cameron and Rodriguez leading the way, Alita: Battle Angel is sure to please science fiction fans, action fans, and manga fans alike.
Code 8 - December 2018
Not only is Code 8 the first feature film from actors Robbie and Stephen Amell, it also was nearly completely crowdfunded via an Indiegogo campaign. In 2016, the Amells — who are cousins — released a 10-minute-long short film, which they were seeking to expand to feature-length. In it, the Amells take a much different view on the "mutant/superpower" trope. In their future, approximately four percent of people have various supernatural powers, but they are mostly shunned by the rest of the population. Forced to live on the fringes of society, "specials" struggle with poverty and have to take low-paying jobs as day laborers just to make ends meet. When two of the specials get into a confrontation with militarized police, things go violently wrong.
The short teaser is definitely intriguing, and many of the people who watched it seemed to think so, too: the Indiegogo campaign was fully funded within just a few days, and it has raised over $2 million to date. Starring Robbie and Stephen Amell, Sung Kang, Aaron Abrams, and Chad Donella, principal photography on Code 8 began in June 2017, and is tentatively slated for a December 2018 premiere. It will definitely be one to watch for.