The One Scene That Nearly Ruined Harry Potter And The Half-Blood Prince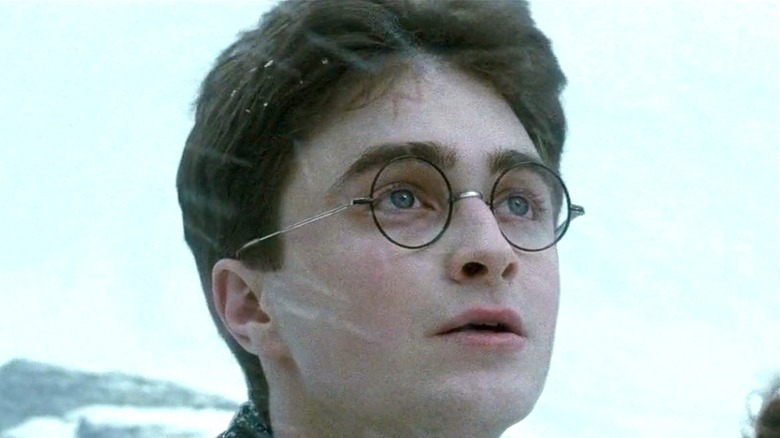 Warner Bros. Pictures
Fans of the Wizarding World have been getting rewarded so far this year — "Harry Potter 20th Anniversary: Return to Hogwarts" premiered on New Year's Day with plenty of interviews and stories from the cast of the original eight films. Daniel Radcliffe, Rupert Grint, and Emma Watson all returned for an emotional reunion that was beloved by Potterheads and critics everywhere (via Rotten Tomatoes). The special was organized in chapters, moving from the first few films to the middle few films to the final three films: "Harry Potter and the Half-Blood Prince," "Harry Potter and the Deathly Hallows – Part 1," and "Harry Potter and the Deathly Hallows – Part 2."
Although the two "Deathly Hallows" movies were discussed at length during the special by multiple cast members, "Harry Potter and the Half-Blood Prince" was mentioned only a couple of times in comparison. Of course, the sixth film's biggest and most crucial moment – the death of Albus Dumbledore (Michael Gambon) — was addressed, along with actor Tom Felton discussing his experience playing a conflicted Draco Malfoy.
"Harry Potter and the Half-Blood Prince" is ranked fourth in terms of critical approval among all 10 Wizarding World installments so far (via Rotten Tomatoes). However, like with many of the "Harry Potter" films, fans have noted some odd scenes upon rewatching — including one that nearly ruined it for some. Here's what we know.
The shoelace scene makes fans cringe
It's no secret that the relationship between two adolescents who like each other can be a bit awkward at times. The "Harry Potter" films often perfectly reflect this because many of the actors and actresses who played Hogwarts' young witches and wizards were actually going through those changes in real life. There are a few particularly awkward scenes in "Harry Potter and the Half-Blood Prince," including one between Ginny Weasley (Bonnie Wright) and Harry Potter (Daniel Radcliffe), that were so bad they almost ruined the movie for some fans.
In this scene, Ginny bumps into Harry while he's snooping around the Burrow at night, and they share a tension-filled, awkward exchange mostly full of small talk, at least until Ginny blurts out "shoelace" and then immediately bends down to tie it. Redditor u/FormerFruit noted that with the way this is shot, the film seems to be making a very adult joke about Ginny and Harry's desire to be intimate with one another, and it comes off awkward. Other fans agreed that Ginny's character was given a disservice with the shoelace scene among others, with u/Not_a_cat_I_promise noting that the overall hyper-focus on Ginny and Harry's relationship even drew away from the narrative of the film. It's well-known that Potterheads are mostly unhappy with how Ginny is portrayed in the film adaptations, and this scene sure didn't help.