How Accurate Are The Tricks In Now You See Me?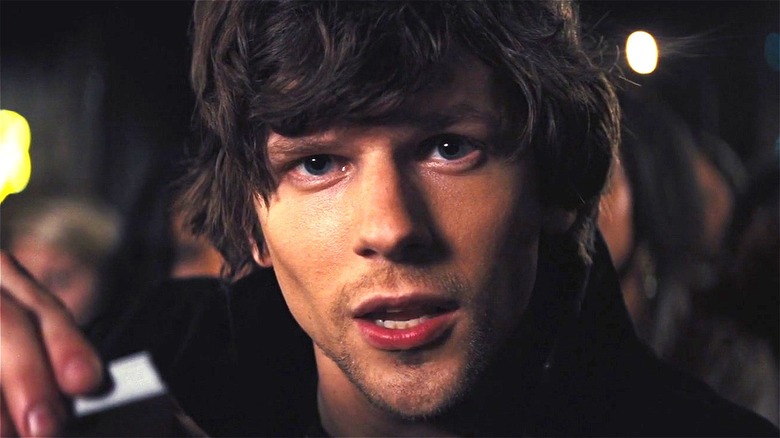 Lionsgate
The 2013 film "Now You See Me" not only provided moviegoers with an interesting new twist on heist films, but it also put a massive spotlight on the world of magic as a whole. While reviews were mixed, the Jesse Eisenberg-led flick was a major box-office success (via Box Office Mojo) and even spawned a sequel, "Now You See Me 2," which was released in 2016. But at the end of the day, how much of what we saw in the two movies was actually accurate when it comes to the world of illusions? 
For those unfamiliar with the story, "Now You See Me" follows a group of four magicians — J. Daniel Atlas (Eisenberg), Merritt McKinney (Woody Harrelson), Jack Wilder (Dave Franco), and Henley Reeves (Isla Fisher) — as they attempt to use their expertise and various stunts to steal millions of dollars. Ultimately, their heists are centered around the idea of taking from the rich and giving to the poor (or others who have been ruined financially). The film features countless twists and turns, accompanied by multiple instances of seemingly real magic tricks and stunts. But which of these sleights-of-hand would actually be done by a magician or illusionist? Well, thanks to magic consultant David Kwong and the folks at Wired, we are able to find out.
Some of the magic is accurate, including Jesse Eisenberg's opening card trick
According to David Kwong — a consultant on "Now You See Me" and other magic-fueled films like "The Incredible Burt Wonderstone" starring Steve Carell, Steve Buscemi, and Jim Carrey — several of the stunts we see in the Ed Solomon-written movie were, in fact, copied from or inspired by real-life tricks. Take Jesse Eisenberg's opening card trick, for example. 
"Jesse, who plays Atlas, looks right at the camera as if he's speaking to the young woman and he suggests that you pick a playing card," Kwong explained to Wired in 2013, at the time "Now You See Me" was released. "If you notice the one that he intends, it appears on the building behind him." According to Kwong, the trick uses what's known as "riffle selection" as well as other magic techniques that Kwong chose to keep under wraps. "It's the first time you can be part of the audience," he said, noting how the trick also works on viewers at home.
As for the other authentic stunts, Kwong listed them all out for Wired, explaining that some are just twists on classic ideas and illusions — such as the Paris bank heist. This, according to Kwong, is simply a more elaborate take on one of David Copperfield's most famous tricks from years past. "The original trick where someone disappears in one place and the movie screen comes down and that person appears in a far-off place on the movie screen, that is based on his original trick that he did many years ago called Portal," Kwong said. Then there's the Isla Fisher stunt, where she's handcuffed in a water tank and has to escape before being devoured by piranhas. "It's based on the water-torture cell, which [Harry Houdini] made famous," Kwong explained. "[Producer] Alex Kurtzman added in the extra danger of the piranhas and it's a brilliant notion."