What The Cast Of Angus Looks Like Today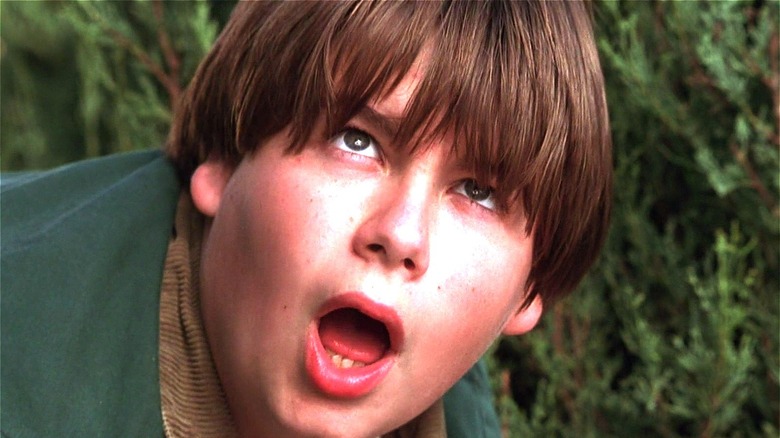 New Line Cinema
From "Rocky" to "Rudy," everyone loves an underdog story – and the 1990s were chock full of them. With all of the sports films that graced the big screen during this era, one film in particular may have missed the attention of many movie-goers – the Patrick Read Johnson teen comedy, "Angus."
A coming-of-age comedy with big heart, the movie "Angus" follows the life of awkward, yet intelligent high-schooler, Angus Bethune. Overweight and outcast, Angus lives with his truck driver mother, Meg, and his grandfather, Ivan (George C. Scott). Angus is terrorized daily by popular quarterback Rick Sanford, who also happens to be dating the girl of Angus's dreams – Melissa Lefevre. When Angus is voted the king of the Winter Ball due to a prank put in place by Rick, he has to choose whether he will hide from the humiliation or stand up and seize his moment.
"Angus" received mixed reviews from critics at its 1995 release. However, it remains a true underdog tale that still resonates with anyone who knows what it feels like to struggle with social and self-acceptance. Nearly 30 years later, much of the cast is nearly unrecognizable. Here is what the "Angus" cast looks like today.
Charlie Talbert as Angus Bethune
Angus Bethune might be smart, funny, and the best tackler on his high school football team, but that doesn't seem to matter much to his peers. Or to the girl he's been in love with since kindergarten. His mother wants him to attend the local Magnet school to get away from abusive bullying, while his grandfather wants him to stand his ground and not care what others think. All Angus wants is to be normal -– whatever that is. 
Playing the titular character, Charlie Talbert was just 16 years old when he was cast in "Angus" – his very first film. The story goes that the film's director, Patrick Read Johnson, spotted Talbert while at a Wendy's restaurant, and immediately knew he was perfect for the role. Following "Angus," Talbert went on to take various roles in TV and film throughout the 2000s, including independent films "Wishcraft," "Waterborne," and 2015's "The Big Short." He has also tried his hand at stand-up comedy, performing at The Comedy Store in Los Angeles.
Most recently, Talbert appeared in the fantasy thriller "Mona Lisa and the Blood Moon," an indie film that premiered at the Venice Film Festival in 2021. Also starring in the movie are Kate Hudson, Jeon Jong-seo, Craig Robinson, and Ed Skrein. Talbert has a few other upcoming projects as well, including an HBO Max original mini-series called "Love and Death," which stars Elizabeth Olsen.
Chris Owen as Troy Wedberg
Playing the nerdy best friend, Troy Wedberg, in the movie "Angus," is actor Chris Owen. Like Angus, Troy is an outcast who is bullied incessantly by Rick Sanford and his pals. He knows Angus's inner turmoil over his feelings for Melissa Lafevre, and assists Angus in preparing for the big dance with Melissa at the Winter Ball –- with a little help from an inflatable doll. 
Owen began his career in the early 1990s. He and his "Angus" co-star, Charlie Talbert, went on to do many more projects together, such as "Going Greek," "Van Wilder," and "The Life of Lucky Cucumber." Owen has appeared in a number of classic teen movies, including "Can't Hardly Wait" and "She's All That." He is perhaps most widely recognized for his role as Chuck "The Sherminator" Sherman in the "American Pie" films. He reprised his role in "American Pie 2," "American Pie Presents: Band Camp," and "American Reunion." Owen also had guest roles on various TV shows in the 2000s, including "Monk," "Without a Trace," and "The Mentalist."
A 2014 article from New York Daily News revealed that Owen spent some time working in a sushi restaurant to pay his bills. "Life doesn't always go the way you planned," Owen said. "I love acting and this job lets me stay in the fight." Sure enough, Owen is still "in the fight," recently acting in TV movies "The Last Sharknado: It's About Time," "Joy and Hope," and "A Cape Cod Christmas."  
James Van Der Beek as Rick Sanford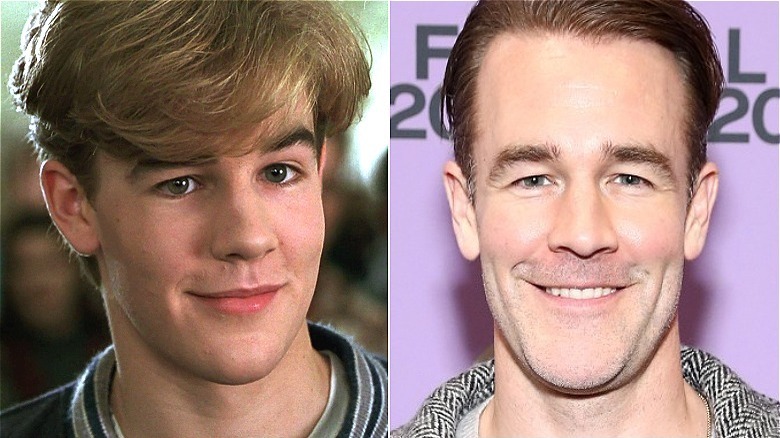 New Line Cinema, Cindy Ord/Getty
Rick Sanford has been a thorn in Angus's side ever since his 5th birthday party. That was the first time Angus broke Rick's nose for making fun of his weight. While Angus continued his awkward social status into his teenage years, Rick kept on making his life a living hell. It also doesn't help that Rick is the most popular kid in school, and is dating Angus's childhood crush.
James Van Der Beek plays the role of cocky bully Rick Sanford. "Angus" was Van Der Beek's first appearance in a feature film. His career took off after being cast as the lead in the popular teen drama, "Dawson's Creek," which he worked on for four years. Van Der Beek would go on to star in another popular '90s sports dramedy, "Varsity Blues."
Although the end of "Dawson's Creek" may have caused Van Der Beek's career to lose some steam, he continued to appear in a number of film and TV roles. He played the indignant film director, Adam Reese, for a five-episode run on "One Tree Hill" in 2009, and made guest appearances in episodes of "Law and Order: Criminal Intent" and "Law and Order: Special Victims Unit." From 2012 to 2014, he played a fictional version of himself in the ABC comedy, "Don't Trust the B– in Apartment 23," alongside Krysten Ritter. Most recently, Van Der Beek provides the voice of Boris Hauntley in the Disney animated children's series, "Vampirina."
Ariana Richards as Melissa Lafevre
Ariana Richards plays Melissa Lefevre in "Angus," the beautiful and popular object of Angus's affection. Although she's a cheerleader and dating the school bully, Melissa isn't the cold and callous type. She's quiet and unsure of herself, in spite of her social status, and she struggles with her own anxieties, just like any other teenager.
Richards began acting at a very young age, starting in TV and working her way to film. She appeared in episodes of "The Golden Girls" and "Empty Nest," and also in the 1990s creature feature, "Tremors." She received her big breakout role playing Lex in Stephen Spielberg's dino extravaganza, "Jurassic Park." After her role in "Angus," Richards acted in a few TV movie projects, as well as the 1997 "Jurassic Park" sequel, "The Lost World."
While Richards has fond memories of acting and claims that she hopes to do more soon, she has been on a long hiatus from film and television since 2013. Nowadays, she is an accomplished painter with her own gallery, utilizing a style that described to Studio 10 as "poetic realism."
Kathy Bates as Meg Bethune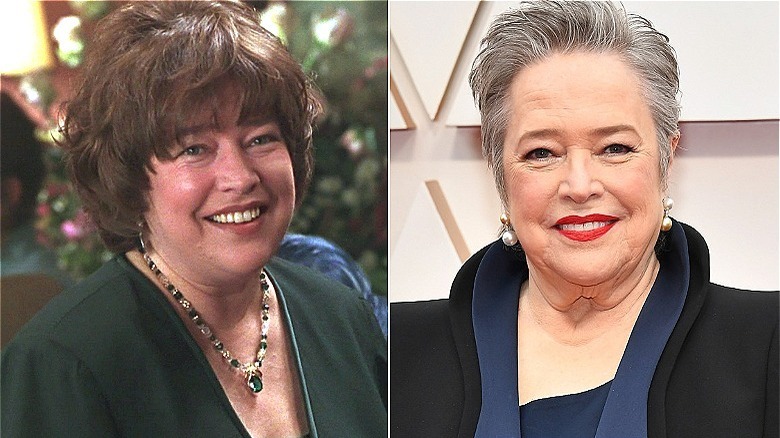 New Line Cinema/Amy Sussman/Getty
With the death of his father just after his birth, Angus was reared by his mother, Meg Bethune, played by Kathy Bates. Meg is a caring and compassionate parent who knows how special her son is, yet is fearful of the ridicule he receives from his peers. She has high hopes that Angus will be accepted into a science magnet school and avoid the bullying he's endured, but clashes with her father's opinion that Angus should learn how to stand up for himself.
A legendary film and television actor, Bates's career began in the early 1970s and has shown no sign of stopping ever since. Her chilling performance in the Stephen King adaptation of "Misery" earned her both an Oscar and a Golden Globe Award, and she went on to receive nominations for her roles in "Fried Green Tomatoes," "Primary Colors," and "About Schmidt." From 2013 to 2018, she played various roles throughout five seasons of FX's "American Horror Story," earning acclaim for her portrayal of Madame Delphine LaLaurie in "American Horror Story: Coven." 
In 2020, she starred in the Frank Potente indie drama, "Home," and has a part in the upcoming adaptation of the classic young adult novel, "Are You There, God? It's Me, Margaret."
Kevin Connolly as Andy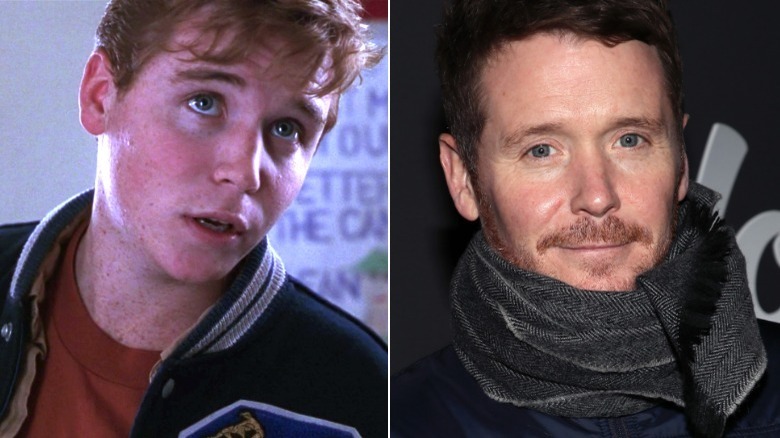 New Line Cinema, David Livingston/Getty
Any good movie bully needs his trusty goons, and Rick Sanford has two of the best. Nearly always at his side is Andy, a fellow football player who follows Rick's lead in making Angus's and Troy's lives miserable. Actor Kevin Connolly plays Andy, and he's had a varied television and film career since his "Angus" days.
Connolly's very first film gig was "Rocky V," playing yet another bully, Chickie. In 1993, he co-starred in the feature film comedy adaptation of "Beverly Hillbillies." After "Angus," he went on to have roles in films such as "John Q," "Antoine Fisher," and "The Notebook." He is most widely known for his role as talent manager Eric Murphy on "Entourage," which aired on HBO from 2004 to 2011.
More recently, Connolly directed the 2018 John Travolta-led biopic, "Gotti," which was a commercial and critical disaster. He was accused of sexual assault in 2020 by costume designer Gracie Cox, but denied the claim, stating that the sex between the two was consensual.
Salim Grant as Mike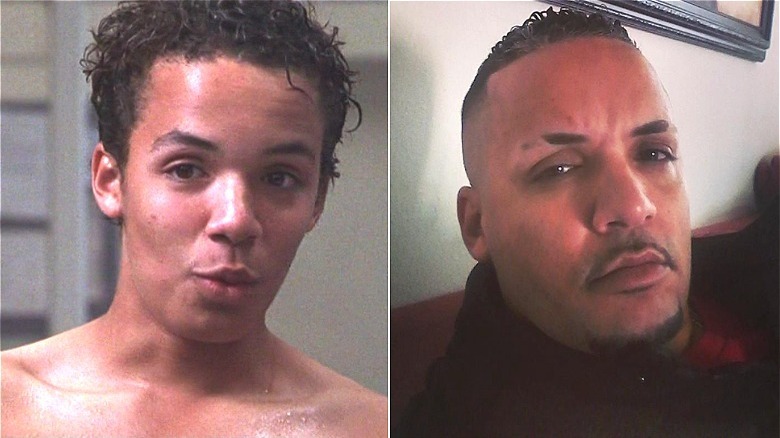 New Line Cinema/instagram.com/mrautobotic
The second of Rick Sanford's loyal sidekicks is Mike, played by Salim Grant. Grant got his start playing Jason in the original "Barney and the Backyard Gang" children's videos when he was 11 years old. In 1990, he played the son of Bill Cosby in the family comedy "Ghost Dad," and he made guest appearances in TV shows "Family Matters," "Salute Your Shorts," "Sister, Sister," and "Boy Meets World." He joined the cast of "Saved by the Bell: The New Class" in 1995, playing R.J. "Hollywood" Collins. Grant also had a small role in the 1997 acclaimed neo-noir, "L.A. Confidential," in which he played Louis Fontaine.
Though he pursued an acting career for much of his young life, Grant has since retired from the biz. After acting, Grant went on to a music career as a singer and songwriter. In the 2010s, Grant founded his own production company titled Rising Platform Productions LLC. He has also dabbled in making handmade jewelry, which he posted on his Instagram.
Anna Thomson as April Thomas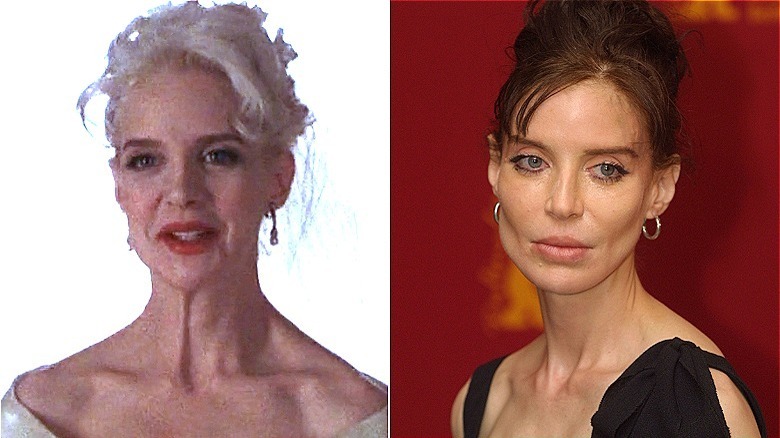 New Line Cinema/Sean Gallup/Getty
In "Angus," the most influential man in the young teen's life is his grandfather, Ivan. At 73 years old, Ivan is purely a no-nonsense kind of guy, and encourages Angus not to care about what others think. A man who practices what he preaches, Ivan is engaged to a woman 30 years his junior – the lovely and demure April.
April Thomas is played by actor Anna Thomson, who has also been credited under the name Anna Levine. In 1985, she appeared in the films "Desperately Seeking Susan" and "Murphy's Romance." From 1986 to 1987, she played Anna Rostov in the "Dynasty" spinoff series, "The Colbys." She also made several appearances in the comedy sketch series "The Tracey Ullman Show." In 1992, Anna portrayed sex worker Delilah Fitzgerald in the classic Clint Eastwood western, "Unforgiven." Her '90s credits also include "True Romance," "The Crow," and "Bad Boys."
Though Anna continued to act in a number of indie films into the 2000s, she left the spotlight after her final appearance in the 2012 mockumentary "Social Anxiety."
Lawrence Pressman as Principal Metcalf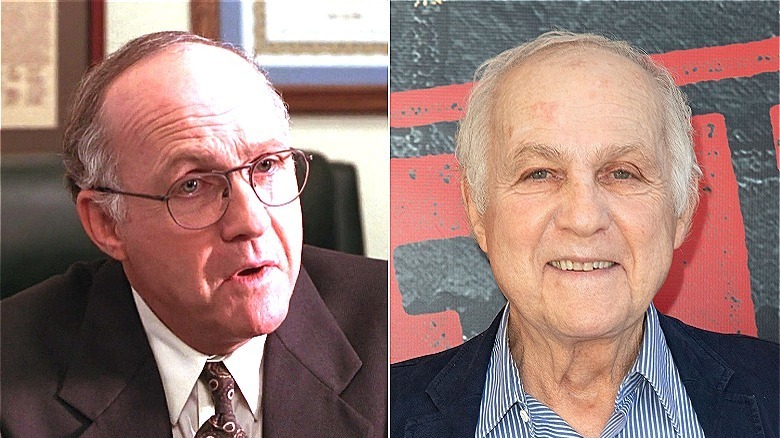 New Line Cinema/Earl Gibson Iii/Getty
In "Angus," the titular character often feels ignored due to his low status on the social ladder, even by the school's staff. There is one staff member, however, who seems to have Angus's best interest at heart. Principal Metcalf sees just how intelligent and talented Angus truly is, and roots for him from the sidelines.
Principal Metcalf is played by veteran actor Lawrence Pressman. Pressman's career goes back to the 1970s, and is still going strong. One of his earliest film roles was playing Tom Hannon in the 1971 cult classic, "Shaft." He also appeared in the 1980 Dolly Parton comedy, "9 to 5," and "American Pie" fans might remember him as Coach Marshall. He also co-starred alongside a young Neil Patrick Harris in the medical drama, "Doogie Howser, M.D," and had a recurring role as Ed Paskowitz in the acclaimed series, "Transparent." His most recent role was playing Don Peterson in the independent drama "Saving Paradise."
Pressman guest-starred in a huge number of TV shows over the decades. Among the list is "The Mary Tyler Moore Show," "Hawaii Five-0," "M*A*S*H," "Dynasty," "Matlock," "Murder She Wrote," "Law and Order," "Star Trek: Deep Space Nine," "Dawson's Creek," "The West Wing," "Gimore Girls," "NCIS," and "Modern Family" –- to name just a few.
Lindsay Price as Recycling Girl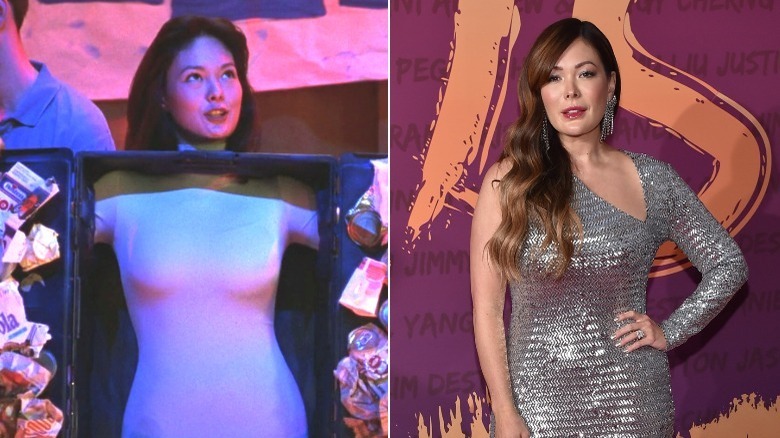 New Line Cinema/DFree/Shutterstock
Ah, high school assemblies! Who could forget the joy (and drudgery) of attending these little mandatory gatherings in the gym or assembly hall? In "Angus," the audience gets to relive this treasured memory of their young lives.
In the scene, Angus and his fellow students are corralled into a large room where they are forced to sit through a student performance about the importance of recycling. The star of the show is a young female student adorned in a homemade recycling bin costume. As the young people in the audience oblige by throwing trash at her, Angus's best friend Troy is immediately enamored with the lovely young woman.
Credited simply as "Recycling Girl," Lindsay Price plays the environmentally conscientious high school student. Price's career began at a young age, when she first appeared in TV commercials. After "Angus," she had a regular role on "The Bold and the Beautiful" as Michael Lai, and she joined the cast of the rebooted "Beverly Hills 90210" in 1998, playing Janet Sosna. In the 2000s, Price landed larger roles in NBC's "Lipstick Jungle" and ABC's "Eastwick" -– both of which were canceled after a short one-to-two season run. One of her most recent project is the Netflix drama "Atypical," in which she portrays the arrogant and deplorable Sasha Taylor.
Rita Morena as Madame Rulenska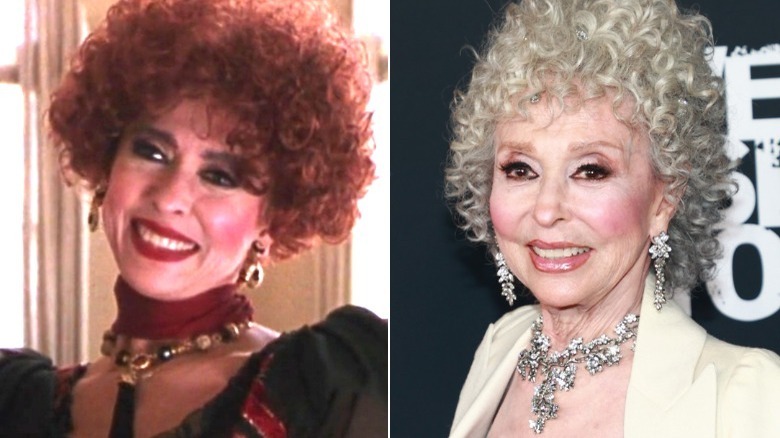 New Line Cinema, Matt Winkelmeyer/Getty
In "Angus," part of being named king and queen of the Winter Ball is sharing a dance to start out the festivities. This fact causes anxiety for Angus, whose large stature makes it difficult for him to move gracefully. It also doesn't help that his queen is Melissa Lefevre, whom he has never had the nerve to speak to directly. To assist Angus on this front, his grandfather Ivan takes Angus to dancing lessons, which is taught by the lovely Madame Rulenska. Unfortunately, even the practiced instructor has trouble training Angus to be light on his feet.
A legendary star of stage and screen, Rita Moreno plays dance teacher Madame Rulenska in a "blink and you miss it" cameo in "Angus." Moreno is famed for her role of Anita in the 1961 movie musical, "West Side Story," though her career goes back as far as 1950. Moreno went on to find success both on TV and the big screen. A few of her most notable TV credits include "The Electric Company," "Nine to Five," and "Oz." In 2017, Moreno joined the cast of the Netflix reboot of "One Day At a Time," playing Lydia Riera. Paying tribute to her involvement in the original film, director Steven Spielberg cast Moreno in the 2021 remake of "West Side Story," where she plays Valentina, a new character.