Why The Role Of Ann Was Recast On Arrested Development
Created by Mitchell Hurwitz, the comedy series "Arrested Development" was a critical success and has generated a loyal and enthusiastic following even with two long breaks in production — seven years between Seasons 3 and 4, and five between Seasons 4 and 5. Its success is undeniably due to the incredibly talented cast, which includes Jeffrey Tambor, Jessica Walter, Jason Bateman, Portia de Rossi, Alia Shawkat, Will Arnett, Tony Hale, David Cross, and Michael Cera as the often bizarre but somehow relatable Bluth family. Their antics include a Bluth Foundation dinner in a prison, simultaneous arson and insurance fraud, and a sometimes merry-go-round-like array of romantic partners. 
Cera plays George Michael Bluth, grandson of family patriarch George Sr. (Tambor) and son of hyper-intelligent but perpetually dissatisfied sourpuss Michael (Bateman). In Season 1, Episode 22, George Michael meets the irresistible-to-him and unfortunately named Ann Veal (Alessandra Torresani), a very religious and very boring young woman. Throughout their on-and-off quasi-romantic relationship, Michael gives her a series of unflattering nicknames, like Bland, Yam, Plain, Blank, and Egg. But George Michael persists in his dedication to her, until she betrays him by dating and later sleeping with his uncle G.O.B. (Arnett).
While the character of Ann appears again in 18 later episodes, Torresani did not return to play her. Instead, the character was recast, and the reason why might surprise you.  
Ann was originally supposed to be recast over and over again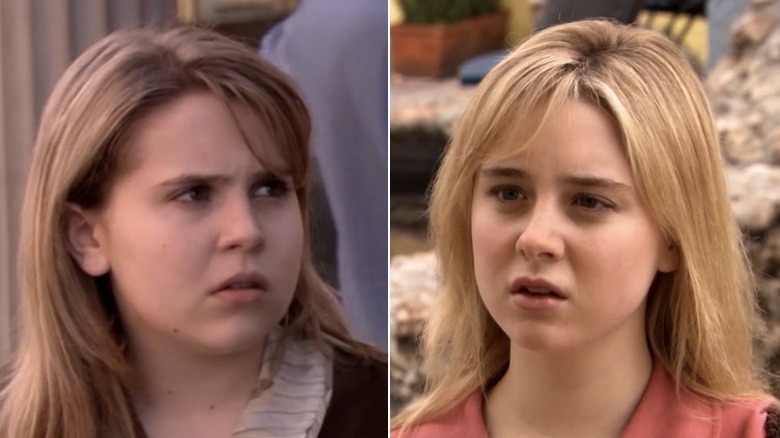 FOX
Most Hollywood parts are recast because of contract disputes, schedule conflicts, or tragedies, and it's not rare for showrunners to seamlessly replace one actor with another and hope either nobody notices or nobody cares. But when Hurwitz replaced Torresani with Mae Whitman after the solitary Season 1 appearance, it was entirely intentional and meant to be noticed.
In an interview with PeopleTV for the "Couch Surfing" talk show, Whitman said that the original plan was to have Ann played by multiple different actresses throughout the show's run to emphasize how boring and forgettable the character was. "And then they stuck with me, which I feel like is a real insult. They were like, 'No, no, you're making the whole "not memorable" thing work, we'll just go with that.'" As the running gag that never was, constant recastings of Ann certainly would've added yet another uniquely goofy element to "Arrested Development," but Whitman's wide-eyed performance would have been sorely missed had she not remained on the show.
After "Arrested Development," both Torresani and Whitman have continued on to successful careers since. Torresani has appeared in shows like "Bones," "American Horror Story," "Two and a Half Men," and "The Big Bang Theory" (via IMDb). Whitman has been even busier since her breakout in "Arrested Development," with a starring role in "Good Girls" to go along with more than 50 other credits (via IMDb). We'll never know how the intended rotation of actors would have worked out, but Whitman's endearing and hilarious performance certainly helped make the show such a big hit.