The NCIS: Los Angeles Character You Probably Forgot John Corbett Played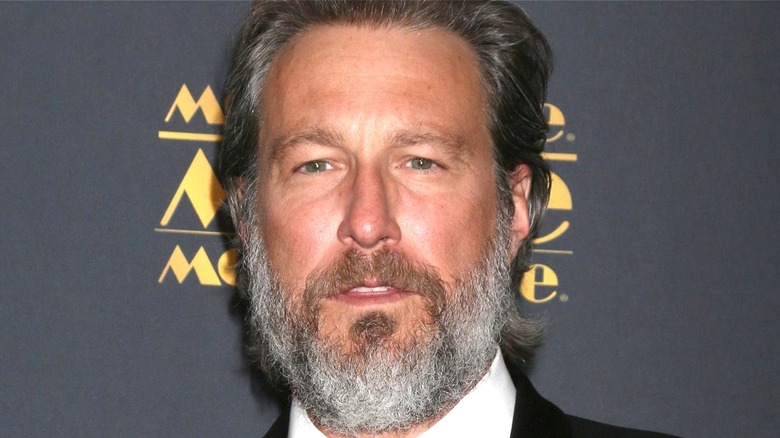 Kathy Hutchins/Shutterstock
Fans of the romantic-comedy genre in film and TV are likely no stranger to John Corbett. The country musician and actor has had a hand in quite a few popular works within this particular space, portraying Aidan Shaw in the beloved show "Sex and the City," Ian Miller in the rambunctious "My Big Fat Greek Wedding" films, and Dr. Dan Covey in Netflix's quirky "To All the Boys" trilogy. Simply put, if you're watching a modern rom-com, you shouldn't be too surprised if you see Corbett pop up somewhere.
On the other hand, one property that you absolutely might be surprised to see Corbett make an appearance on would be the gritty CBS police procedural "NCIS: Los Angeles," which follows a group of secret operatives in the Naval Criminal Investigative Service as they pursue and capture dangerous criminals. As it turns out, however, Corbett did indeed once make an appearance on the show — and on a special two-part episode with a strange level of importance in the overall "NCIS" canon, no less.
Corbett was part of the special NCIS: Red team
John Corbett appeared on "NCIS: Los Angeles" as a guest star for two episodes in 2013: Season 4, Episode 18, "Red: Part One," and Season 4, Episode 19, "Red: Part Two." The special two-part episode saw Special Agents G. Callen (Chris O'Donnell) and Sam Hanna (LL Cool J) travel to Idaho in order to dismantle a dangerous terrorist plot. There, they meet their mobile counterparts: the NCIS: Red team. Corbett played one of the members of this new team, a former special agent named Roy Haines. After having sustained wounds in the line of duty, Haines became an intelligence analyst and was brought in to support the NCIS: Red team.
Perhaps the weirdest thing about Corbett's appearance on "NCIS: Los Angeles" was the conversation surrounding the two episodes themselves. In reality, the "Red" two-parter was actually meant to be a backdoor pilot for a spin-off show focusing on the new team, titled "NCIS: Red." The show was canned for various reasons, and Corbett's Haines has yet to make another appearance in the "NCIS" universe. Still, it's pretty surprising to see that not only did Corbett have an appearance in the "NCIS" universe but also that he could have very nearly been one of the main characters of an entire "NCIS" show. That's a strange alternate timeline to think about.