The Best Romantic Comedy Movies You Haven't Seen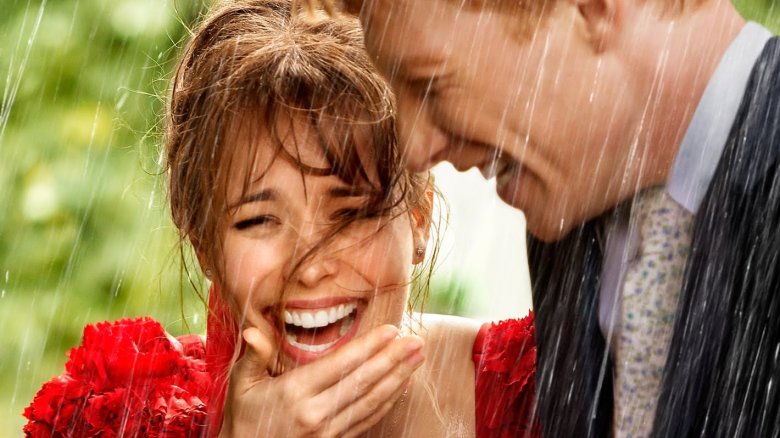 If you love romantic comedies, chances are you've already watched Bridget Jones's Diary, Love Actually, and Pretty Woman more times than you can count. While there's no competing with the classics, there are plenty of romcoms out there that are just as fun, flirty, and fascinating—and you may not have even seen them yet. Here are the best romantic comedies you probably haven't seen.
Definitely, Maybe
Ryan Reynolds tells his daughter (Abigail Breslin) the story of his love life in the sweet 2008 romantic comedy Definitely, Maybe. The movie features Reynolds' Will Hayes distracting his daughter Maya as he divorces her mother by going through his romantic history. The twist? He keeps her mother's identity a secret, letting her guess which of his three girlfriends ended up getting the ring.
Reynolds is always charming in every role he plays, but he gels particularly well with the sarcastic Will, selling his pricklier moments while also remaining fun and amiable. Breslin is also very sweet as his precocious daughter, and Isla Fisher, Elizabeth Banks, and Rachel Weisz are all game as his three love interests. If you haven't already seen this twisty little gem, it's a perfect option for your next date night. 
Sleeping with Other People
Sleeping with Other People isn't your typical romantic comedy. It kicks off with the two main characters, Lainey (Alison Brie) and Jake (Jason Sudeikis), losing their virginity to each other, before making a time jump to the present day and reconnecting the pair. However, they don't immediately kick off a relationship again — instead, the two form a deep friendship based on their shared troubles with sex addiction. 
The film's plot allows the central couple to interact for the whole film, without having to use typical tropes to try to keep them apart. However, since they're just friends, the audience is still on the edge of their seat waiting to see if the pair will ever take their relationship to the next level. Backed up by fun supporting turns from Adam Scott, Amanda Peet, Adam Brody, and Marc Blucas, Sleeping With Other People is an engaging delight — and an unexpected one too, if you number among the many film fans who still haven't seen it.
TiMER
Emma Caulfield's time is running out in the sci-fi romantic comedy TiMER, starring former Buffy the Vampire Slayer star as Oona, an orthodontist living in a world in which people have the option of installing wrist implants that tell them exactly when they're going to find their soulmate. The only problem? Oona's timer is blank, meaning that her soulmate hasn't installed one yet.
Oona's love life consists of trying to convince timer-less guys to install the device to see if their relationship will make it. When Oona meets Mikey (John Patrick Amedori), a grocery store clerk whose timer is set to go off in four months, she decides to pursue their romance, despite the fact that she knows it's going to end in disaster. This film festival favorite languished on VOD, which means you probably haven't seen it — but Caulfield gives an engaging performance as Oona debates with her sister Steph (Michelle Borth) over whether or not to trust the implant or follow her heart.
The Five-Year Engagement
Jason Segel and Emily Blunt's engagement goes horribly wrong in the very funny romantic comedy The Five-Year Engagement. The film stars Segel (who also co-wrote the movie along with Nicholas Stoller) as Tom Solomon, a sous chef planning his wedding to Violet (Blunt). Their plans repeatedly go awry, though, pushing the wedding date back further and further and placing a lot of strain on their relationship.
The Five-Year Engagement is produced by Judd Apatow, so it makes sense that the movie has a cast stacked full of stellar comedians, including Alison Brie, Chris Pratt, Mindy Kaling, Kevin Hart, Randall Park, Brian Posehn, Kumail Nanjiani, and Molly Shannon. With a star-studded supporting cast and two game leads, the film is likable and fun through and through — and judging from its disappointing box office returns, it's a gem you still probably haven't seen.
The One I Love
The One I Love definitely stretches the definition of a romantic comedy, but this sci-fi tinged film is definitely worth a watch. The movie stars Mark Duplass and Elisabeth Moss as a couple who, on the advice of their therapist (Ted Danson), take a trip to a secluded house in an effort to repair their relationship. Things start to go off the rails, though, when they discover that there are alternate versions of themselves living in the guest house. 
We don't want to spoil too much for you here, but the film's creepy atmosphere and strange plot definitely make for an interesting dive into the real nature of long-term relationships. Lost among the growing wave of acclaimed indies destined for limited release and the VOD market, you likely haven't seen The One I Love, but it's just waiting to be added to your queue.
Obvious Child
Obvious Child is one of a few romantic comedies that actually delves into a serious, real-life issue. Jenny Slate stars as Donna, a comedian who gets pregnant after having a one-night stand with Max (Jake Lacy). She decides to get an abortion, and throughout the film, she grapples with her decision—and her budding relationship with Max. 
Obvious Child was hailed by critics for its honest depiction of abortion, but it goes far beyond just that. The film is also blisteringly funny, featuring an incredible performance from Slate and her supporting cast, which also includes Gaby Hoffmann, David Cross, and Gabe Liedman. This is an unconventional treat you probably haven't seen — and one you definitely won't want to miss.
About Time
Domhnall Gleeson travels through time to live a perfect life in the sweet (and just a little bit sad) romantic comedy About Time. Gleeson plays Tim Lake, who learns that the men in his family have the ability to travel back in time to places and times they've been before. Heeding the advice of his father (Bill Nighy), Tim uses his power to help him and his family live their best lives.
For Tim, this means forming a relationship with Mary, played with charming aplomb by romcom queen Rachel McAdams. As it always does, though, time travel comes with complications, and as Tim travels back and forth to try to make things exactly as he wants them, he learns that his actions have consequences. The film, which comes from Love Actually's Richard Curtis, does well traversing the highs and lows of relationships, staying grounded despite its high-concept plot.
I Give It a Year
Most romantic comedies make it clear that the main couple belong together, but I Give It a Year leaves you constantly questioning whether the two are actually meant to be. Rose Byrne and Rafe Spall star as a couple who struggle through their first year of marriage as they try to figure out whether they ended up with the right person.
The little-seen film features sweet leading turns from Byrne and Spall, as well as impressive backing from Anna Faris, Stephen Merchant, Simon Baker, Olivia Colman, and Minnie Driver. The fact that the couple at the center of the film are already married helps to offer something different than your traditional romcom, while also giving you something to root for — or against.
Liberal Arts
Josh Radnor may have led one of TV's best romantic comedies with How I Met Your Mother, but many people don't know that he stuck with the genre with a big-screen feature during his run as Ted Mosby. Radnor wrote and directed Liberal Arts, in which he plays Jesse, a dissatisfied college admissions officer who develops a relationship with a 19-year-old student (Elizabeth Olsen) after revisiting his alma mater.
Radnor handles the couple's age difference well, showing showing how the two connect despite being at different stages of their lives while dealing with the ways their differences tear them apart. He also brings in an apt supporting cast, including Richard Jenkins, Allison Janney, and John Magaro, to help sell the story and the theme of what it truly means to be an adult. Most audiences missed this indie in theaters, and odds are you haven't seen it yet — but it isn't too late to change that.
Waitress
A lot of people are fans of the musical Waitress on Broadway, but many of them haven't seen the romantic comedy movie it's based on. The 2007 film version of Waitress starred Keri Russell as a, you guessed it, waitress in a small town who falls in love with her gynecologist (Nathan Fillion) as she goes through a divorce–and a pregnancy. 
Although the film unfortunately isn't a musical, it's led by engaging performances from Russell and Fillion, who sell the star-crossed small-town lovers with as much aplomb as you'd expect from two well-respected stars. Plus, there's pie. Lots and lots of pie.
Overnight Delivery
If you love seeing big names before they were stars, Overnight Delivery is the romantic comedy for you. This 1998 film stars Paul Rudd as Wyatt, a heartbroken college student who decides to use a stripper named Ivy (Reese Witherspoon, pre-Cruel Intentions) to make his girlfriend Kim (Christine Taylor) jealous after a friend tells him Kim's cheating on him. He takes a suggestive photograph with Ivy and overnights it to Kim (because 1998).
This being a romcom, Wyatt soon learns that Kim wasn't cheating on him after all, and he recruits Ivy for a cross-country adventure to try and retrieve the photo before it winds up in Kim's hands. Their journey includes serial killers, explosions, an appearance from a young Sarah Silverman, and a whole lot of awful '90s fashion. You probably haven't seen this, in other words, but you'll just as likely love it.
Only You
Another film featuring your favorite stars long ago, Only You is a romantic comedy bringing together future MCU co-stars Marisa Tomei and Robert Downey Jr. for some supernaturally tinged fun. The movie follows Tomei's Faith, a woman who was told at a young age that her soulmate was named Damon Bradley. As an adult, Faith decides to ditch her planned wedding to head off to Italy after getting a call from the mysterious Bradley, where she literally runs into Downey.
Downey's Peter Wright claims to be Bradley and starts to develop a relationship with Faith, but things become complicated for the pair when he reveals his true identity. Although the movie's plot sometimes feels contrived, Tomei and Downey throw sparks onscreen, and watching their characters interact is an absolute delight — especially knowing how huge their careers would get later down the line.
Slow Learners
If you're perpetually awkward in love, then Slow Learners is the romantic comedy for you. The movie stars Adam Pally and Sarah Burns as two bumbling friends who decide they're going to spend their summer living life to the fullest — or, as they put it, becoming "sex in the bathroom people." 
This being a romcom, their vow obviously goes off the rails, and the pair uncomfortably walks their way through a life-changing few months of sex, drugs, and rock and roll. Although the charming and underrated film definitely revels in its wilder moments, it also has a sweet heart at the center.
Mr. Right
Somehow, some way, Sam Rockwell and Anna Kendrick starred in a killer romantic comedy together and the whole world missed it. The pair played a couple in the explosive 2015 action comedy Mr. Right, featuring Rockwell as Francis, a hit man who develops an unconventional relationship with the newly single Martha (Kendrick), who finds a new vitality from her assassin boyfriend.
With the FBI and a host of other dangerous men after him, Francis and Martha go on an action-fueled adventure to avoid capture. While there's lots of fun fight scenes to take up the time, the film is really sold by the charming turns by Rockwell and Kendrick, who both give stellar line deliveries throughout. This hidden gem is definitely one every romcom (and action) fan should catch. 
Celeste and Jesse Forever
Celeste and Jesse Forever does not, in fact, feature Celeste (Rashida Jones) and Jesse (Andy Samberg) staying together forever. Although the movie starts with their wedding, it quickly transitions to their separation, with the pair splitting up after getting married young and growing apart due to their different career goals and lifestyles.
Although the pair are technically separated, there's still a lot of love between them, making it difficult as they both start to develop relationships with other people. The film is a beautiful meditation on romantic relationships and friendship, pushed along by a clever and quick script from Jones and Will McCormack that will have you laughing and crying.
Friends with Kids
The process is usually love, marriage, and then children, but in Friends with Kids, things go in a different order. The movie stars Adam Scott and Jennifer Westfeldt as two best friends who decide to have a child together even though they don't have romantic feelings for each other. Their plan succeeds, and as their son grows up, they both develop relationships with other people.
However, this being a romantic comedy, the central pair do, eventually, develop romantic feelings for each other, and they struggle to deal with friendship, love, and parenthood all at once. Even some hardcore romcom fans missed seeing this during its theatrical run, but Scott and Westfeldt are both engaging in the lead roles, and their supporting cast, including Jon Hamm, Kristen Wiig, Maya Rudolph, Chris O'Dowd, Edward Burns, and Megan Fox, shine as well.