The American Pickers Episode That Left Danielle Colby In Tears
Ever since the premiere of "American Pickers" in 2010, fans have been obsessed with the show, wondering what valuable items may be lurking in their own homes. Viewers have loved going around the country with Mike Wolfe and Frank Fritz while Danielle Colby holds down the fort back at the shop, eager to see what antiques the trio will uncover next. When Fritz was let go from the show, Colby started leaving the shop and going on the road too, looking for finds with Wolfe.
Colby isn't new to picking and has found some pretty amazing items in her years of searching for antiques and valuables. In 2017, she discovered a wagon in a Louisiana family's barn. After closer inspection, it was determined that it was used to advertise Jell-O between 1902 and 1904. "American Pickers" bought it for $6,500 and sold it to the Jell-O Museum in LeRoy, New York, for $20,000 (via The Buffalo News).
Last March, however, Colby made a discovery that she thought was extremely valuable, only to be devastated to learn the entire collection was a fake.
Danielle Colby discovered a find was really a fraud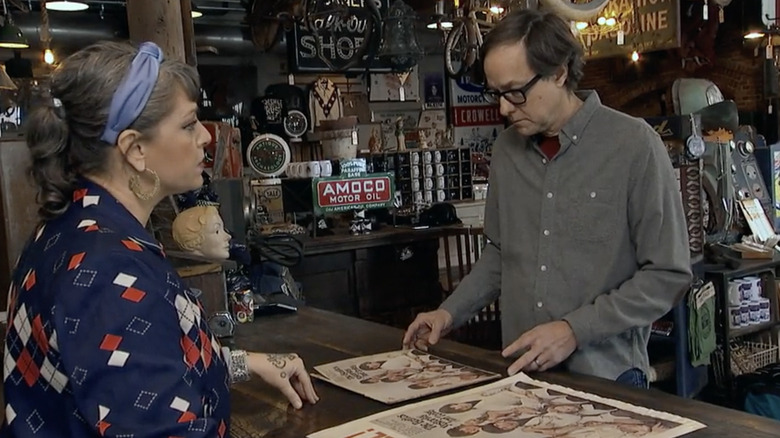 History
In Season 22, Episode 9, "A Record Deal," Danielle Colby traveled to Pennsylvania and found what she believed was very rare Beatles memorabilia in a couple's house: the album Yesterday and Today, a poster, and a letter written by the Beatles' Capitol Records Distribution Corporation. She bought it all for $1,200, thinking she'd hit the jackpot (via The U.S. Sun). Unfortunately, after getting the items appraised, she discovered that everything was either re-created or photocopied.
In the end, the appraiser told her they were worth $700 — a far cry from the $20,000 she was hoping for. She tried to put a positive spin on it, saying, "It's better than nothing I suppose," but in a phone conversation with Mike Wolfe, she told him how she really felt: "I took a dive, it sucks, it's not good. I'm about to cry. I feel bad about myself." Wolfe tried to reassure her, telling her, "Well, don't cry. Mistakes are made every day. I mean, hey, that's part of picking. ... That's how you learn."
Colby definitely has more to learn about picking for the show since she has been in the office the majority of "American Pickers" run. But as Wolfe told her, making mistakes is how you learn. Colby may have learned a bit, too, in the one episode in which she took things too far.