The Daniel Day Lewis Role That Almost Took Method Acting Too Far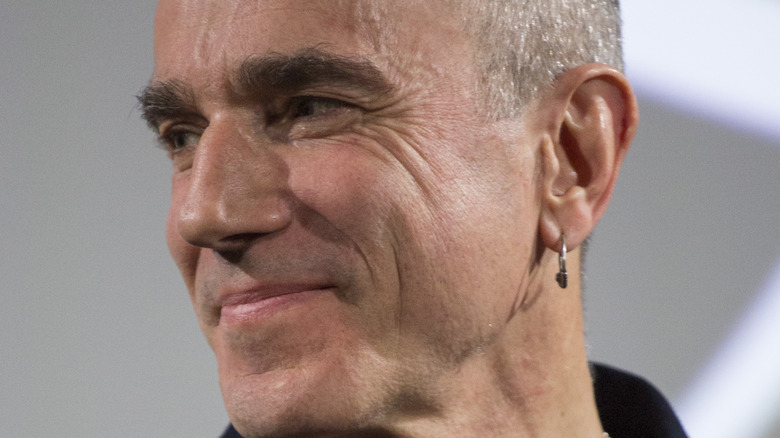 John Phillips/Getty Images
One of the greatest actors of his generation, Daniel Day-Lewis retired in 2017 after playing a rather difficult 1940s fashion designer named Reynolds Woodcock in "Phantom Thread" (via Variety). The role was a fitting end to an already selective and carefully managed film and stage career. Day-Lewis only appeared in five films after 1998, but each performance, whether it was as Bill the Butcher in "Gangs of New York" or his epic turn as doomed oilman Daniel Plainview in "There Will Be Blood," brought him enormous acclaim and awards attention.
The actor told Chicago Movie Magazine in 2007 regarding his approach to choosing projects is that when he feels "the pull of the orbit of another world, I try to step backwards and ask myself if I can serve that story as the person I'm going to be telling that story with." His moves have paid off, as Day-Lewis has now won three Oscars for "My Left Foot," "There Will Be Blood," and the lead part of "Lincoln" (per IMDb).
One of the most famous aspects of his performances is almost certainly his dedicated Method acting, as Day-Lewis has insisted on staying in character during film productions. However the thespian's commitment may have crossed a line into mental illness with one of his most famous roles.
Day-Lewis went to the brink for The Last of the Mohicans
The stories about Daniel Day-Lewis' intensity as a performer have become legendary, including the time he saw his father's ghost during a 1989 production of "Hamlet" and refused to leave a wheelchair while playing a man with cerebral palsy for "My Left Foot" (via Far Out Magazine). But his commitment to the character of Hawkeye in Michael Mann's "The Last of the Mohicans" was truly bizarre.
To play the white adopted son of a Mohican tribe, Daniel Day-Lewis learned how to survive in a forest, including how to trap and skin animals, make fires, and fire a gun (via Little White Lies). The actor went even deeper into the performance by bringing his gun everywhere he went before indicating that he was having trouble separating himself from the character. He confessed that after filming, he experienced hallucinations and claustrophobia back in civilization (via The New York Times). It was as if the Mohican tribesman had come to dominate the actor's consciousness.
Day-Lewis did recover but the challenging nature of his process may explain why he was so careful about choosing projects after a certain point. The actor once said "The one thing that I appear to have been given ... is the ability to concentrate on something I choose to give my time to." That can be a blessing and a curse when you're as dedicated as he is.