The Victor Scene That Went Too Far On The Young And The Restless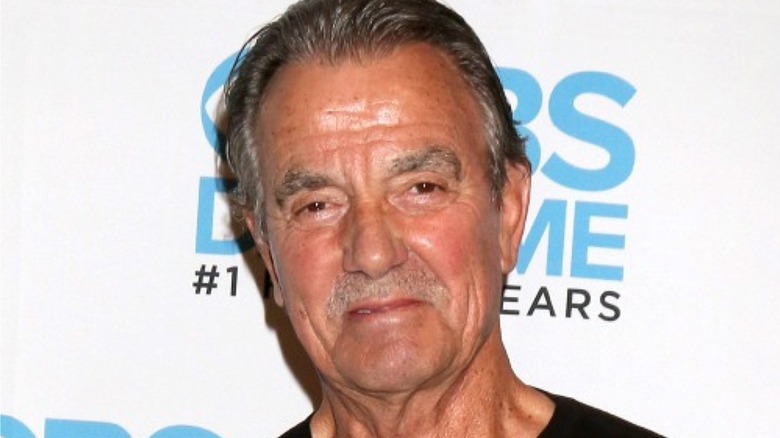 Kathy Hutchins/Shutterstock
For more than four decades, Eric Braeden has portrayed the villainous Victor Newman in "The Young and the Restless." Newman's greed, selfishness, and infidelity quickly made him one of the most iconic bad guys in soap opera history. To earn such infamy, Newman cheats, lies, manipulates, and abuses his way through 13 different marriages and countless business relationships. His on-again, off-again relationship with Nikki Reed (Melody Thomas Scott) has stretched out for more than 30 years and has mirrored Braeden's many contract squabbles with "The Young and the Restless" producers (via Entertainment Weekly).
Contemptible behavior has been Newman's trademark for the character's entire existence. He ruins the promising career of Colleen Carlton (Tammin Sursok) and then takes her heart for a transplant when she is declared braindead after drowning. After ex-wife Diane Jenkins (Maura West) threatens to "kick him in the company jewels," he throws her out of a moving ambulance. The master of mind games also engages in both personal and professional treachery in employing Peruvian drug kingpin Marco Annicelli (Peter Bergman) in his long-running battle with rival Jack Abbott (also Bergman). On many occasions, Newman even resorts to physical torture to get what he wants — including in one of the most memorable and shocking scenes in soap opera history.
One early scene painted Victor Newman as dangerous and unpredictable
When Victor Newman first arrives in Genoa City, he is married to the budding model Julia (Meg Bennett). After he has a vasectomy in response to her wish for a baby, Julia runs to the arms and bed of photographer Michael Scott (Nick Benedict). Victor is instantly suspicious, and in an episode that aired in March of 1981, he kidnaps Michael and holds him prisoner in a basement bunker after finding out that Julia is pregnant. Victor starves Michael and forces him to watch Victor and Julia having sex via closed-circuit camera. Julia later frees him, leading to a confrontation where Victor pushes her down the stairs and she has a miscarriage. The tragedy leads to Victor learning that — despite the vasectomy — he is the father after all. 
Assault, infidelity, and subterfuge are all common behaviors for Victor, and often it seems that each transgression is more shocking than the one before. But perhaps his most disturbing decision is in regards to his prisoner's meal plan. As part of his physical and psychological abuse of his wife's lover, Victor prepares for the unsuspecting Michael a meal of baked rats. In a 2020 interview, Braeden told the hosts of "The Talk" — which then included Sharon Osbourne and Eve, among others – that upon seeing the script for the first time, his reaction was "What? What am I doing?" Victor has a long list of despicable acts to his name, but cooking and feeding rats to an imprisoned man may be the most revolting of all.