Who Plays Jamie's Assistant On Yellowstone?
Led by John Dutton actor Kevin Costner, Paramount Network's "Yellowstone" boasts an impressive cast of characters. First and foremost, these include all four of John Dutton's children: Beth (Kelly Reilly), Jamie (Wes Bentley), Kayce (Luke Grimes), and Lee (Dave Annable). Notably, most of these characters also bring extended members of the Dutton clan into the fold, including characters portrayed by Kelsey Asbille, Brecken Merrilll, Katherine Cunningham, and a genuine member of Hollywood royalty, Cole Hauser.
However, listing the various members of the extended Dutton family doesn't even begin to mention the large number of ranch hands routinely featured on the series. To name only a few, these include people like Jimmy (Jefferson White), Lloyd (Forrie J. Smith), Colby (Denim Richards), Ryan (Ian Bohen), Walker (Ryan Bingham), Teeter (Jen Landon), and Ethan (Ethan Lee) (via IMDb). 
Of course, as the wealth and power of the Dutton family continues to grow, their continued influence over politics in the state of Montana requires an ever-growing cast of supporters and assistants, well beyond the work of the various ranch hands. In Season 3 and Season 4, "Yellowstone" also includes a small, but important role close to Montana Attorney General Jamie Dutton. This is who plays Jamie's assistant.
Maria Julian plays Jamie's assistant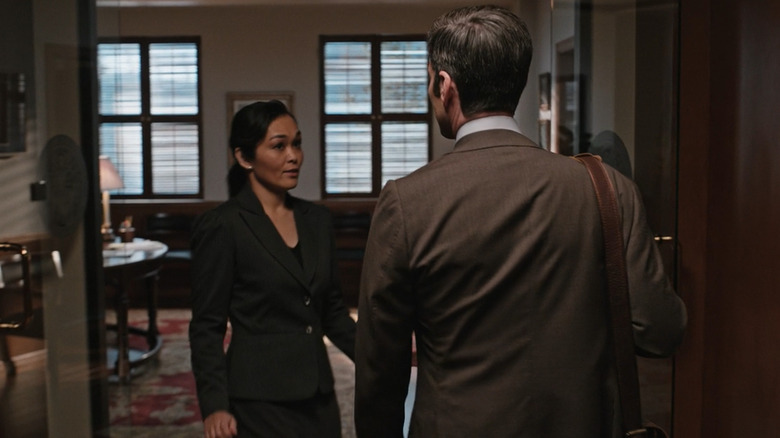 Paramount Network
Since her debut in Season 3, Episode 7 ("The Beating"), actress Maria Julian has actually been credited in "Yellowstone" under a total of three different names. In her first episode, Julian is credited as "Receptionist." For her next appearance in Season 3, Episode 8 ("The World is Purple"), Julian's listed credit becomes "AG Assistant / Receptionist." Lastly, for the entirety of her role in Season 4, Julian is simply listed as "Jamie's Assistant" (via IMDb). Perhaps in "Yellowstone" Season 5, we might actually learn her real name?
The reason for the credit changes are likely a result of behind-the-scenes decisions to keep the actress for a prolonged bit part. Originally, the actress is introduced for a small part in a single episode, but when she returns for the next entry of the series, her duties in the office of the attorney general are clearly expanded enough to warrant the additional title of "assistant." However, it is unclear why her credit changes from "AG Assistant" to "Jamie's Assistant" in between the third and fourth seasons. Jamie Dutton (Wes Bentley) is first sworn in as the attorney general of Montana in Season 3, Episode 5 ("Cowboys and Dreamers"), meaning Julian's role could easily have been credited as "Jamie's Assistant" from the very beginning. 
Per her IMDb profile, Julian has worked as an actress in a total of eight other productions since 2011, including two shorts, four TV movies, one other TV series, and a single feature film. She is also credited with stunt work in "Skyscraper," a 2018 action film starring Dwayne Johnson (via IMDb).