Who Plays Ethan On Yellowstone?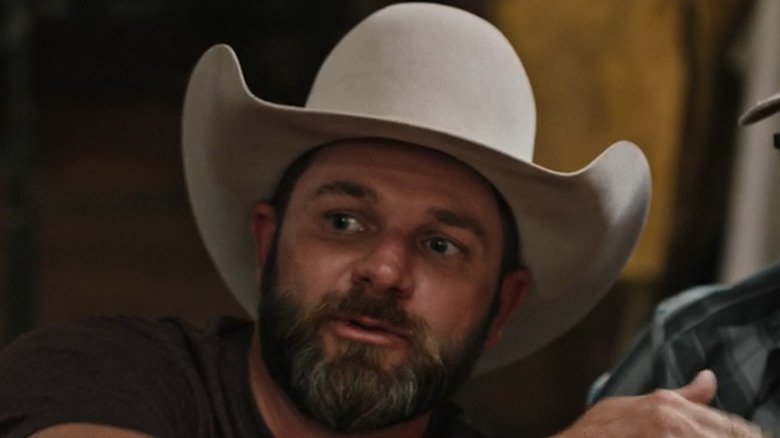 Paramount Network/Peacock
In addition to lead characters played by superstar actors like Kevin Costner, Kelly Reilly, and Luke Grimes, Paramount Network's "Yellowstone" sports an ensemble cast of supporting actors and actresses. Most of these supporting characters are employees of the Dutton family ranch. While John and Beth are busy plotting convoluted ways to murder their enemies, these are the folks doing the vast quantities of manual labor actually required to keep such an expansive operation running on a day-to-day basis.
These cast members may not often get much screen time per episode, but they remain a vital part of the show's appeal and success nonetheless. Though Rip (Cole Hauser) could probably get by without Walker (Ryan Bingham), "Yellowstone" simply wouldn't be the same without people like Lloyd (Forrie J. Smith), Colby (Denim Richards), Ryan (Ian Bohen), Jake (Jake Ream), and Teeter (Jen Landon). With so many different minor characters, it's easy to sometimes forget the names of a few of them.
Ethan, one of the lesser-known ranch hands, joined the series at the start of Season 3.
Ethan is played by Ethan Lee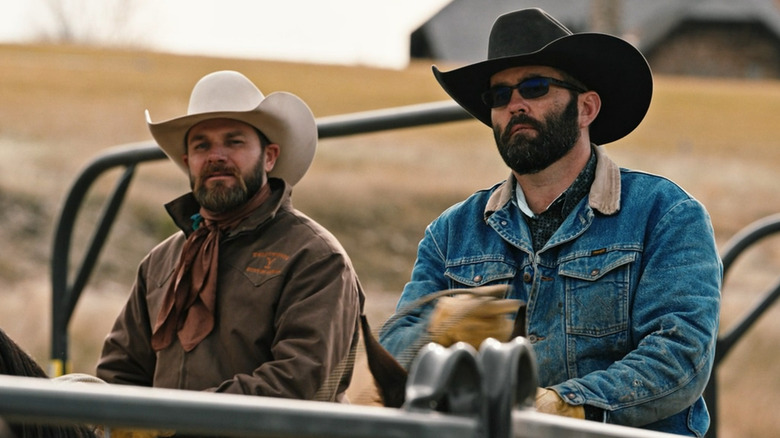 Paramount Network/Peacock
The answer to this question kind of reminds us of that old joke about the identity of the man buried in Grant's Tomb (via New York Times). The actor who plays Ethan on "Yellowstone" is none other than Ethan Lee. 
Before he joined the cast of "Yellowstone," Lee technically only had one prior acting credit to his name (via IMDb). In 2016, Lee played a wagon driver in the Matthew McConaughey-led film "Free State of Jones." 
Despite Lee's apparent lack of acting experience, he's no stranger to the set of a television series. In the same year that he earned his first acting credit, Lee worked as a stunt performer on History's "Roots," the second adaptation of Alex Haley's famed genealogy story. Since that first job in the stunt world, he has worked on the stunt teams for two movies and four other television series, including "NCIS: New Orleans," "Underground," "Claws," and, of course, "Yellowstone."