This Better Call Saul Star Is Getting His Own Series On AMC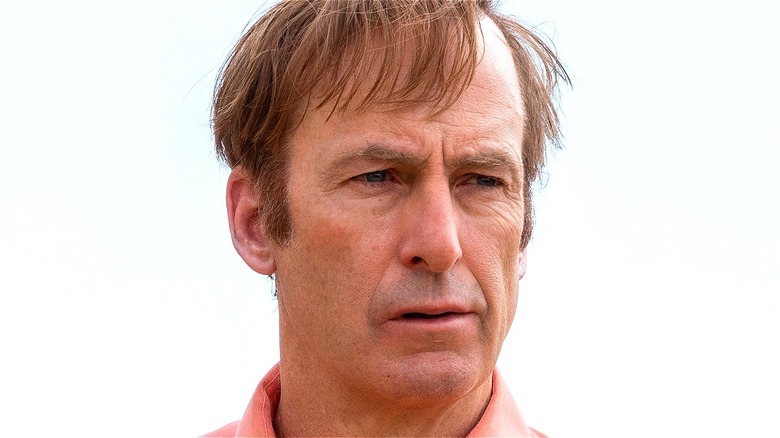 Greg Lewis/AMC/Sony Pictures Television
The upcoming "Better Call Saul" Season 6, which begins airing on April 18, will officially mark the beginning of the end for the critically-acclaimed "Breaking Bad" prequel, a little over seven years after its first episode premiered. As of now, there are no plans for any future TV series or movies set in the "Breaking Bad" universe, so the final episode of "Better Call Saul" could end up being the last viewers see of characters like Jimmy McGill/Saul Goodman (Bob Odenkirk) and Mike Ehrmantraut (Jonathan Banks) for some time, if not forever.
While Odenkirk hasn't yet publicly announced any acting ventures following the conclusion of his "Better Call Saul" tenure, he recently starred in the action movie "Nobody," potentially opening up his career to other, similar roles. Some of his castmates, like Nacho Vargas actor Michael Mando, for example, similarly have yet to announce what's next now that filming of "Better Call Saul" is complete (via IMDb).
However, another one of Odenkirk's longtime co-stars dating back to their time on "Breaking Bad" and continuing into the later seasons of "Better Call Saul," will soon lead his own brand new series, also on AMC, according to a recent press release.
Giancarlo Esposito will star in AMC's The Driver
As detailed in a write-up by Entertainment Weekly, AMC announced on March 8 that Giancarlo Esposito has been cast as the lead in an upcoming AMC series titled "The Driver." Esposito is already well-known to viewers of AMC's "Breaking Bad" and "Better Call Saul" as fried chicken and drug kingpin Gus Fring. Thus far, the network has ordered six episodes of "The Driver," which will comprise its first season.
Originally, "The Driver" was a British series that aired on the BBC for three episodes in 2014 (via IMDb). AMC's version of "The Driver" will adapt its story to a New Orleans setting. Esposito will portray Vince, a taxi driver whose life becomes complicated by a "Zimbabwean gangster who is known to exploit undocumented immigrants at various southern ports in the US."
Theo Travers, who previously worked as a writer for "Billions," will serve as showrunner on the upcoming series. Travers described "The Driver" as "a high-voltage, dark identity quest for an everyman trying to find renewed purpose in his life," in which "we're rooting for Vince as he goes down this wild and nihilistic route to discover who he once was, and in many ways still is, because it gets him out of a stuck place."
"The Driver" will premiere on AMC and through the network's AMC+ app on a date in 2023 that has yet to be announced.