Better Call Saul's Final Season Is Coming Sooner Than You Think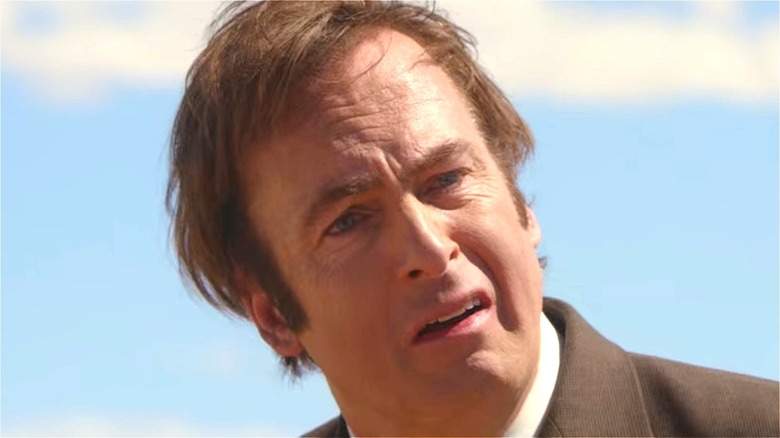 AMC/Netflix
What do you do when you make one of the greatest TV series of all time? If you're the team behind "Breaking Bad," you turn right around and make another greatest TV series of all time.
From the very first season of "Better Call Saul," it was clear this wasn't going to be a mindless cash-grab, as has been the case for so many TV spinoffs in the past. Care and consideration went into crafting the story of how Saul Goodman (Bob Odenkirk) went from a good-intentioned lawyer to a straight-up criminal attorney. It's one part drama, one part comedy, and all excellent. 
Unfortunately for fans hoping for more Saul Goodman for years to come, there's only one more season, but once that's over, you can always turn your attention back to "Breaking Bad" to see how the prequel series influenced the main show. For now, fans can look forward to more "Better Call Saul" coming out in the near future.
Better Call Saul Season 6 premieres April 18, 2022
The "Better Call Saul" Season 5 finale aired on April 20, 2020. Two years later, after going through a pandemic and star Bob Odenkirk experiencing a heart attack while filming, we're finally getting Season 6, which is set to air on AMC starting on April 18 (via The Hollywood Reporter).
Season 6 of "Better Call Saul" will consist of 13 episodes broken into two parts. The first batch will air through April and May, and then after a hiatus of six weeks, the season will resume starting on July 11. The reason for such a split is that it will allow the final season of "Better Call Saul" to compete for both 2022 and 2023 Emmys, and given the critical reception of the show so far, it's safe to say it will definitely pick up plenty of trophies moving forward. 
In a statement, the show's co-creator and showrunner Peter Gould stated, "Even under incredibly challenging circumstances, the whole 'Saul' team — writers, cast, producers, directors and crew — have outdone themselves. I couldn't be more excited to share what we've accomplished together." It's the beginning of the end for Saul Goodman, so you know where to be on April 18.