How Netflix's Disenchantment Was Inspired By George Lucas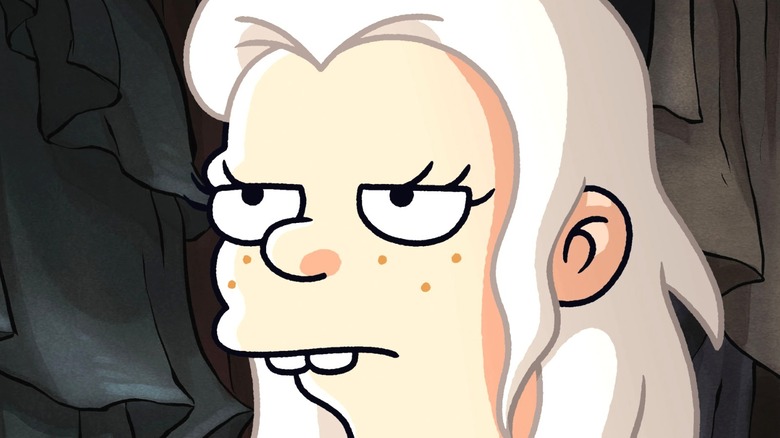 Netflix
Netflix's "Disenchantment" has been plunging viewers down another one of Matt Groening's creative and awesomely animated wormholes for nearly half a decade now, with its medieval/fantasy premise drawing different elements from iconic books, films, legends and artists — including "Lord of the Rings," King Arthur and Hollywood's closest thing to cinematic royalty, George Lucas.
On the surface of "Disenchantment," it's easy to see where a lot of Groening's inspiration comes from. Callbacks and personal nods to legendary fairy tales and even his own creations — "The Simpsons" and "Futurama" — are very evident throughout all forty episodes. The second half of Season 2, which is made up of ten episodes, was just released on February 9, 2022, and includes a number of recognizable references and links to the aforementioned source materials, especially work seen from Lucas. But how is the "Star Wars" creator and his ideas involved, you might ask? According to Josh Weinstein, Groening's fellow showrunner, the connection is simple.
Disenchantment is a coming-of-age story similar to American Graffiti
While it's easy to get lost in all the medieval and fantasy hoopla surrounding "Disenchantment," co-creator Josh Weinstein has always insisted that underneath it all is a very deep and fulfilling story, which is similar to George Lucas' first cinematic claim to fame, "American Graffiti."
"This show is a coming-of-age story with a backdrop of all this fantasy," Weinstein explained to The Hollywood Reporter in 2018. "So as much as it's like 'Futurama' or 'Lord of the Rings,' it's also like 'American Graffiti.'" For those who haven't seen the 1973 classic, it centers around a group of teens preparing to enter adulthood and experiencing the last day of summer in 1962. The film stars Ron Howard, Cindy Williams, Richard Dreyfuss, and Harrison Ford.
"['Disenchantment']'s a story of these three characters facing the world for the first time as an adult," Weinstein told THR. "All the adults and legends that come before tell you what you should do and how you should behave, but our characters are like, 'No, that's B.S. and we're going to find our own way.' That's the underlying theme. You may not know what you're going to do in life, but with your friends, you'll find your way and yourself." According to Weinstein, a lot of his and Groening's own experiences as adolescents and teens have been put into the show, as well as social satire. "We stick to what the story is," Weinstein said, "but there are always opportunities to make fun of the current world by going into the past."