The Archer Reunion You Likely Missed In The Boys Presents: Diabolical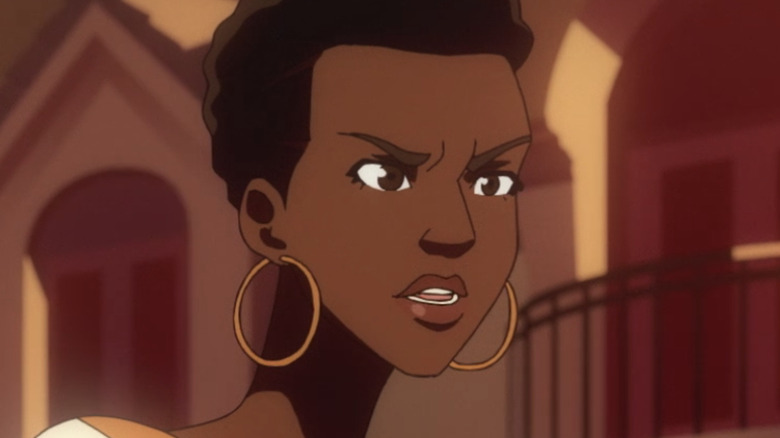 Amazon Studios
Amazon's "The Boys Presents: Diabolical" has, on the surface, a lot in common with the equally mature-in-theme hit FX animated series "Archer." Both are made for grown-ups, with explicit dollops of sexual content, violence, explicit language, and gore scattered throughout each show. More importantly, they bend genres to create entirely new and different takes on what an animated program can accomplish within its milieu. 
While "Diabolical" uses an anthology format to give fans a broader look at the scope of the "The Boys" universe, introducing new characters and giving fans a peek into the personal lives of several familiar faces, "Archer" frequently plays with the core tenets of its premise. The show accomplished this first by altering the allegiances and job statuses of its main characters, then putting its central figure, Sterling Archer (H. Jon Benjamin) into a coma for three seasons. This allowed them to explore different time periods and scenarios with unique versions of the main cast of characters.
With those points in common, it's probably not a big shock to learn that the two shows even share members of their respective voice casts. But who are these members? Let's talk about the "Archer" reunion you likely missed on "Diabolical." 
Christian Slater and Aisha Tyler act in both programs
While they don't show up in the same segment of "The Boys Presents: Diabolical" together, actors Christian Slater and Aisha Tyler reunite for the show. Per IMDb, in "Diabolical," Slater narrates Episode 2, "An Animated Short Where P****d-Off Supes Kill Their Parents." Tyler, meanwhile, voices Nubia in Episode 6, "Nubian vs Nubian."
On "Archer," Tyler voices central character Lana Kane, Archer's on-again/off-again colleague and lover, superspy extraordinaire, and the mother of Archer's daughter, Abbiejean "A.J." Kane-Sterling (Kimberly Woods). Slater reoccurs as a CIA operative, also fittingly named Slater. The character was last seen in "Liquid Lunch," Episode 8 of Season 7, and appears in 10 episodes of the program overall from 2014 to 2016. Slater and Lana have definitely crossed paths on "Archer"; while Slater evinces an attraction to Lana and on one occasion tries to see her in the altogether, she dislikes him and isn't afraid to use his attraction to her against him to get what she wants. 
"Archer" fans will have to wait awhile to see if Slater and Lana meet up again; per The Hollywood Reporter, the show was renewed for a 13th season in September 2021, and will return sometime in 2022.