The Batman's Robert Pattinson Confirms What We All Suspected About Matt Reeves On-Set Behavior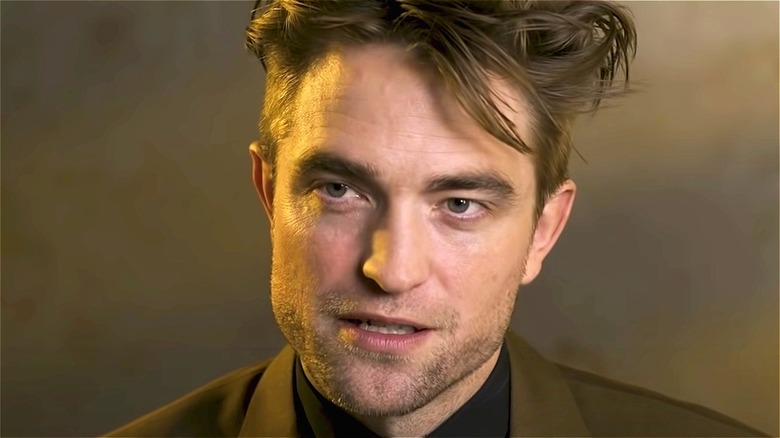 Entertainment Weekly/YouTube
Matt Reeves, writer and director of "The Batman," may be about to experience his greatest success to date as the film looks to deliver justice to the box office. A character like the Caped Crusader can be difficult to translate to screen, and there are more than a few examples of such failures. However, Reeves has a rich history of elevating mainstream blockbusters into something more than the sum of their parts. Audiences didn't need much convincing to watch his "Planet of the Apes" films — the promise of seeing monkeys toting machine guns on horseback was more than enough to draw a crowd — but Reeves nonetheless transformed the material into a sweeping commentary on the nature of humanity itself.
Though not without its detractors, early reviews of "The Batman" suggest Reeves has once again pulled off that trick, with critics praising its ambitious storytelling and surprising cast. Perhaps the most eye-raising choice Reeves made was his early decision to place Robert Pattinson under the cowl as the titular hero himself, a decision he made after watching the actor's performance in the harrowing Safdie brothers' crime thriller "Good Time." But that belief in his star appears to have paid off, as Pattinson has reflected fondly on their working relationship in interviews.
Pattinson says he and Reeves developed an 'unspoken language'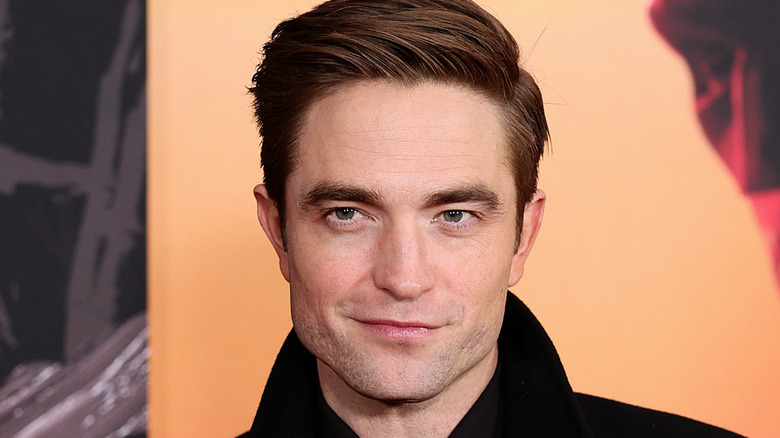 Dimitrios Kambouris/Getty Images
Asked by Rotten Tomatoes about Matt Reeves' on-set instruction, Robert Pattinson reaffirmed his trust in the director and the rapport they built while filming "The Batman." 
"I really like the way Matt directs in a kind of super minutiae," the "Lighthouse" actor said, explaining that he doesn't always know what his performances will be like because he relies on an immersive acting style. It appears, however, that Reeves knew exactly when to call it. "[He] does a lot of takes, but once you get onto his rhythm, you can kind of feel—because I'm kind of quite intuitive about what I'm doing ... It's a roll of the dice. Every take, I don't really have that much control over it, but then ... when you felt it, Matt always felt it ... It was a kind of unspoken language that we developed quite quickly."
Pattinson has been open about the struggles that came with taking on such a beloved and iconic character while still hoping to put a fresh spin on the material. It's now clear, though, that Reeves always knew how to help him understand the role. At one point, after doing over 40 takes for a scene, Pattinson described himself as nearly "having an embolism" and called it his worst day on set. However, he also said the director still guided him through it by showing him what was working and what wasn't. 
Pattinson and Reeves are both renowned for their on-set demeanors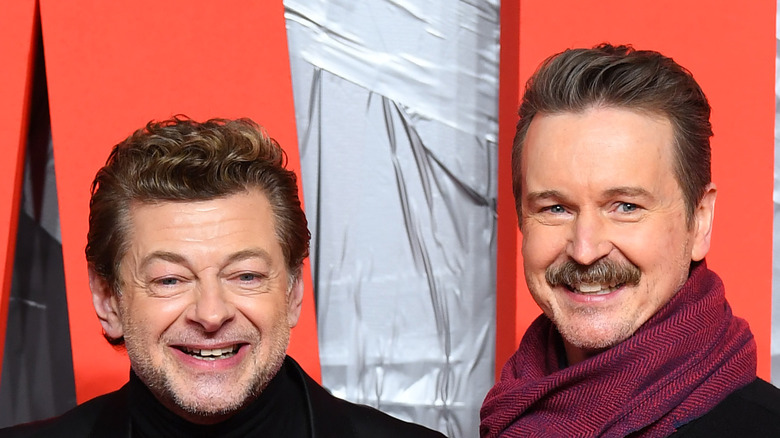 Joe Maher/Getty Images
It's no surprise that Robert Pattinson has figured out how to get in tune with a director. Before working with Matt Reeves, Pattinson spent the decade after his breakthrough role in the popular "Twilight" series acting in a series of projects with a plethora of celebrated filmmakers, from David Cronenberg to Claire Denis. Before "The Batman," Pattinson co-starred in Christopher Nolan's long-delayed "Tenet" alongside John David Washington. In an interview with Entertainment Weekly from 2020, Nolan said, "Having worked with Rob, I can say with total confidence that he can do absolutely anything he sets his mind to, and I could not be more excited to see what he does with Batman." That's high praise coming from the director of "The Dark Knight" and belies the strong working relationship the pair developed on set.
Of course, professional relationships cut both ways, and it takes a great director with the ability to use their actors' natural talents in order to coax out a good performance, even from a seasoned pro like Pattinson. Those who have worked with Matt Reeves in the past say he's exactly that kind of director. Andy Serkis, who starred as Caesar the ape in Reeves' "Planet of the Apes" films before being cast as Alfred Pennyworth in "The Batman," explained, "Matt Reeves is just one of those directors who, no matter what he touches ... everything is considered. It has intention. It has emotion. It is powered by great storytelling" (via Collider Interviews). 
Coming from Serkis, whose previous work has included everything from the "Lord of the Rings" trilogy to "Black Panther," that sort of admiration means a lot. But Serkis didn't stop there, saying of Reeves, "He is definitely one of the greats and world-class directors that we have at the moment."