The American Pickers Stars You Likely Forgot Competed On Who Wants To Be A Millionaire
Mike Wolfe and Frank Fritz, the hosts of History's "American Pickers," may not be the biggest household names in America, but the odds are pretty good that most people have heard of them at some point in the last decade. Renowned for their abilities to discover treasures among large, heaping piles of trash, the duo have been pretty popular ever since the 2010 premiere of the series. Although reports sadly indicate that the relationship between the two former friends and co-hosts isn't what it once was, there was a time when you could hardly turn on the TV without running into at least one of them. 
In 2017, Fritz voiced a fictionalized version of himself on Season 12 of "America Dad!" (via IMDb). Only one year later, Wolfe appeared as himself in a single episode of "NCIS," offering his antique expertise to assist NCIS Special Agent in Charge Leroy Jethro Gibbs (Mark Harmon) in an investigation (via IMDb). While the aforementioned appearances on network television were made individually, both treasure hunters once appeared together in an episode of "Who Wants to Be a Millionaire."
Mike Wolfe and Frank Fritz wanted to be millionaires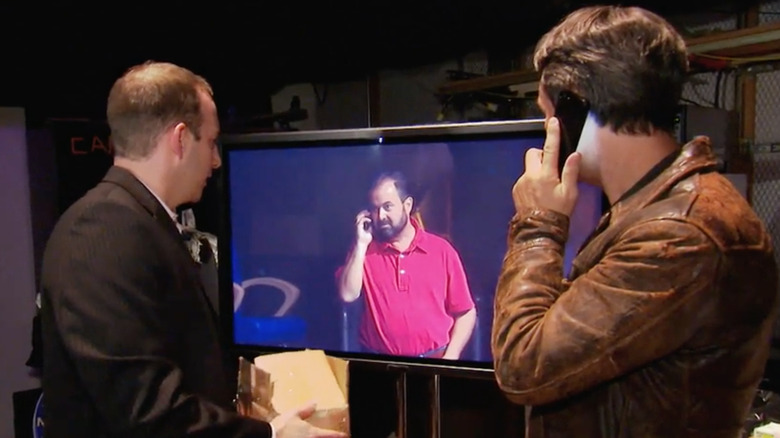 History
Mike Wolfe and Frank Fritz both appeared as celebrity contestants on "Who Wants to Be a Millionaire" Season 11, Episode 100, a special episode of the series which aired on February 1, 2013 (via IMDb). Though most episodes of the popular game show see a single brainiac placed in the so-called "hot seat," this episode of the Meredith Vieira-hosted series features a team effort between Wolfe and Fritz. 
Unfortunately, the combined strengths of the two aren't significantly more successful than previous solo attempts made by so many others over the years. Wolfe and Fritz wind up walking away with $10,000, the minimum dollar figure for a celebrity episode (via Millionaire Fandom). According to a Tampa Bay CW affiliate, the $10,000 that Wolfe and Fritz earned from their short appearance was donated to America's Vet Dogs, an organization dedicated to helping train and place service dogs with veterans with physical disabilities.
Notably, Wolfe and Fritz's appearance on "Who Wants to Be a Millionaire" was briefly teased in "American Pickers" Season 8, Episode 2 ("The Million Dollar Mistake") (via IMDb). Though the History series amusingly attempts to portray Mike and Frank's time on the set as a simple, happy coincidence, something tells us the famous duo's appearance on network television probably wasn't a mistake.