The Worst Season Of CSI: Miami According To IMDb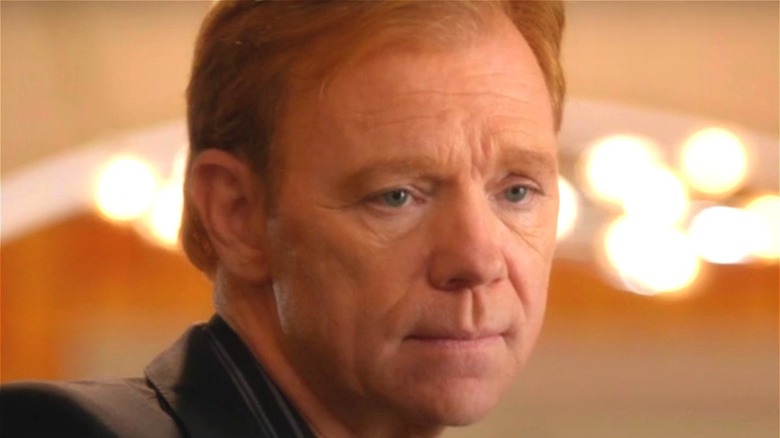 CBS/Hulu
After five different series and a TV movie, the "CSI" franchise continues to prove itself an enduring hit among television audiences around the world. However, as many might expect, not all parts of the "CSI" franchise are created equal.
Though "CSI: Crime Scene Investigation," "CSI: New York," and "CSI: Vegas" (the 2021 reboot of the original series) all rest comfortably above the 7.0 review mark on IMDb, "CSI: Miami" and "CSI: Cyber" remain the only series in the franchise to fall below a C average. Throughout its two seasons, the Patricia Arquette-led "CSI: Cyber" only earned a dismal 5.5 rating (via IMDb). Based on more than 56,000 user-submitted reviews, IMDb also reports that "CSI: Miami" is the second lowest-rated series of the franchise, only managing an average rating of 6.5 out of 10 possible stars across a total of 10 seasons.
Of course, to be fair, "CSI: Miami" had its share of ups and downs along the way, like just about every other series that goes on for any substantial length of time. According to IMDb users, the worst seasons of "CSI: Miami" actually aired towards the beginning of its run.
Season 2 and Season 4 are tied in last place
When looking at IMDb ratings, it's always important to remember that the number reported for the series is wholly separated from the average rating per episode. Though "CSI: Miami" only has a 6.5 rating as a series, this number is not perfectly mirrored in the individual episode and season ratings. According to IMDb, the lowest-rated episode of "CSI" Miami" is Season 4, Episode 22 ("Open Water"). This episode only earned a 6.6 average, substantially lower than every other episode in the series. 
However, the lowest-rated overall seasons of "CSI: Miami" are Seasons 2 and 4, both of which tied with an average of 7.1 out of 10 (via IMDb). This number stands quite a bit below the last five seasons of the series, all of which earned at least a 7.4. Interestingly, the first five seasons are the lowest-rated chapters of the whole series, never earning more than a 7.2. So, why are Seasons 2 and 4 so poorly reviewed? Let's take a look at some of the comments left by IMDb users about the worst parts of those seasons.
The lowest-rated episodes of "CSI: Miami" Season 2 are Episode 7 ("Grand Prix"), Episode 13 ("Blood Moon"), and Episode 19 ("Deadline"), all of which only managed 6.7 out of 10. Though IMDb users weren't especially chatty in the reviews for any of the three, one reviewer for Episode 13 called Caruso's acting "blatantly over the top" and insisted that the series must be a "parody." The user also called the writing "kitschy" (via IMDb). 
Additionally, IMDb user "sandcrab277" gifted only a single star to Season 4, Episode 22 ("Open Water"), titling the review "another bogus show." In their review, this user complained about a lack of realism in a sequence involving a shark attack, calling it "obviously staged."