This Was The Worst CSI: Miami Episode, According To IMDb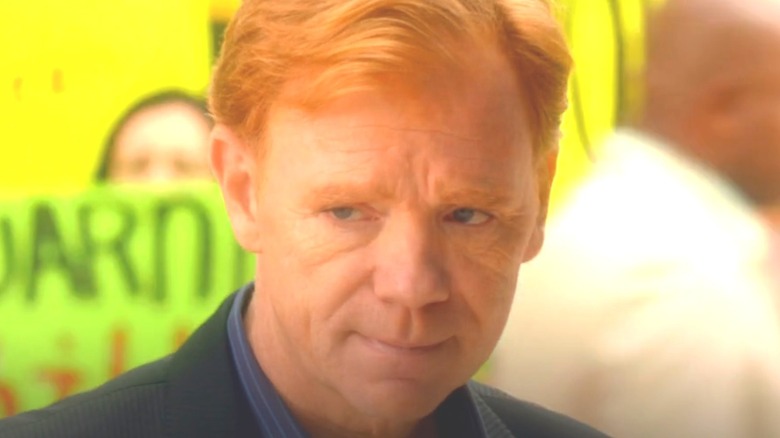 CBS/Hulu
During its heyday, "CSI: Miami" was one of the top shows on television — with over 230 episodes and an entire decade full of memorable moments. But not every outing with Horatio Caine (David Caruso) and the gang was one that fans actually want to remember.
Glancing at the "CSI: Miami" IMDb page, it's easy to see that there've been a few episodes over the years that didn't sit too well with audiences. The series has an overall rating of 6.4 and, while there have been countless episodes with sevens or higher, there have also been a number of ones with mediocre ratings as well. 
Looper has previously covered some of the best "CSI: Miami" episodes to ever air during its 2002-2012 run, so naturally, we must also talk about some of the worst. Season 4, which aired between 2005 and 2006, is ultimately the honey hole of low rated installments, with several different episodes dipping below 7.0 on IMDb. One in particular was so bad, according to site users, that it got hit with the lowest overall IMDb score out of all 10 seasons.  
Season 4, Episode 22 is the worst CSI: Miami episode
Airing in the latter half of Season 4, "Open Water" centered around a double homicide that took place on a cruise ship docked in South Beach. If that wasn't bad enough, the suspects include the victim's wife "who he met and married just seven days prior" (per the synopsis), a victim's daughter, the ship's magician, and of course "the corrupt captain." According to CBS, "the suspect list is narrowed down when the team discovers that a large sum of money was stolen from the safe in a victim's stateroom."
Nearly 300 users have rated the "Open Water" episode on IMDb, and its overall score currently sits at a 6.6 out of 10. It's also been talked about on Twitter over the years, with people calling out the episode for its absurd plot.
"S4 E22 KEITH BARRY HAS JUST SHOWN UP IN THIS EPISODE OF CSI MIAMI WHERE A MAN HAS GONE OVERBOARD ON A CRUISE SHIP AND HAS BEEN EATEN BY SHARKS WHICH SEEMS A VERY INEFFICIENT WAY TO MURDER SOMEONE," tweeted @ronronzo back in October. "Alright the man overboard was murdered by his step daughter of three days and meanwhile the captain of the ship murdered a woman who he thought had bird flu," the user later added. "Just another day in Miami."