Robert Pattinson Might Be Reading Your Batman Fan Chatter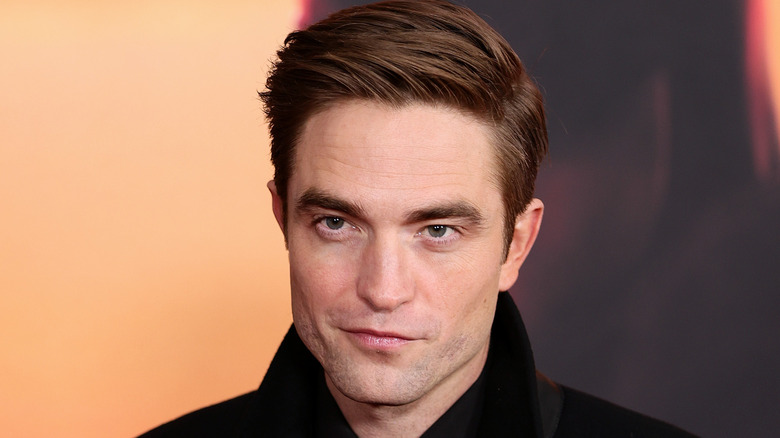 Dimitrios Kambouris/Getty Images
When you're heading up one of the biggest comic book movies of the year — especially when doing so involves a certain set of pointed ears — there's going to be an understandable need to try and figure out just how high the excitement levels are from the fans you're making it for. Critical reception aside – which has been pretty positive, by the way – it's likely that any Batman actor would want to know what the die-hard devotees of DC's darkest hero are saying. And just as Batman is known for peeking into the hideouts of his archenemies, Robert Pattinson has confessed to monitoring the fan base while filming his debut stint as the Caped Crusader in Matt Reeves' new movie, "The Batman."
Delivering an all-new (and seemingly more brutal) iteration of the world's greatest detective, the film sees Batman in his early years, fighting crime on the streets of Gotham. Soon, he is faced with his most formidable foe yet, in the form of Edward Nashton aka the Riddler (Paul Dano), who is hellbent on bringing chaos to the city by executing Gotham's wealthy and powerful. 
For Pattinson, taking on a role that's beloved by millions isn't anything new, even if this one might come with a cape. Having already become accustomed to fan bases in the past, after appearing in both the "Harry Potter" and "Twilight" franchises, the newly appointed hero has admitted that, during filming, he was checking in to see what kind of discussions are happening regarding his time as the Dark Knight — and that doing so actually helped inform his performance. Good job, internet!
Robert Pattinson was taking notes from fans for The Batman
Making sure not to confirm or deny if he's been sat in his own Batcave scanning over a bazillion monitors, the actor did reveal that some online fan threads were valuable when it came to bringing his take on this legendary hero to life. In a recent video interview for Vanity Fair, Robert Pattinson (joined by his co-stars Zoe Kravitz, Paul Dano, and Jeffrey Wright) said he skimmed through online threads as much as he did comic books while filming his new movie. While reading fan ideas in the interview that surfaced following the release of the film's trailers, he declared, "it's extremely helpful to have these fan theories. I used to look at a lot of the forum stuff and it actually really did inform my character a lot."
He also revealed that even after the cameras have stopped rolling, he hasn't quite been able to give up the online ghost, adding, "[I] still look at it nowadays ... I generally lurk." While he may not have mastered the level of hiding in the shadows that his heroic alter-ego is known for, Pattinson also recalled times where going online has led him to get involved in a covert manner, by chiming in under the guide of a supposed "fan" without revealing his secret identity as the Batman himself.
Robert Pattinson is a Robert Pattinson defender
That's right, Bat-fans. If you've ever taken to Twitter or Reddit threads, there's a chance that concealed among the likes and downvotes, a Dark Knight has been skulking around to see what fans think of his appearance so far. Who'd have thought it? Evidently, the man with what might be the coolest job of the year is a geek just like the rest of us.
In the Vanity Fair interview, Pattinson revealed that in almost Batman-like fashion, "Sometimes I just get pushed a little far and I have to respond with something." While he didn't give away any of his online handles (one would assume he's not using a screen name so obvious as "The1TrueBatman" or "MatchesMalone2022"), he did throw out one clue about how fans could spot him among the multitude of Bat-fans out there. "So, when sometimes you just see a quite abstract message going like, 'Just please, just leave me alone,' that's me," he said with a laugh, adding that he also wrote things like, "'Stop picking faults. I'm doing my best.'"
While it might be surprising to hear that Pattinson is not only peeking into fan discussions but even covertly defending himself, it's reassuring to know that he and his co-stars are grateful and considerate for those that have such a love for the characters they're taking on. Jeffrey Wright, who plays Jim Gordon in the film, said, "fans are writers of this stuff, as much as Matt Reeves and the writers that write these scripts." 
You can finally see what that looks like when "The Batman" arrives in cinemas worldwide on March 4.