Johnny Depp Wasn't Supposed To Star In The Movie That Launched His Career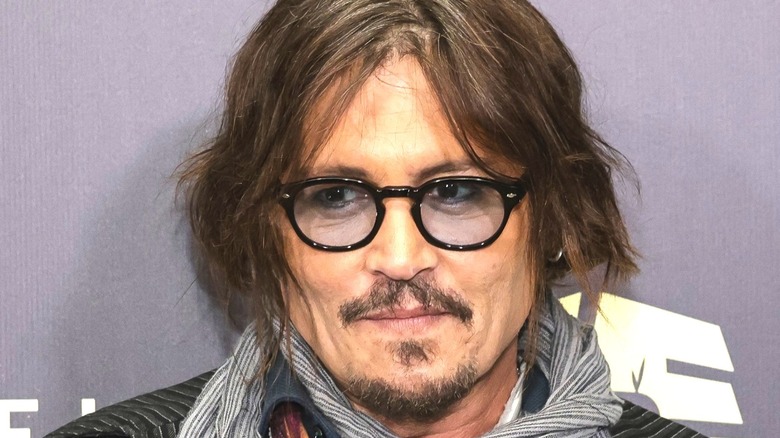 Srdjan Stevanovic/Getty
Over the course of his nearly four decade-long career, "Pirates of the Caribbean" star Johnny Depp has put his own unique twist on a number of Hollywood archetypes. From late 80s to early 90s rebellious teen heartthrob in projects like "21 Jump Street" and "Cry-Baby," to the quirky protagonist in "Edward Scissorhands" and "Benny and Joon," to the serious, brooding romantic lead in "Chocolat" and "From Hell," to the full-fledged weirdos of "Sleepy Hollow," "Charlie and the Chocolate Factory," and (of course) "Pirates of the Caribbean," the actor's approach has always had a touch of the strange and gothic. Even his current public persona may or may not be an extended performance piece, an exploration intended to blur the line between the man himself and some complex combination of his most eccentric characters. With all these various performances (some of them Oscar-nominated) under his belt, it can be easy to forget that there was a time before Johnny Depp was "Johnny Depp" — a time when he, like all actors, was just looking to land that first breakthrough role. 
Such was the case in the mid-eighties, when a then little-known horror writer and director named Wes Craven was in the process of casting an upcoming project about a monster who haunted the nightmares of the film's young protagonists. At the time, Craven had already seen some success with his films "The Last House on the Left" and "The Hills Have Eyes," but it was his 1984 surprise hit, "A Nightmare on Elm Street," that would solidify the future "Scream" director's reputation in horror. 
Incidentally, it also served as Depp's first feature film and first professional acting credit — but it nearly didn't.
Johnny Depp has Wes Craven's daughter to thank for his first role
In an interview with Vulture's Craig Marks and Rob Tannenbaum, New Line Cinema's Bob Shaye explained that the role of Glen Lantz — the boyfriend of Heather Langenkamp's final girl Nancy Thompson — was originally offered to Charlie Sheen. Unfortunately — or fortunately, for Depp — Sheen "wanted $3,000 a week," which was outside the team's budget. According to Craven, Depp ended up with the role with a little help from another cast member, a well-timed visit from Craven's daughter, and the director's willingness to trust in the taste of his demographic. 
Craven revealed that Depp had been recommended to him by "the actor who played the coroner" ("Pitch Perfect 2" co-producer Jeff Levine), but that his reading with Depp didn't leave him particularly impressed. "I remember his fingers were yellow from constantly smoking unfiltered cigarettes," he told the outlet, "and he was greasy and pale and sickly." Luckily for Depp — and for teen and tween girls everywhere — Craven's 14-year-old daughter and her friend were able to change the director's mind. 
As Craven explains, he took the headshots of the actors he was considering for Glen, and showed them to the two girls, who were visiting from New York. "They immediately pointed at Johnny," Craven said, adding that he was baffled. "I said, 'Are you serious?' He looked like he needed a bath." 
Despite Craven's reluctance regarding Depp's hygiene, in the end, he decided to trust his daughter and her friend's opinion. "They both said, 'He's beautiful,'" Craven added, proving that one of the writer-director's greatest strengths — his ability to know and trust his audience — was an integral part of the late horror guru's approach to filmmaking from the beginning.