What Has Jewel Been Up To Since Winning The Masked Singer Season 6?
Alliance For Women In Media Foundation/Getty Images
In December 2021, on the highly-anticipated finale of "The Masked Singer" Season 6, audiences and judges alike watched with bated breath as winning competitor Queen of Hearts prepared to unveil her true identity. Following an exploding chant of "Take it off, take it off," powerhouse singer-songwriter Jewel emerged from the bright red costume.
Throughout the show, Jewel/Queen of Hearts was a force to be reckoned with. Not only did she belt out pop anthems such as "Born This Way" by Lady Gaga and "River" by Bishop Briggs, but she also threw several curveballs at the judges by performing the French track "La Vie en Rose" by Édith Piaf and the Patsy Cline ballad "She's Got You."
As Queen of Hearts, Jewel soared through the competition until she and Bull (Todrick Hall) were the last two standing. While the guesses of the panel included everyone from Kellie Pickler to Miranda Lambert, Nicole Scherzinger pieced the clues together to come up with the correct answer. She spotted a pair of ruby slippers, an ode to Jewel's appearance as Dorothy Gale in 1995's "The Wizard of Oz in Concert: Dreams Come True," and a briefcase, a nod to Jewel's son Kase Townes Murray.
Since being crowned the champion of "The Masked Singer" Season 6, many viewers have been wondering what the woman behind Queen of Hearts has been up to.
Jewel is preparing to release her first album in seven years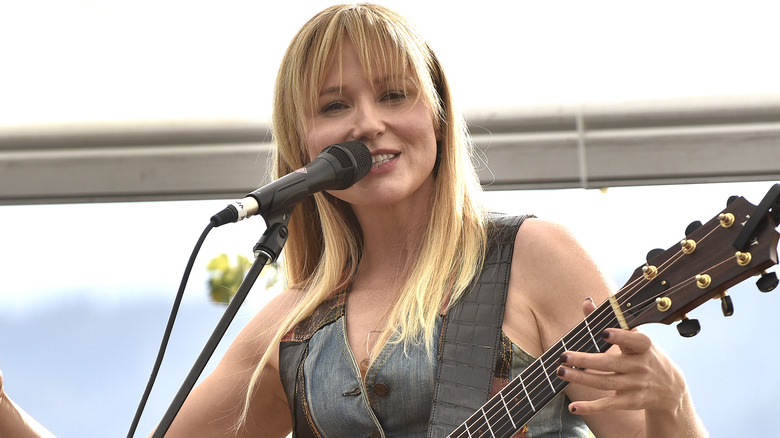 Tim Mosenfelder/Getty Images
In February 2022, Jewel fans rejoiced when the musician announced that her first album since 2015's "Picking Up The Pieces" is scheduled for release on April 15 (via Shore Fire Media). Titled "Freewheelin' Woman," the album encompasses a "fresh sound that pushed and challenged" Jewel.
According to the Grammy-nominated artist, 12 tracks were chosen for the record out of a whopping 200. Out of those final 12, "Dancing Slow," featuring the band Train, was selected to be her new single. The song, she said, is about "the ebb and flow of life, and cherishing those moments of certainty that are shared when you're with a trusted companion." As for the title of the album, she explained that she chose the title because she is "proud" of having being "able to navigate [her] life with autonomy and a sense of freedom that was not given, but fought for."
Through her music and an online platform called "Never Broken," which shares the same title as her 2015 memoir, Jewel continues to serve as an inspiration to those who are struggling. Despite moving out at 15 and becoming homeless, she didn't become a "statistic" by turning to drugs or an abusive relationship (via Larry King). Rather, she pursued her passion of music by focusing on her "mind, heart and lyrics." Jewel said, "I am proud to be a 47 year old woman in this ageist, sexist industry and know I have always lived my career on my own terms ... I have always made the art I wanted, in any genre I wanted – no matter what flack I got for it."