Is 50 Cent Really Leaving Starz?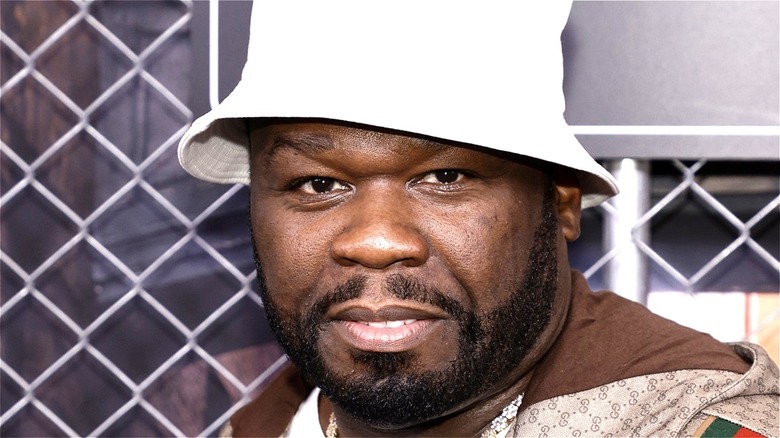 Jamie McCarthy/Getty
To some, 50 Cent may simply be a popular musical artist — who was most recently seen hanging upside down during the Super Bowl LVI halftime show — but over the course of the past couple of decades, 50 Cent has become a successful TV producer in his own right.
Central to 50 Cent's TV production career is his relationship with the Starz network. Kickstarting his partnership with the network was "Power," a crime drama he executive produced and appeared in as a central cast member (via IMDb). "Power" was subsequently spun off into a number of sequel shows, each of which fleshes out a different character's storyline either in the past or future of the mainline series. Following the success of "Power," 50 Cent signed on to produce a number of additional series for Starz, like "Black Mafia Family," which began airing in September of 2021.
In spite of what appears to have been a fruitful working relationship between 50 Cent and Starz, however, a number of social media posts seem to indicate that the rapper and producer is in the midst of dissolving his partnership with the network and moving on to other ventures entirely.
50 Cent is upset with Starz
On March 1, 50 Cent shared a post to his personal Instagram account consisting of a man hastily packing a suitcase with the caption, "This is me packing my stuff, STARZ. Sucks, my deal is up over here I'm out. They Renewed High town and FORCE is the highest rated show they have it sitting in limbo. If I told you how much dumb s*** I deal with over here." He then followed that up with four subsequent posts each similarly featuring a suitcase image and an insinuation that he's departing the network for good.
Additionally, an account of his recent posts about Starz published by Billboard recounts how, in November of 2021, 50 Cent expressed — in a now-deleted post — his anger with the network for airing an episode of "Black Mafia Family" before its intended premiere date.
50 Cent is currently signed on to produce a number of projects unrelated to the Starz network, like an adaptation of the DC superhero comic "Xerø," for example. So, if his posts are to be believed and not merely venting on social media, he nevertheless has a fair share of production work ahead of him.
In short, then, while 50 Cent has yet to announce his departure from Starz in a capacity more official than a series of incendiary Instagram posts, his intent seems entirely clear. All that remains now is a proper announcement for what sounds like a done deal.