The Real Reason 50 Cent Was Upside Down In The Super Bowl Halftime Show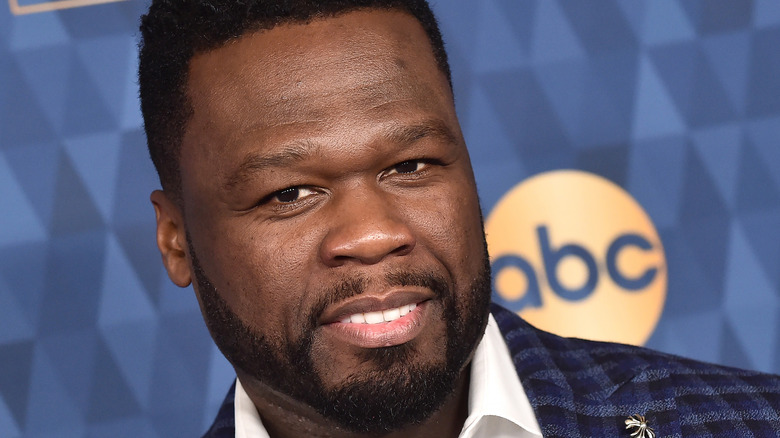 DFree/Shutterstock
This year's 2022 Super Bowl halftime show was an impressive celebration of hip hop and R'n'B music. While the concert featured an appearance from man-of-the-moment Kendrick Lamar, the other performers — Eminem, Mary J. Blige, Snoop Dogg, Dr. Dre, 50 Cent — are considered veterans of the game. As such, they took viewers and attendees on a trip down memory lane, playing some of their biggest hits from the '90s and 2000s. From "The Next Episode" to "In Da Club," the show was essentially a mixtape of bona fide classics, albeit with a fresh modern spin thanks to the live instrumentalists and remixing.
That said, while every rapper and singer brought their respective A-games, 50 Cent deserves extra credit for his efforts during his rendition of his 2003 hit "In Da Club." Out of all of the performers present during the Super Bowl LVI halftime show, he was the only one to do his song while hanging upside down (via Twitter). However, as most fans of mid-2000s hip-hop will know, it wasn't the first time that he spit some bars from that position.
50 Cent's Super Bowl performance recalled his In Da Club music video
50 Cent might be a hip-hop veteran these days. Back in 2003, however, he was still a relative newcomer to the industry. He was also the protégé of Dr. Dre and Eminem, meaning that he was destined for big things from the outset. "In Da Club," taken from his debut album "Get Rich or Die Tryin'," is the single that put the rapper on the radars of millions of fans, and its accompanying music video typified his status as the genre's fast-rising star at the time.
The "In Da Club" music video depicts 50 Cent in a lab known as the Shady/Aftermath Development Center, essentially being prepped by rap scientists for world domination. 50 then introduces himself by hanging upside down from a gym roof and performing his lines. If his recent SuperBowl performance proved anything, it's that the rapper is still capable of pulling off the stunt with ease.
The iconic upside-down visual made an impression on the rap world too. In 2005, fellow rapper and Eminem associate Bizarre parodied the music video for "Rock Star," which you can watch here.