Chicago PD's LaRoyce Hawkins On His Character's Future And Bonding With His Co-Stars - Exclusive Interview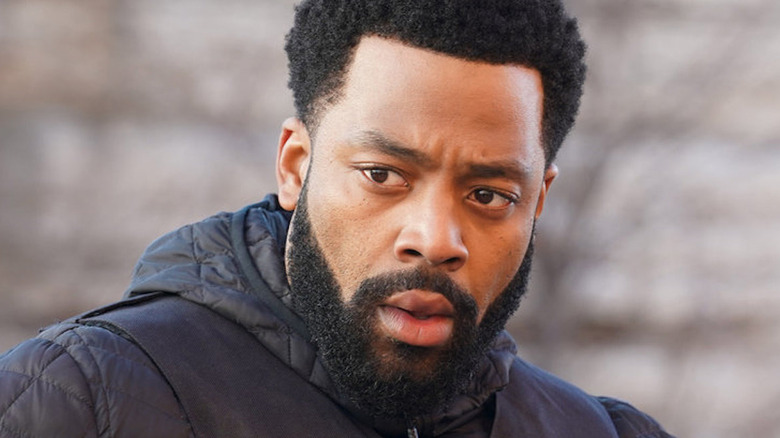 Lori Allen/NBC
For LaRoyce Hawkins, starring on "Chicago PD" isn't just a job, it's an opportunity to serve the community he calls home. Having grown up right outside of Chicago, Hawkins brings an authenticity to his portrayal of Officer Kevin Atwater that's heightened by his real-life activism in his hometown and beyond.
On the hit NBC series, which airs on Wednesday nights, Atwater is a dedicated cop who wants to both serve his community and change the system from within, often addressing the hot-button issue of race and the long arm of the law. Beyond that, Atwater and the rest of the Intelligence Unit of the fictional 21st District — including Jason Beghe, Patrick John Flueger, Jesse Lee Soffer, Marina Squerciati, and Tracy Spiridakos — bust bad guys week after week while dealing with interpersonal relationships and problems.
It's a role tailor-made for Hawkins, who exclusively spoke to Looper about real-life experiences influencing him on set, why he's happy his character has never hooked up with a co-star, and the offscreen "bromance" he has with Flueger.
LaRoyce Hawkins' former basketball coach inspires him behind the badge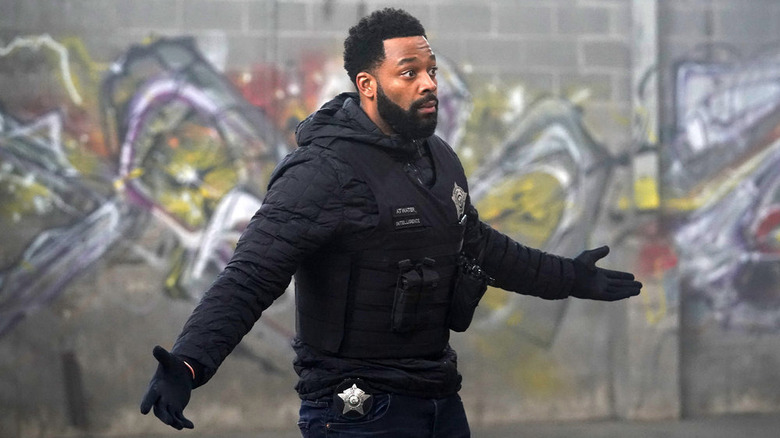 Lori Allen/NBC
I assume you are in Chicago right now?
Yes, ma'am.
You are originally from there. Does that affect how you approach Officer Atwater, and how do your real-life experiences influence you or your character on set?
Yeah, I have a direct reference based off where I'm from. Harvey, Illinois, is where I was born and raised. That's where Atwater was born, and Atwater is very familiar with how to navigate the city based on his upbringing in a city like Harvey, which helps me out, because I have memories from the heart that I can connect to outside of trying to get so heady. In my mind, about where Atwater lives, he really lives in my heart most of the time. It helps me as far as the connection, and that might be the connection that our fans feel as well.
Who or what inspires you when you put on that police badge?
I'm inspired by a few things. It's a layered inspiration. I'm inspired by some of our ancestors whose lives have been taken at the mercy of police brutality — the lack of empathy in this uniform. I'm just as inspired by my basketball coach, who [during] my freshman and sophomore year, I know was an active police officer while he was coaching us. He always coached us with an integrity, with a character that I know is the reason why later on in his career, he became a detective. He was the same detective that fought on the case for my little cousin, who ... was taken by gun violence.
There's a cycle here that I'm connected to in more ways than one. I'm connected to the good, the bad, and the ugly, and in ways that I'm honestly grateful for, because I have a lot to offer the role and a lot to pour into it. I'm also grateful that I've been around long enough to keep on pouring into that cup, because I know it's not going to last forever. I'm having more fun than I ever have because I'm finding new ways to layer these stories that we're given with that real connection.
He uses subtle humor to 'connect' with his character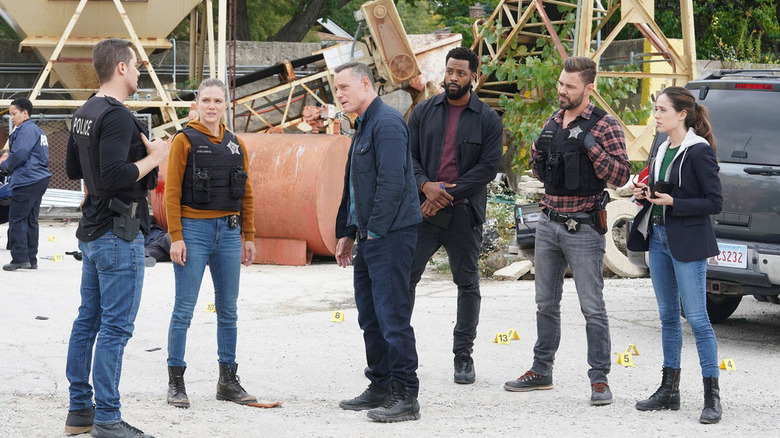 Lori Allen/NBC
Now, your bio says you've done standup comedy, which I assume means you're a pretty funny guy in real life, but "Chicago PD" is a pretty serious show. How do you balance those two things, and do you ever wish Atwater had some lighter, more comical moments? Which isn't to say that he doesn't already have a little bit of a kick to him...
Well, allow me to preface everything that I'm going to say by saying I'm more funny-looking than funny, which I think adds to the drama of things, because naturally if you look like that classic, funny-looking guy, you take those people seriously. I'm joking ... There's a way that honestly informs drama. One of the things that I learned in an acting class a while ago, back at Illinois State, was that in every scene or within all our dialogue, there is humor and there is love. That humor isn't always something that's hilarious, it's that point of exchange between humans that allows us to relate to each other.
And then that love is the connection that I bring. That's the reference of being from Harvey and so tied to Chicago. I honestly think it's a perfect combination where you can do it right. I'm thankful for such a talented cast that I go to work [with] every day and I'm able to pick up what they're putting down. When you're going to work with the Jason Beghes and Patty Fluegers and Marina Squerciatis, you've got to pick up something. As a cast and as a family, we support each other like that. They've also [helped] me because sometimes, I can play too much. Sometimes, it is hard for me to turn that corner and connect in a way that is going to inform our audience. We have each other's back like that. I'm grateful for the whole team.
He thinks Atwater can find love if he's true to himself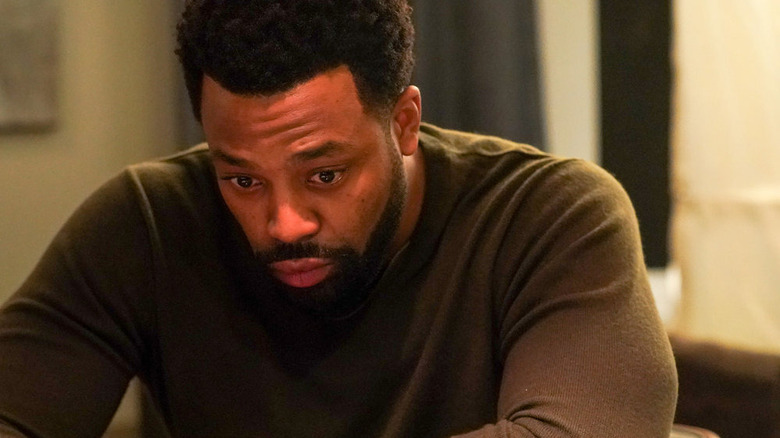 Lori Allen/NBC
The Atwater and Celeste storyline had fans in a tizzy. Everyone seems to want to see him paired up, but the last time we saw them together it didn't look so good. Another one bites the dust, or might we see her again? And either way, what is your hope for Atwater when it comes to onscreen romance?
More than anything, I hope Atwater learns to live from an authentic place. Atwater in this situation is guilty of trying to live from a place that was not [authentic]. Sometimes, we live out of where we want to be or where we used to be, but not exactly where we are now. If Atwater would have applied that principle with his relationship, or within their rhythm, it wouldn't have ended the way that it did. I hope that moving forward, he's learned from that, and he does his best so hopefully he finds himself in a situation where he can redeem himself and take that second or third chance — however many times it takes. But he's struggling with it a little bit. It is what it is.
Do you ever get jealous that the other characters — like Halstead and Hailey — are hooking up amongst themselves? Do you ever wish there was someone on the team for you romantically? As Atwater, of course...
I think Atwater has outgrown that, if I can be transparent with you. Once upon a time, he would've liked that. It would've been dope, as he saw everybody else in the unit hooking up. Voight is really the only one left — and Voight isn't really Atwater's type. I think it's dope for us to be able to explore through Atwater a different kind of love — something that isn't rooted in a crisis bond, something that isn't blue necessarily, but very Black and very layered. It's very possible for him to find somebody to connect to despite his occupation, because of the kind of brother that he is. It's cool that we explore outside of the force because we get to diversify our vibe that way.
He thinks Jason Beghe is just a big 'kitten'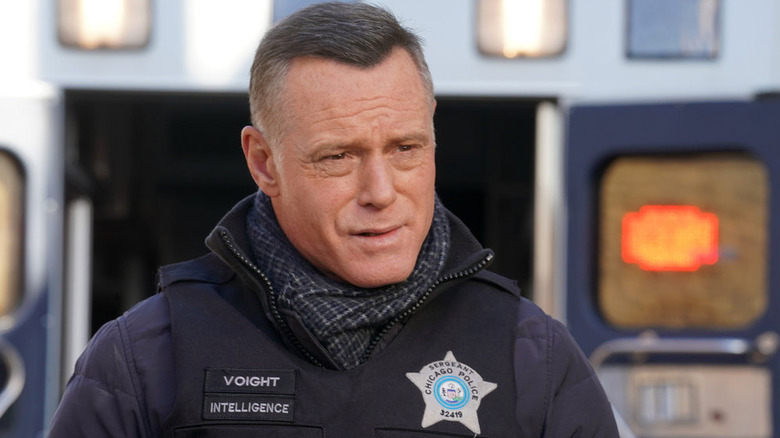 Lori Allen/NBC
What's it like working with Jason Beghe? He's pretty intense on the show, but what's he like in real life?
He's honestly a kitten.
Tell me more.
He's something like a kitten, man. I use that word because that's what he would call himself. There's nothing but love, honestly. He loves the show so much. He loves everybody on it so much. When we find him being intense, it comes from a place of heart, like that's the part that he's connected to, and that's part of the reason why I do my best to connect to what's real for me. What's real for Jason oftentimes is that pure love that he has in that moment. I've seen him do it with his family. I've seen him do it with us as family. That's the part of Voight that doesn't give up on a case the same way I know Jason wouldn't give up on anybody in his life. 
We pull from those real references, and he's very much like that. Honestly, minus that voice, which is extremely intense, you might have a different perspective on his intentions. I think it's the voice that makes everything feel darker than it should be. I love his voice. It's like you don't want it to go anywhere. He's definitely like a big brother to me. He's taught me a lot.
A caffeinated Patrick John Flueger inadvertently had everyone laughing on set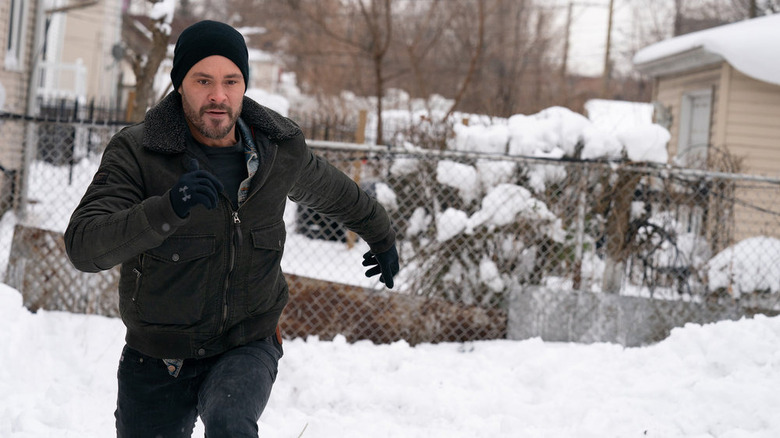 Sandy Morris/NBC
Any funny or memorable moments from the past couple seasons that really stand out from the set?
Yeah, the one that comes to mind right away is this moment that was so funny because it was so serious. We get these cases sometimes where they revolve around our characters, and every time we see stage directions, the stakes raise for us. We are always put in these positions where we're more intense than we ever have been before. We have to run faster than we've ever run before. We have to be better cops every time, every episode.
There was a moment where Patty and Jesse, playing Ruzek and Halstead, were running into this river because they thought that Burgess [Squerciati] might be in the trunk of the car that was floating at the top of the river. You have to understand how much coffee Patty probably drank that day [and] how intense his training was the night before to make sure that he was ready for this big moment. The big moment came and they rolled sound — lights, camera, action — and he and Jesse jetted toward the car. Because Patty is so passionate, he's running faster than Jesse, when in real life, he can't. He gets to the car first, but not without slipping and falling headfirst right into the water, and the whole crew busts up laughing.
I know that it was hilarious because they called me on FaceTime to tell me how funny it was. I wasn't even there in the moment, but they had to pause production for at least 15 minutes from everybody's laughter because he was so intense, and the way that he fell and wiped out, it was hilarious.
A couple days prior to that, we had a decent laugh because when catering knows it's your birthday on set, no matter who you are — cast, crew — they bring you a cake and everybody sings "Happy Birthday." That birthday person was Jesse one day, and they made this very unique cake. It was pretty much a chest-naked Jesse in his drawers. Everybody fought over Jesse's cake limbs. Everybody wanted pieces of his chest-naked body to take home. Things like that happen and it really lightens things up because we go through some dark material.
He's had 'complicated' and 'tough' conversations on set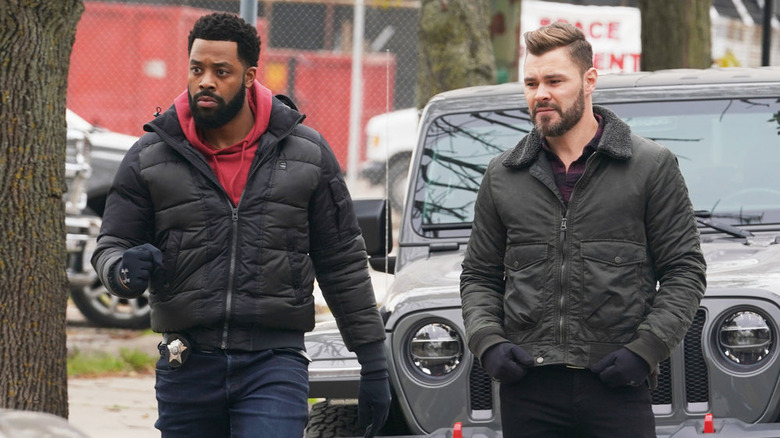 Lori Allen/NBC
Now, who is your favorite actor or character to play opposite of?
I love everybody, but there's something special between me and Patty. The Atwater-Ruzek relationship has been a bromance that has grown on all of our fans in a very unique and special way. It's because the characters are able to dig so deep, and I think the characters are able to dig that deep because of the authentic brotherhood we have off screen.
I'll never forget going to Red Wing, Minnesota, the first Thanksgiving I met Patty. He invited me down with his family and I spent time there with him on his farm on Flueger Road. Almost had to shoot a gut-shot deer, which was a culture shock for me. Thankfully, we didn't have to. That's what happens in Red Wing, Minnesota, when you see a deer that's been maimed.
[As for] our connection off screen, we've had those complicated, tough conversations about the black and whiteness of it all, about the gray areas. We've supported each other's families. I'll never forget how he and Jesse drove with me from set to a hospital that was two hours away when my son was born because his mom gave birth in the middle of a scene and I couldn't leave right away. As soon as we got done working, Patty was right there. Jesse was right there. Those are the types of memories that we create with each other in real life, so when we have to tell those stories on screen, it comes from an authentic place.
What would be your dream scenario on "Chicago PD"? Where do hope to see your character go in terms of storyline?
Atwater wants to protect and serve at a high level. Hopefully, we see him going into a detective position, where he can do exactly that but even better, from a vantage point that allows him to be a lot more valuable. If that doesn't happen ... that's why, simultaneously, we see Atwater investing his energy and his resources into real estate, so that he can still offer service and protection for the community. The more he grows into that role, he understands himself to be a pillar, whether he's a pillar through the blue or on the side of the Black. He's Black first, and he does his best to inform the blue, but as long as he can protect and serve at a high level, I think he's good. Hopefully, he's a detective soon, but if that doesn't work out, he'll be in the real estate space trying to make moves and navigate that in a way that he can help some people also.
He feels 'spoiled' when he visits the Chicago Fire set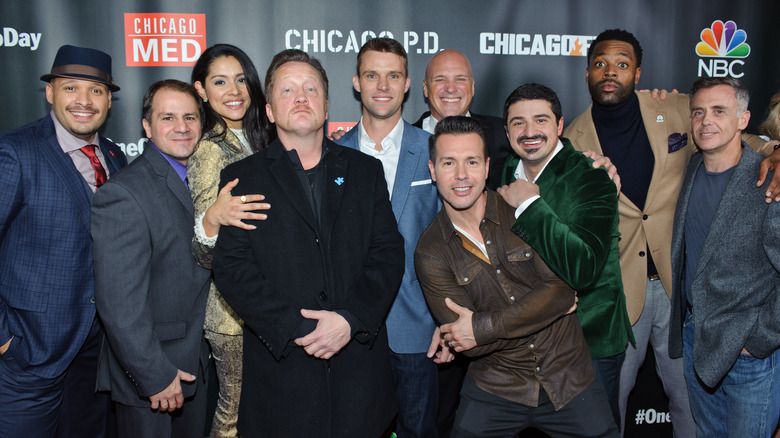 Timothy Hiatt/Getty Images
You originated the role of Atwater on "Chicago Fire" almost ten years ago, and sometimes you pop into that show. What's it like going back to the "Fire" set, where it all began? Do you have a dream scenario for a crossover event involving Atwater, whether on "Fire" or "Chicago Med"?
I love working on "Fire" and "Med" as often as I can. I like going over there because it's like going to your favorite cousin's house or your favorite auntie's house on Thanksgiving, where you know you're going to get love. They're going to spoil you because you're not there all the time, and you get certain privileges because they watched you grow and they're so proud of what you've grown into. I think it's a beautiful story from top to bottom.
If I could create some type of dream crossover scenario, it would involve Atwater from top to bottom, like a whole Atwater Wednesday that starts with "Med," takes us into "Fire," and naturally ends on "PD." Imagine, we go on this journey with Atwater based on something tragic that may have happened. There are so many different scenarios that we can fall into. It could be a love interest that takes him from show to show — maybe she got hurt or sick or something like that. It could be a family member. Or, we haven't met Atwater's father yet, so perhaps it has something to do with whoever that brother is ... That's a great question. You put me on the spot because now I'm lost daydreaming about that possibility...
All the possibilities...
Yeah. Atwater Wednesday ... coming real soon.
Season 9 of "Chicago PD" airs Wednesdays at 10:00 PM ET on NBC.