Ranking Every Couple On Chicago P.D.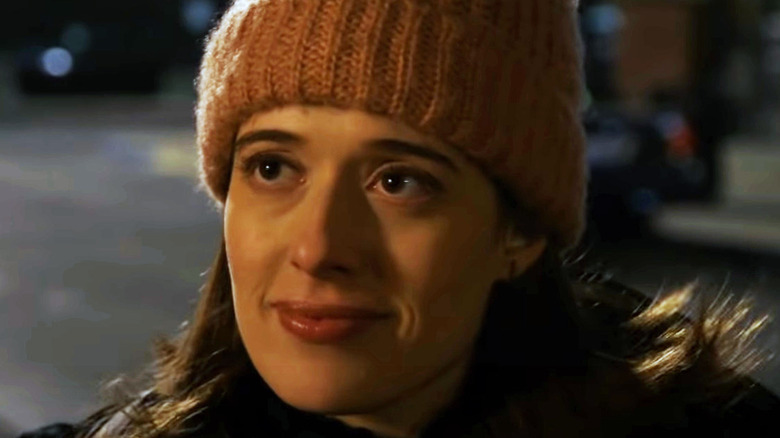 NBC/YouTube
"Chicago P.D." combines pulse-pounding action with no small amount of soapy romance among its uncommonly attractive cast. Over the course of nine seasons, the series has had its fair share of intra- and inter-departmental love affairs: Some long, some short, most of them doomed, but at least one of them strong enough to last a lifetime. While the show is not quite as steamy as "Chicago Fire" or fellow spin-off "Chicago Med," it is downright saucy when compared to the all-business partnerships of its sister franchise, "Law and Order." Even Benson and Stabler's slow-burn attraction on "Law and Order: Special Victims Unit" doesn't come close to the sparks that fly on "Chicago P.D." 
At its best, "Chicago P.D." uses its romantic storylines to underline essential truths about police officers and their work, and how destructive cycles can be broken with the right partner by one's side. At its worst, it introduces couples who never really stand a chance. Here are the couples of "Chicago P.D.," ranked from worst to best.
10. Kelly Severide and Erin Lindsay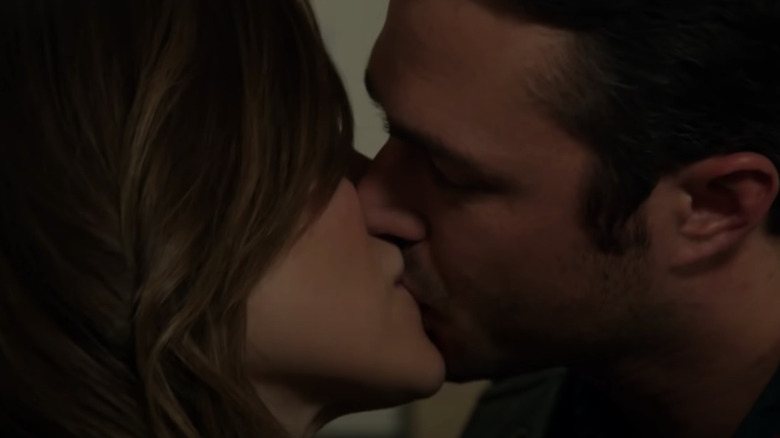 NBC/YouTube
Resident "Chicago Fire" hunk Kelly Severide (Taylor Kinney) appears in several episodes of "Chicago P.D." Season 1 as a kind of audience ambassador, easing viewers into this different-but-similar world of cops and lovers. This also establishes that characters from either show can pop into the other at any time, MCU-style. 
In the episode "At Least It's Justice," Severide witnesses a man fleeing the site of a car wreck where police find a severed human torso. While assisting with the investigation, Severide catches the eye of Detective Erin Lindsay (Sophia Bush) and steals a hand grenade paperweight from her desk. He uses returning the paperweight as an excuse to stop by her apartment that night, where they engage in a steamy make-out session. Lindsay won't let him come in, though, citing an early morning. Despite what some #lindseride stans hope for, their relationship never progresses beyond that hallway.
9. Jay Halstead and Camila Vega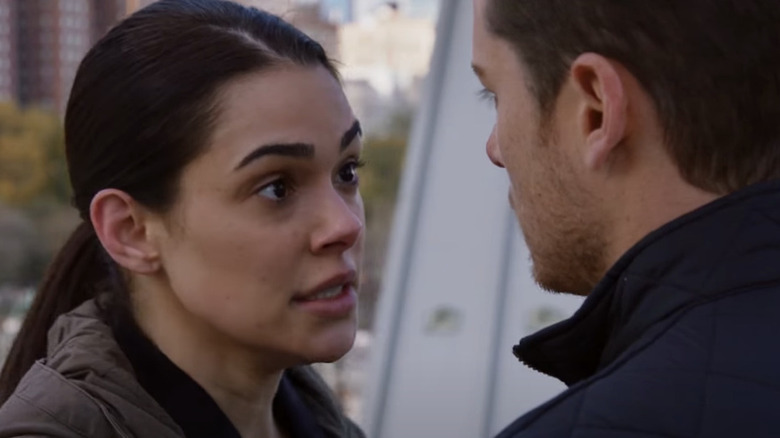 NBCUniversal/YouTube
In Season 5, Detective Jay Halstead (Jesse Lee Soffer), still reeling from the end of his relationship with Lindsay, goes undercover to investigate a series of gang-related child abductions. He and Camila Vega (Anabelle Acosta) soon begin seeing each other — the only problem is, she thinks his name is Ryan. As if that situation weren't complicated enough, Camila becomes implicated in the murder of an undercover DEA agent. They make plans to run away together, but Halstead is intercepted by Sgt. Voight (Jason Beghe) and Det. Upton (Tracy Spiridakos). He is faced with an impossible choice: His new love, or the job he's dedicated his life to. In the end, he chooses the job, and wears a wire while getting Camila to reveal the name of the killer (while also outing herself as a low-level drug dealer). Soffer and Acosta have great chemistry in their scenes together, but their love story is doomed from the start.
8. Blair Williams and Kim Burgess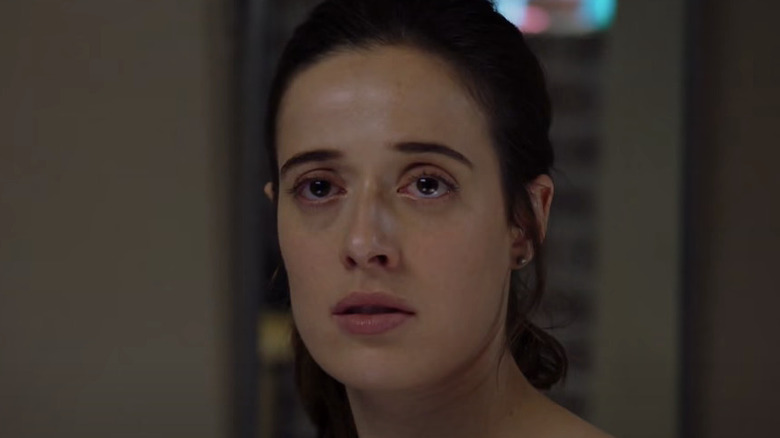 NBC/YouTube
Det. Burgess (Marina Squerciati) begins dating Blair Williams (Charles Michael Davis), a young man working on Brian Kelton's (John C. McGinley) mayoral campaign in Season 6. But as the Intelligence Unit begins to suspect Kelton's involvement with the city's drug gangs, as well as the murder of a prominent defense attorney, things get complicated. 
When Blair doesn't show up for a date, Burgess finds him bleeding out from a gunshot wound in what appears to be a drug deal gone bad. He dies on the way to the hospital. This is a very rare relationship with someone outside of the police and/or first responder world — not just for Burgess, but for the show altogether. Blair represents a life outside the job, and all that could mean for Burgess. His time on the show is best summed up by the title of the episode in which he dies: "What Could Have Been."
7. Sean Roman and Kim Burgess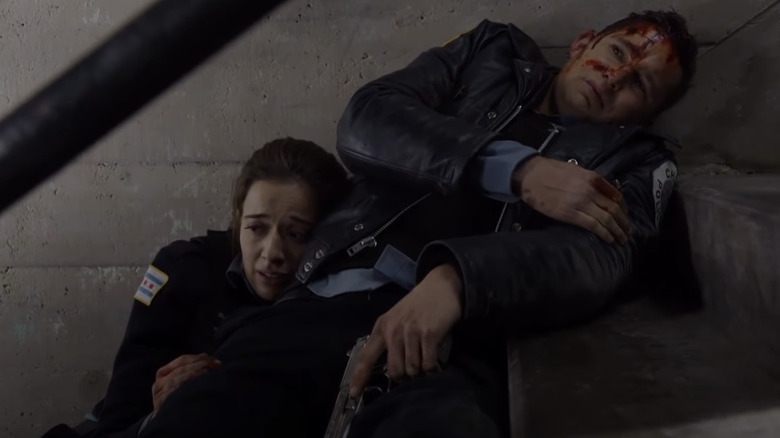 NBC/YouTube
Sean Roman (Brian Geraghty) doesn't like female cops. He makes that clear in Episode 1 of Season 2 when he's assigned to be Burgess' new partner on patrol. Before long, she (and we) get the reason why (beyond misogyny): He was in a relationship with his former partner, which ended in a bitter breakup. But when Burgess is shot in the line of duty due to his distraction (he's busy fighting with said ex, now a K-9 officer), Roman goes from aloof to overprotective. 
His feelings are obviously rooted in something more than professional obligation, but it takes all the way until the near-end of Season 3 for he and Burgess to finally act on their attraction. By then, it's almost too late. Roman is shot while on patrol with Burgess, and the resulting injury leads him to leave the force and relocate to San Diego. Will Burgess follow her heart to California, or stay in Chicago? We all know which option she chooses, and it isn't the one that leads to a Roman-centric romance.
6. Adam Ruzek and Hailey Upton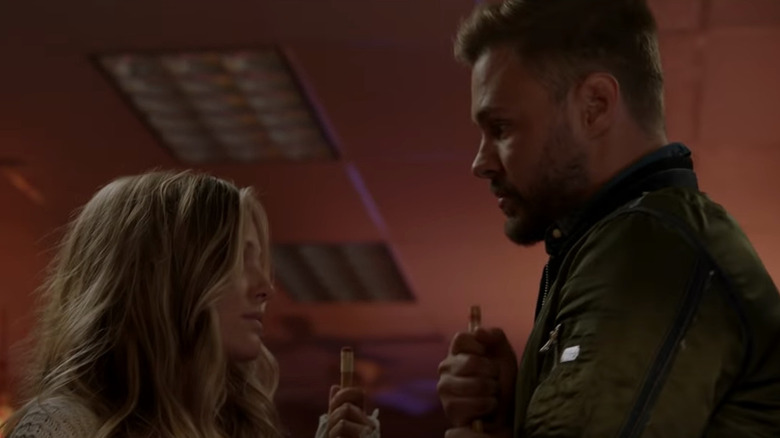 NBC/YouTube
After "Burzek" (Burgess and Ruzek), but before "Upstead" (Upton and Halstead), there was "Upzek." This couple is born in Season 6, when Upton and Det. Ruzek (Patrick John Flueger) realize that they're two very good looking people who have not yet slept together. Their brief, bright infatuation, mostly carried out in secret, illustrates how the pressures of the job lead so many cops to find solace in each other: They are the only ones who can understand what the other is going through. 
There's a unique poignancy to "Upzek," in that they both have other partners waiting for them. But that also means that the writing is already on the wall. Upton and Halstead are meant to be together, though it takes another season or two to actually happen. Plus, Ruzek and Burgess are each other's "endgame," in fan shipping parlance. Not all good things are meant to last, but "Upzek," while it lasts, is definitely a good thing.
5. Antonio Dawson and Sylvie Brett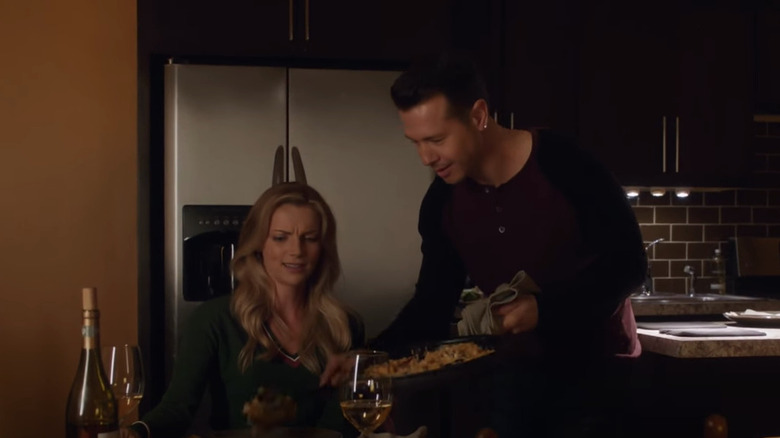 NBC/YouTube
For all the promise the interconnected "One Chicago" television universe offers, crossover romances almost never work out. Such is the fate of the bond between "Chicago P.D." detective Antonio Dawson (Jon Seda) and "Chicago Fire" paramedic Sylvie Brett (Kara Killmer). Their short but sweet relationship mostly plays out on the "Chicago Fire" side of things, where Dawson's sister Gabriela (Monica Raymund) is a character. He and Brett immediately hit it off, but try to keep things casual. Dawson has a young son and is just out of a messy divorce, and Brett doesn't want to "catch feelings," as she puts it. But of course, that's exactly what happens. After an angry visit to the firehouse from Dawson's ex-wife, Brett decides that this family drama isn't worth the time, and breaks it off. It's a sad ending, but "Brettino" allows Dawson (and Seda) to show off a softer, more charming side than he's typically able to on "Chicago P.D."
4. Jay Halstead and Hailey Upton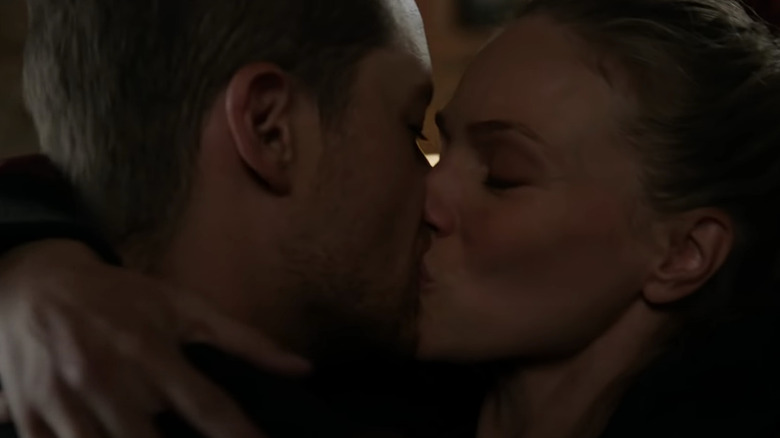 NBC/YouTube
Tracy Spiridakos' Det. Upton is introduced in Season 4 as both a literal and figurative replacement for the departing Sophia Bush. She becomes a regular cast member in Season 5, and while it's tempting to keep her in a box marked "substitute Lindsay," Upton is very much her own character. Even in those instances where Upton and Lindsay's traits or experiences mirror each other, the show takes a different tack with Upton and subtly illustrates how old cycles of behavior can be broken. 
It's Upton who recognizes that Halstead is struggling with PTSD in Season 5, and urges him to go to therapy. When history repeats itself and Upton is offered an FBI job in New York City, as Lindsay is when she leaves town, Upton and Halstead are upfront with their feelings for one another. Though this couple (known as "Upstead") is currently behind Halstead and Lindsay in the rankings, this might not always be the case.
3. Jay Halstead and Erin Lindsay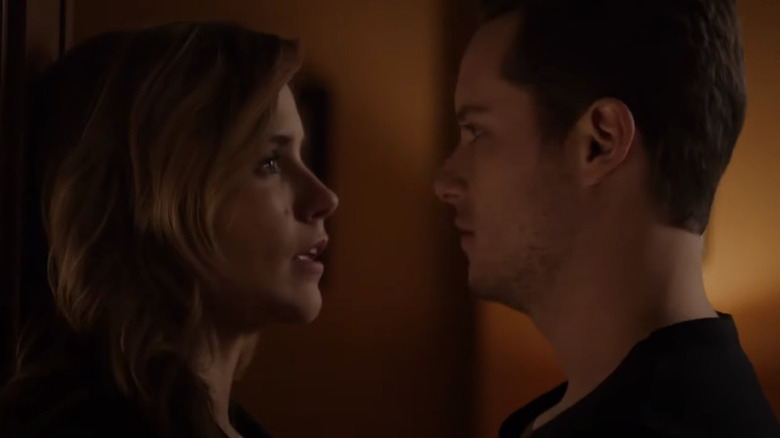 NBC/YouTube
In Season 1, Lindsay asks Halstead to pose as her fiancé at her high school reunion. From that point on, it's clear they're meant to be together. It isn't easy at first, or really at any time in their on-and-off-again relationship. They face professional obstacles in the form of shoot-outs, serial killers, and many kidnappings. On the personal front, they contend with Lindsay's messed up family and Halstead's (not actually) ex-wife, not to mention Sgt. Voight's disapproval of his detectives dating. But love keeps them coming back to each other, and the crackling chemistry between Sophia Bush and Jesse Lee Soffer keeps audiences watching. 
When Sophia Bush leaves at the end of Season 4, the show sends Lindsay packing for an FBI job in New York City. She leaves without telling Halstead goodbye, just as he's worked up the courage to ask her to marry him. Bush's departure feels like the end of an era, but some "Linstead" fans still hold out hope that the romance hasn't quite ended yet.
2. Mouch McHolland and Trudy Platt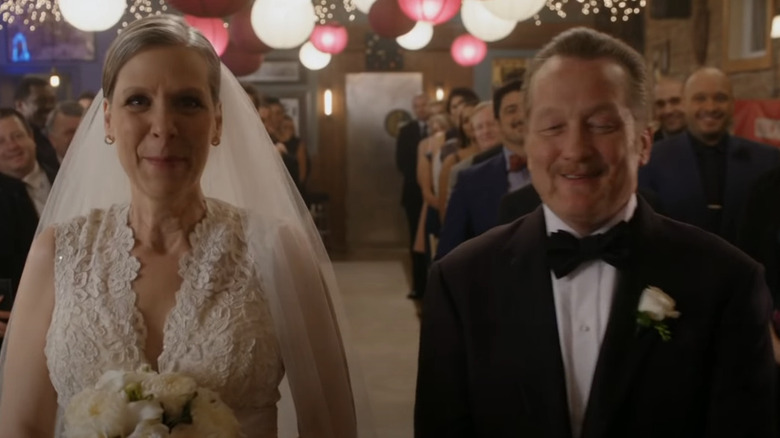 NBC/YouTube
For those who don't live in Chicago, Amy Morton's most famous role is probably Trudy Platt, the 21st's desk sergeant. For those who do live in Chicago, her most famous role is probably this Steppenwolf Theatre banner, visible as you pass by on a Brown Line train. Morton is Chicago stage royalty, and as Platt, she projects a sense of place better than any other actor on the show. 
Christian Stolte, who plays the lovable Mouch (a portmanteau of "man" and "couch," in tribute to his laziness), can't really compete with Morton. But he brings a sensitivity to their relationship that's rare for the men of this world, especially in the final scene of Season 4 stand-out "All Cylinders Firing." Even though "Chicago P.D." fans miss their wedding (it happens in the "Chicago Fire" episode "On the Warpath"), anytime Mouch crosses over to the 21st District is a treat. Plus, of all the relationships on the show, this is by far the healthiest.
1. Adam Ruzek and Kim Burgess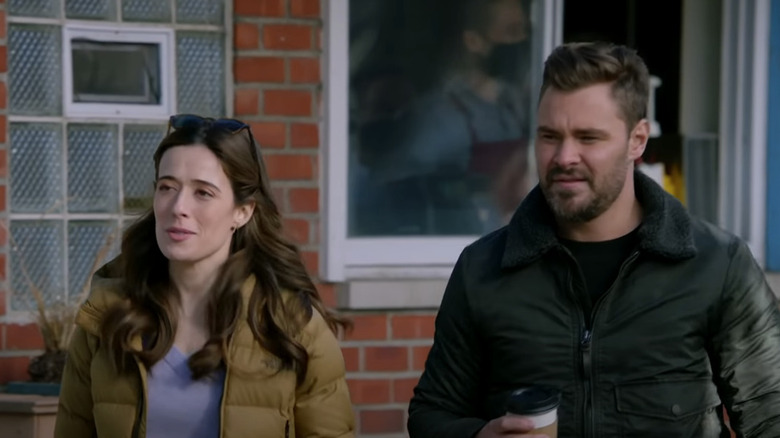 NBC/YouTube
He's the overeager recruit who keeps getting into trouble. She's the patrolwoman-made-detective ... who also keeps getting into trouble. This is "Chicago P.D.," after all. They hook up in Season 1, get engaged in Season 2, break up in Season 3,  rekindle things in Season 5, see other people in Season 6, and lose a pregnancy in Season 7. What emerges from this is an indisputable truth: Ruzek and Burgess, or "Burzek," are the show's longest, greatest romance. 
This couple is rooted in passion and compassion: Each is often the first person the other turns to when in trouble. And, in a refreshing change of pace, it isn't really the job that comes between them, but everything else. Their dedication to being police officers is one of the things they most respect about each other, and neither would ever want to change that. These are simply two good cops walking their own paths in life, with meaningful intersections. In Season 8, Burgess decides for herself that she wants to be a mother. Will Ruzek be there for her? Only time will tell.