Here's How You Can Watch Every 2022 Best Picture Oscar Nominee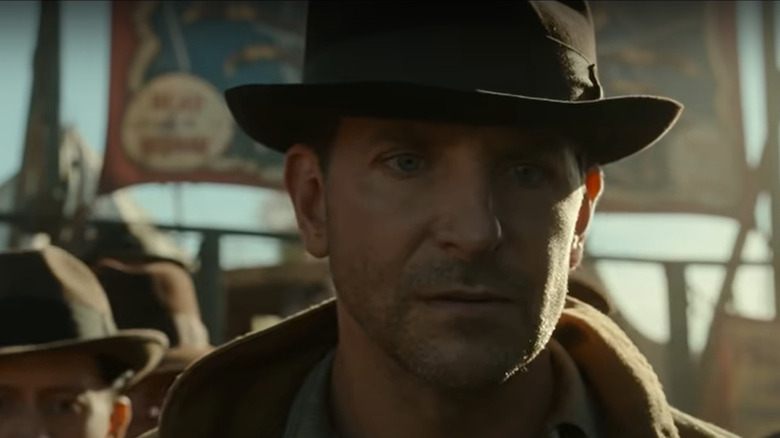 20th Century Studios
The 2022 Oscar nominations were announced recently, which means it's that time of year again. Celebration and indignation will be felt, predictions will be made, and Oscar parties will be hosted. But, before all of that happens, one needs to actually watch all of the Oscar-nominated films, right?
Before you get your brackets out and start making your picks, we've got you covered. With so many avenues available for movie lovers, it can be difficult these days to figure out where exactly you can catch these critically acclaimed films. Some are released on streaming services and in theaters simultaneously, while others are only available in one venue at a time. To make things easier for you, we've created this handy guide. Here is a list of every Best Picture nominee at the Oscars this year, and where you can watch each film. Ready your remotes, microwave some popcorn, and get streaming.
Don't Look Up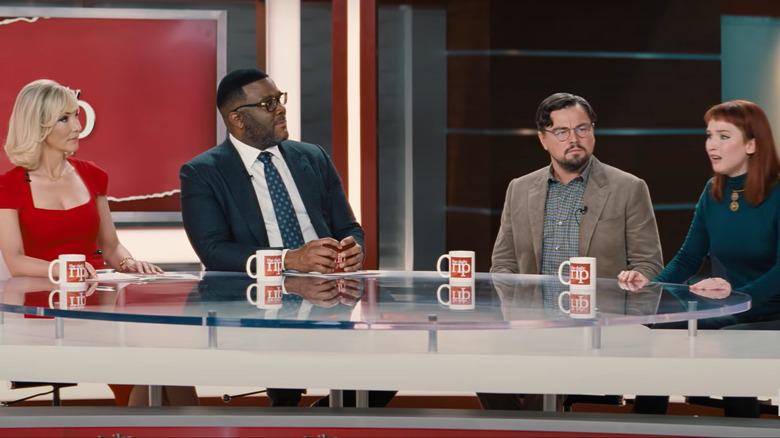 Netflix
"Don't Look Up" is a black comedy written and directed by Adam McKay, who previously directed "The Big Short" and "Vice." The film follows two astronomers — played by Jennifer Lawrence and Leonardo DiCaprio — who discover that a comet is on a direct collision course with Earth. With only six months until the comet is predicted to make impact, the astronomers go on a media tour to try and warn the public about what will likely be the end of the world. The problem is, no one really seems to care. With an incredibly stacked cast including Meryl Streep, Jonah Hill, Cate Blanchett, Tyler Perry, Ariana Grande, Timothée Chalamet, and Melanie Lynskey, the film is an amusing take on an extremely dark topic.
"Don't Look Up" was popular with viewers, and the Oscar voters seem to like it as well. The film was nominated for four Oscars: best picture, best original score, best original screenplay, and best film editing.
If you want to know what all the hype is about, you can stream "Don't Look Up" on Netflix.
The Power of the Dog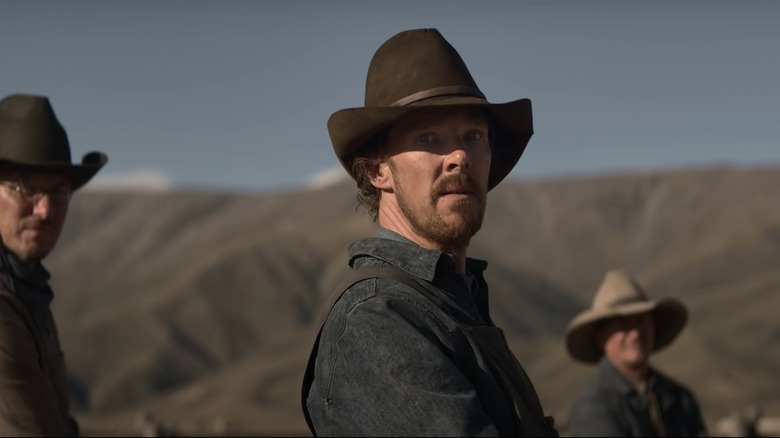 Netflix
Directed by New Zealand filmmaker Jane Campion, "The Power of the Dog" is based on the 1967 Thomas Savage novel of the same name. Set in 1920s Montana, the film focuses on two brothers who own a ranch: the charismatic, fearsome Phil (Benedict Cumberbatch) and his quiet, mild-mannered brother, George (Jesse Plemons). When George meets a woman named Rose (Kirsten Dunst) and marries her, things at the ranch begin to change. Rose brings her eccentric teenage son, Peter (Kodi Smit-McPhee) to live with them, and tensions arise between the gruff Phil and the intellectual Peter.
Campion is no stranger to awards as she became the first woman to be nominated for best director twice at the Oscars, and the first woman to win the Palme d'Or at Cannes for her film "The Piano." "The Power of the Dog" was the most-nominated film at the Oscars in 2022. These nominations include best picture, best director, best adapted screenplay, and acting nominations for Cumberbatch, Plemons, Dunst, and Smit-McPhee. The acting nominations are particularly special because they mark the first Oscar nominations for Plemons and Dunst, who are a married couple in real life.
You can stream the most-Oscar nominated film this year on Netflix.
Dune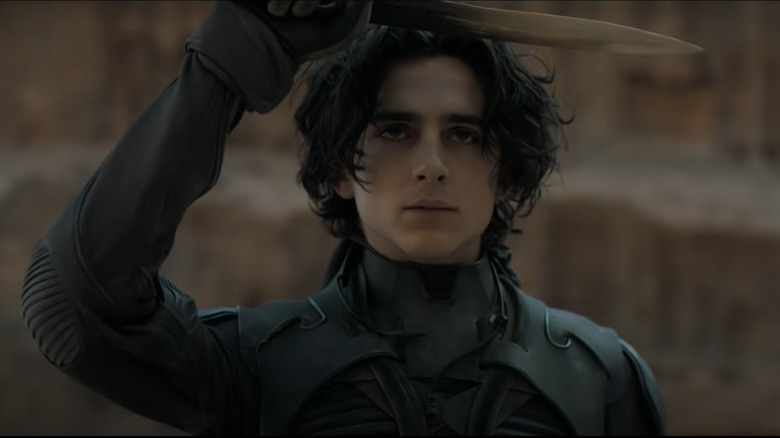 Warner Bros
Based on the series of Frank Herbert novels first published in the 1960s, "Dune" is a sci-fi epic directed by Denis Villeneuve. "Dune" follows Paul (Timothée Chalamet), the son of a Duke (Oscar Issac) who must travel to a desert planet called Arrakis when his family is tasked with taking charge there. Unbeknownst to him, Paul has a destiny he must fulfill, and, along with his mother (Rebecca Ferguson), he travels the desert and meets the Fremen, the native population of Arrakis.
Though 2022's "Dune" is not the first film adaption of the book series — there was a David Lynch movie in the 1980s — it is the most critically acclaimed. "Dune" received 10 nominations at the Oscars, making it the second-most nominated film in 2022. It received nods for best picture and best score, along with a host of other technical categories, although it did not, surprisingly, get any love from the Academy in the acting or directing categories.
"Dune" is not streaming for free anywhere but you can rent it on iTunes, Google Play Movies, Amazon Video, and a number of other VOD platforms. However, it is slated to return to HBO Max on March 10th, just in time for the Oscar telecast.
Nightmare Alley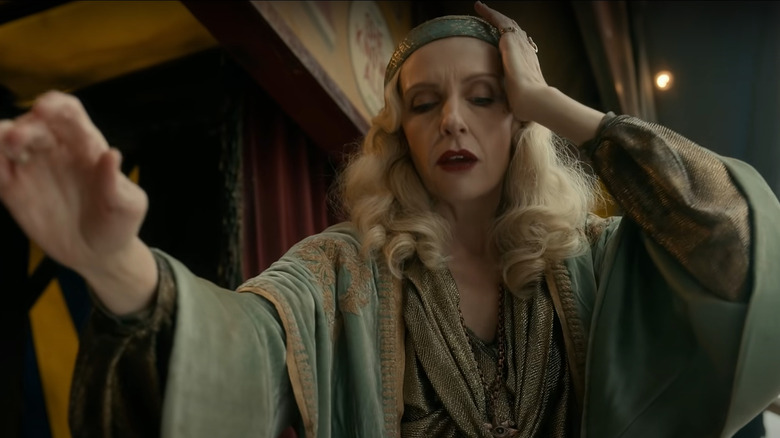 Searchlight Pictures
Directed by the monster-loving Guillermo Del Toro, "Nightmare Alley" is a remake of the 1947 film of the same name. Set in the 1930s and 1940s, the film follows Stanton Carlisle (Bradley Cooper) who begins working at a circus where he learns the tricks of the trade from a psychic (Toni Collette) and her mentalist husband (David Strathairn). After acquiring these lucrative skills, Stan runs away with Molly (Rooney Mara) and they take their act on the road. Stan, however, begins to bite off more than he can chew, and must contend with the likes of a shrewd psychologist (Cate Blanchett) and a grieving millionaire (Richard Jenkins).
"Nightmare Alley" received four Oscar nominations, celebrating the film's visual elements above all else: best picture, best cinematography, best production design, and best costume design.
If you haven't seen it yet, you're in luck — you can watch the film on both HBO Max and Hulu.
King Richard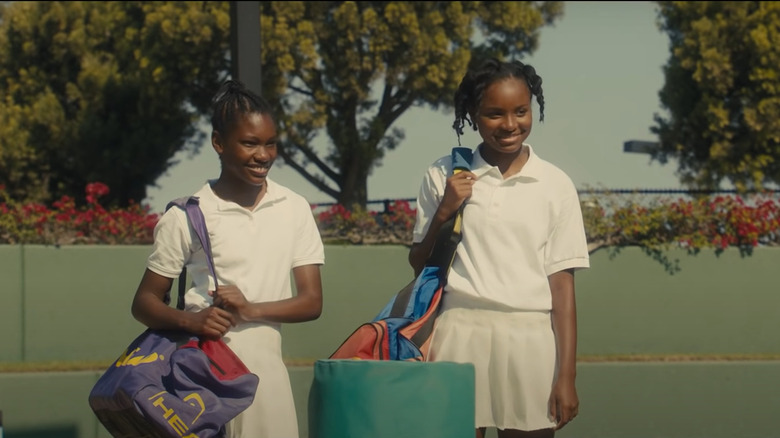 Warner Bros.
The Academy tends to love biopics, so it's no surprise that "King Richard" has been well-received. The film follows Richard Williams, the father of tennis legends Venus and Serena Williams. Based on the family's true story, "King Richard" tracks Venus and Serena's journey from childhood to their eventual success as pros on the tennis circuit. Determined to inspire greatness in his daughters, Richard trains the girls on the courts of Compton, California, forcing them to endure difficult conditions so that they will be prepared for what's to come, expecting nothing less than excellence from them.
"King Richard" was nominated for six Academy Awards. Along with best picture, the film received nods for best actor (Will Smith), best supporting actress (Aunjanue Ellis), best editing, best original screenplay, and best original song, which was written and sung by Beyoncé.
Although "King Richard" streaming on HBO Max for a month upon its initial release, it's no longer available there, but you can rent the film on iTunes, Google Play Movies, Vudu, Microsoft Store, YouTube, Redbox, and Spectrum On Demand.
Belfast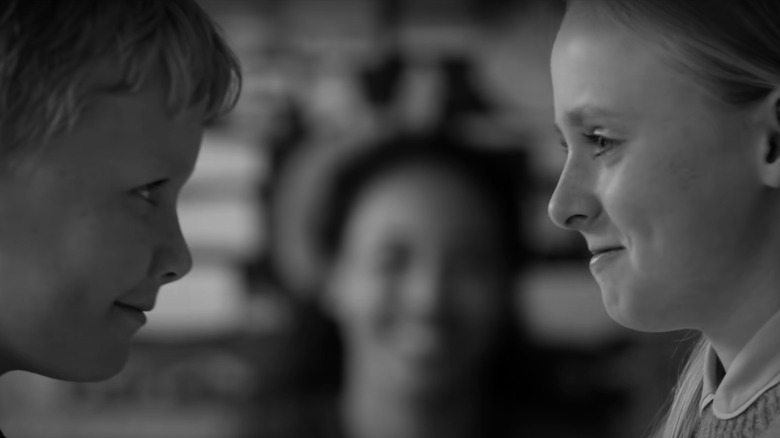 Focus Features
Directed by actor and filmmaker Kenneth Branagh, "Belfast" is a semi-autobiographical tale set in the late 1960s amidst the political chaos of Northern Ireland at the time. The film follows a nine-year-old boy (Jude Hill) growing up in a working-class family who must navigate the tumultuous world around him, which has been drastically affected by the Troubles. The black-and-white film also stars Jamie Dornan, Caitriona Balfe, Ciarán Hinds, and Judi Dench.
"Belfast" received an impressive seven nominations at the Oscars this year. Along with best picture, the film was nominated for best original screenplay, best supporting actor for Ciarán Hinds, best sound, best director, original song for Van Morrison, and best supporting actress for Judi Dench.
"Belfast" is not streaming anywhere free of charge, but it is available to rent on iTunes, Google Play Movies, Vudu, Microsoft Store, YouTube, Redbox, Spectrum On Demand, and Alamo on Demand.
CODA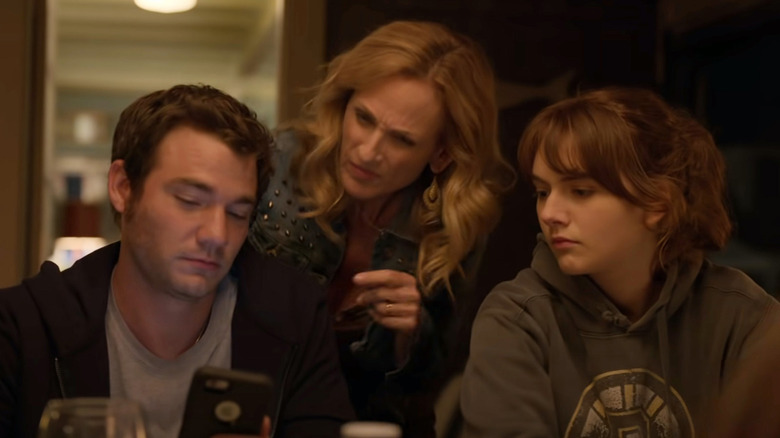 Apple TV+
"CODA" follows 17-year-old Ruby (Emilia Jones), who is the only hearing person in her family. (She is what's known as a CODA, or a Child of Deaf Adults). The family lives in Gloucester, Massachusetts, where they run a fishing business. Ruby wakes up early every morning to help her family fish, but what she really finds herself drawn to is singing. After her choir director convinces her to apply to Berklee College of Music, she has to convince her tight-knit family that it's time for her to leave home, something they struggle to understand at first.
"CODA" was nominated for three Oscars: best picture, best adapted screenplay, and best supporting actor for Troy Kotsur, who plays Ruby's father. Kotsur is only the second Deaf actor to be nominated for an Oscar. The first was Marlee Matlin — who plays Ruby's mother in the film — who won best actress in 1987 for her role in "Children of Lesser God."
Coda is available to stream exclusively on Apple TV+.
West Side Story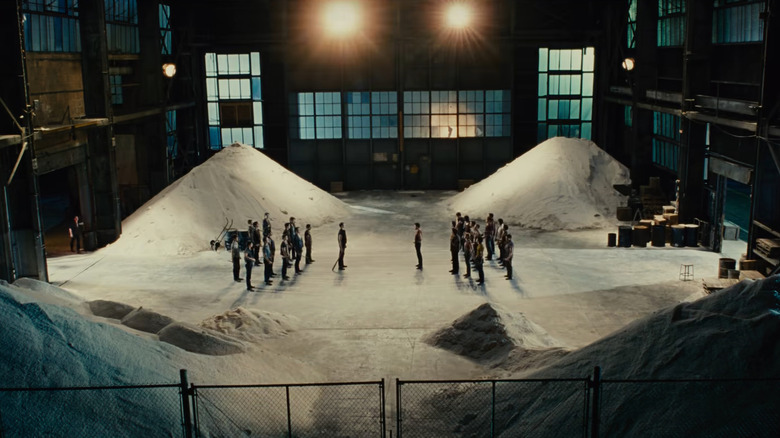 Disney
Steven Spielberg's "West Side Story" is a bold reimagining of the 1961 film of the same name, which itself was adapted from the story of "Romeo and Juliet." Using the same iconic songs originally written by Leonard Bernstein and Stephen Sondheim, the film's screenplay by Tony Kushner makes the theme of gentrification, class struggle, and racism even more explicit than in the original production. The film features a standout cast including Rachel Zegler (Maria), Ansel Elgort (Tony), and Ariana DeBose (Anita). It also expands and gender-swaps the role of Doc, a local drugstore owner, now played by Rita Moreno, who won an Oscar for playing Anita in the 1961 film.
"West Side Story" received a stunning seven nominations at the 2022 Academy Awards, including best picture, best cinematography, best director, and a best supporting actress nomination for Ariana DeBose. With this new batch, director Steven Spielberg has now received 11 best picture nominations. The original "West Side Story" won a whopping 10 Oscars at the 1962 ceremony.
"West Side Story" will begin streaming on both Disney+ and HBO Max on March 2nd.
Licorice Pizza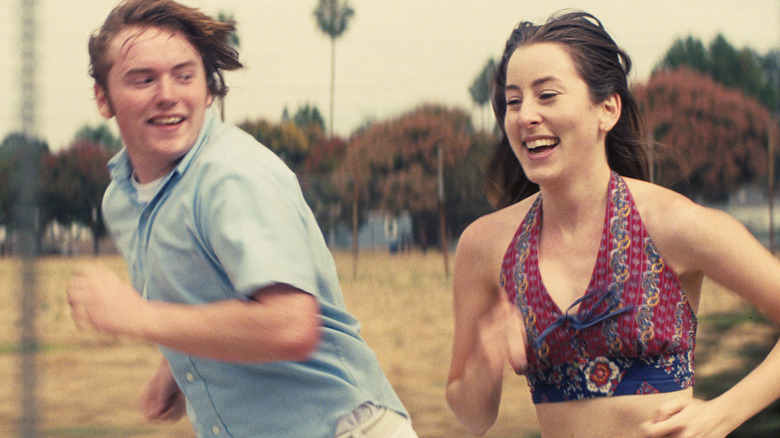 United Artists
Directed by Paul Thomas Anderson, "Licorice Pizza" takes place in the San Fernando Valley in 1973. The film follows a 15-year-old actor, Gary Valentine, played by Cooper Hoffman (son of the late Phillip Seymour Hoffman), who becomes infatuated with a 25-year-old named Alana Kane (Alana Haim of HAIM fame). Along with his acting work, Gary sees himself as an entrepreneur and begins selling water beds, with Alana becoming his business partner — their relationship is warm but tentative, as they are drawn to each other at different points for different reasons. A coming-of-age story and a love letter to the Valley, the film also serves as the film debut of its two stars, with both Hoffman and Haim demonstrating presence and charisma that should kickstart promising careers. "Licorice Pizza" was nominated for three Oscars: best picture, best director, and best original screenplay.
"Licorice Pizza" is currently not available to stream, but some speculate that it may end up on Amazon Prime Video in the future.
Drive My Car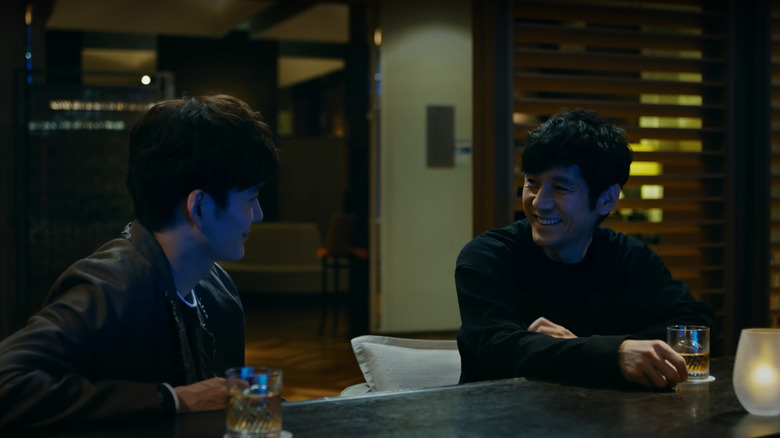 Bitters End
"Drive My Car" is a Japanese film based on the Haruki Murakami short story of the same name. Directed by Ryusuke Hamaguchi, the film follows a recently widowed actor, Yûsuke (Hidetoshi Nishijima) who is in search of a chauffeur. His mechanic recommends a 20-year-old girl named Misaki (Tôko Miura). Despite some initial hesitation, the pair form a close bond as Yûsuke begins work directing a play, reckoning with the loss of his wife and the unanswered questions she left behind.
"Drive My Car" was nominated for four Oscars: best picture, best international film, best director, and best adapted screenplay. "Drive My Car" made history by becoming the first Japanese film to be nominated for best picture. If it wins, it would become only the second foreign language film to take home the award — the first was "Parasite," directed by Korean filmmaker Bong Joon-ho, which won best picture in 2020.
"Drive My Car" is currently streaming on HBO Max.