The NCIS Season 6 Scene That Went Too Far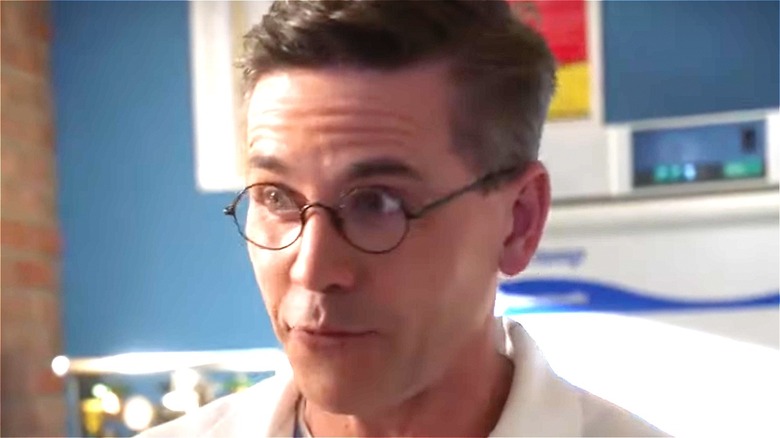 CBS/YouTube
While "Law & Order: Special Victims Unit" holds the title of the longest-running police procedural drama currently on the air, "NCIS" is just behind the legacy franchise. The long-running "JAG" spin-off began airing in April 2003 and is now on Season 19. The series has undergone various changes over the years, but one thing has stayed the same: the drama is always high-stakes.
Season 6 saw the addition of new agents to the NCIS Major Case Response Team as they carried on investigating jaw-dropping murders. One of the central storylines throughout the season focused on the will-they-won't-they relationship between Mossad Officer Ziva David (Cote de Pablo) and Special Agent Tony DiNozzo (Michael Weatherly).
While "NCIS" fans who are up-to-date on the series know that these two eventually get to live happily ever after, to say that their relationship had a rocky start is an understatement. The biggest hurdle they had to overcome came in the shocking final episodes of Season 6.
Tony killed Ziva's boyfriend
At the end of Season 6, Episode 24, "Semper Fidelis," Tony DiNozzo arrives at Ziva David's apartment to confront her about curious details about their ongoing case. Instead, he finds Michael Rivkin (Merik Tadros), a corrupt Mossad officer, and attempts to arrest him for being connected to the murder case. A violent fight breaks out, which Ziva witnesses from the street as she is heading home.
Unaware of what's going on, she walks in and sees her boyfriend fatally injured and her coworker lying beside him. Episode 25, "Aliyah," picks up with Ziva attempting to revive Michael and blaming Tony for his death. As "NCIS" goes on, Ziva learns the truth about her boyfriend's work and forgives Tony for what she comes to understand was self-defense.
However, fans were shocked that she was able to move on. "Ziva must be the most forgiving character in TV history because Tony really messed up," one user wrote on the show's subreddit, admitting that they overlooked this because they loved the characters.
Others insist that Tony did nothing wrong and that Ziva should've believed that he was trying to protect her. "I always was bothered by her forgiving him but for other reasons — he did nothing to be forgiven for and Ziva was being selfish," said u/chrissymad.
The polarizing scene remains a popular subject among "NCIS" fans who can't agree who was in the wrong. Had this scene played out with Ziva and another NCIS agent, it likely wouldn't be as controversial.