Here's When The Marvel Netflix Series Are Coming To Disney+
The Marvel Netflix series have long existed in a strange limbo between MCU proper and their own "The Defenders" pocket universe. Still, recent MCU shows and movies have been making clear moves to inch them ever closer to home. Matt Murdock (Charlie Cox) makes a quick, yet delightful cameo in "Spider-Man: No Way Home." Elsewhere, his nemesis Wilson "Kingpin" Fisk (Vincent D'Onofrio) is revealed to be the ultimate Big Bad of the "Hawkeye" series. With not-so-subtle hints like that, when Netflix announced that "Daredevil," "Jessica Jones" and their sibling shows depart the platform in the beginning of March, hordes of fans no doubt started hoping that the shows would move to the MCU's official streaming platform sooner rather than later.
According to an official Disney press release sent to Looper, this is indeed happening, and the Marvel Netflix series are finally making their way to Disney+. What's more, this monumental change is set to happen sooner than you think.
The shows will arrive to Disney+ on March 16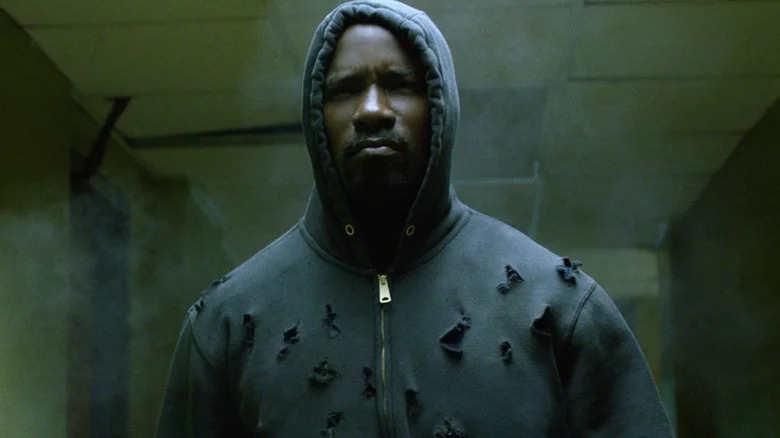 Netflix
The artists formerly known as Marvel Netflix Series will arrive to Disney+ as soon as March 16. What's more, "Luke Cage," "Jessica Jones," "Daredevil," The Punisher," "Iron Fist," and "The Defenders" aren't the only new arrivals on the platform. ABC's "Marvel's Agents of S.H.I.E.L.D." will also arrive on Disney+ in all its glory. This only applies to viewers who live in North America, Australia, New Zealand, Ireland and the UK, mind you. The rest of the world will have to wait a little longer — but thankfully not too long, because the shows will roll out everywhere Disney+ is available during 2022. 
"Disney+ has served as the home for some of the most beloved brands in the industry, and the addition of these live-action shows brings more from the Marvel brand together, all in one place," President of Disney Streaming Michael Paull described the move, which will be accompanied by a parental control system update that's set to drop when the shows do. 
Bringing the Netflix shows to Disney+ is another strong signal that Marvel isn't about to forget this corner of its vast landscape, which seems like a pretty positive sign for the fans who would love to see these characters in the MCU.