What The Cast Of Westworld Looks Like In Real Life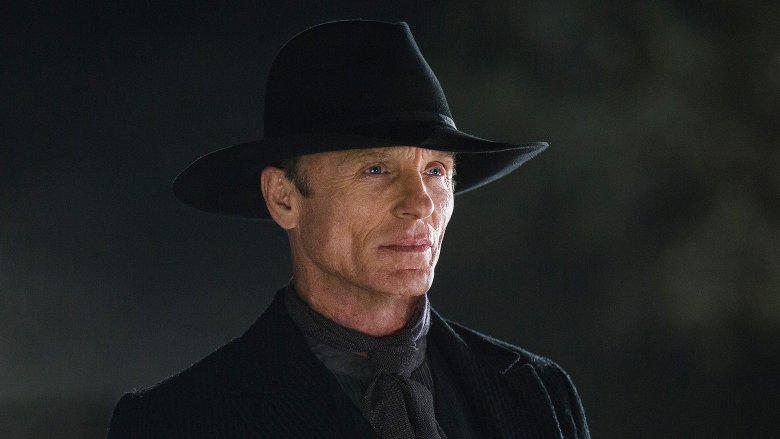 Viewers taken by storm when HBO's Westworld premiered, with the long-delayed drama using a twisty plot, gorgeous visuals, and some amazing acting to become an awards season favorite. Fans are waiting with bated breath for it to return for its sophomore outing, combing through the show's brief, wordless season two trailer for any clue about what to expect. While we'll have to wait until 2018 to see the next batch of episodes, there are a few mysteries we can solve in the meantime—like whether we'd recognize the show's actors when they're not in the park. Here's what the cast of Westworld looks like in real life.
Evan Rachel Wood (Dolores)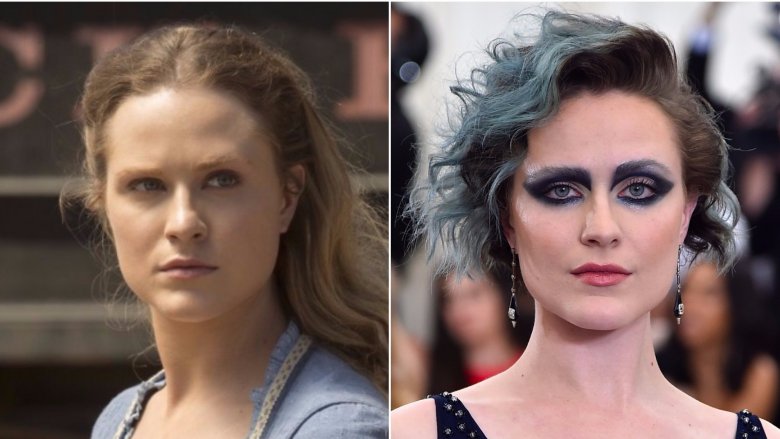 Getty Images
Evan Rachel Wood has a major role on Westworld as Dolores, one of the first characters we meet and a huge part of the park's mysteries. As Westworld's oldest host, Dolores wears her hair long and dirty blonde, featuring minimal makeup and simple western garb. 
In real life, Wood is a lot more experimental with her fashion, trying out lots of different hairstyles, including pixie cuts and crazy colors, during her downtime. Wood's crazy fashion definitely fits with her real-life rock and roll persona, with the actress leading the band Rebel and the Basketcase—and getting engaged to her bandmate, Zach Villa. Wood's gone through a lot of different looks during her time in the spotlight, and we think they're all pretty amazing.
Thandie Newton (Maeve)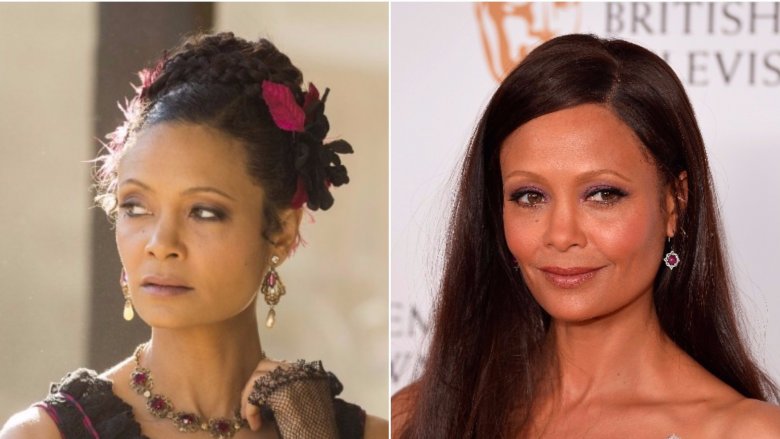 Getty Images
Thandie Newton is absolutely badass as the literally woke host Maeve on Westworld, and the actress is equally imposing in real life. However, there are a number of notable differences between Newton and her Westworld character, who shows off some pretty wild fashion during her time as the world's resident brothel madam. (Her character's look, according to the show's costume designer, was meant to "pop.")
In real life, Newton, who is set to soon make her debut in the Star Wars universe in the untitled young Han Solo film, is a little more casual with her fashion, usually favoring simple looks when she's out and about and going a little more glam on the red carpet. Newton, a married mother of three, definitely isn't afraid to take risks, though—including frequently going nude for Westworld, an experience she's said left her with a feeling of "incredible peace."
Jimmi Simpson (William)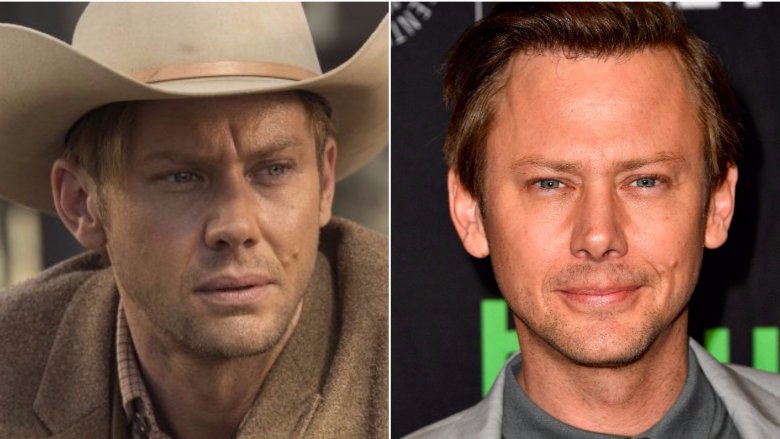 Getty Images
Jimmi Simpson essentially played two characters on Westworld, starring as William, who would eventually grow up to become the Man in Black, played by Ed Harris. Simpson said that it was actually a hint in his character's makeup that helped him figure out the twist around the time he was filming the third or fourth episode. The show's makeup designer asked to change his eyebrows, and Simpson realized he actually had a much bigger part than he'd thought.
Aside from eyebrow shape, William's look throughout the show is pretty simple, with the character going for basic fashion both in and out of the park. This is similar for Simpson in real life as well, with the actor, who was previously married to Melanie Lynskey, usually sticking to simple looks off the set.
Ed Harris (Man in Black)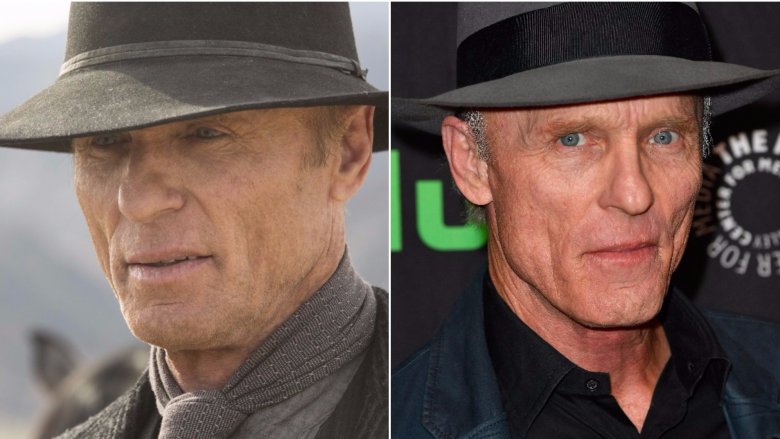 Getty Images
Harris, who was a four-time Oscar nominee before he joined Westworld, sticks with a pretty simple but terrifying look on the show, keeping his grey hair covered most of the time with his distinctive black hat. 
While Harris isn't quite as loyal to headwear in real life as he is on the show, he has been known to rock the occasional hat during his time out and about. Harris is just as intimidating in real life, although we imagine that his everyday is quite a bit difference than the Man in Black's.
James Marden (Teddy)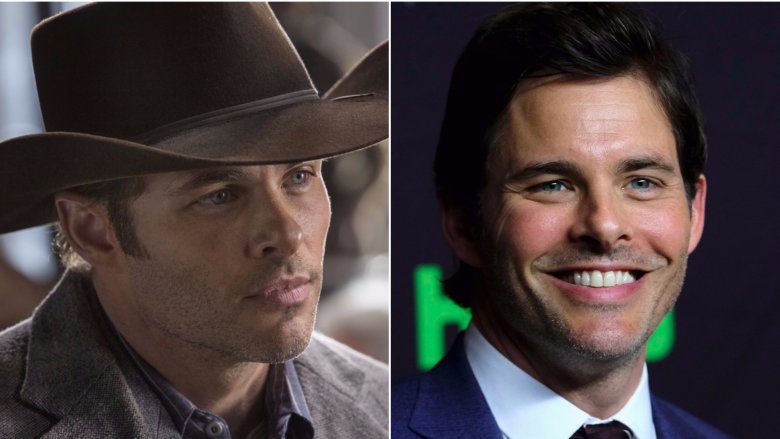 Getty Images
James Marsden got to live out quite a few deaths as Teddy on Westworld, but the ill-fated cowboy always managed to look fashionable doing it, going for simple suits and distinctive hats during his time romancing Evan Rachel Wood's Dolores. (Aside from some of his notable naked moments, which Marsden said were made more comfortable by the comedic stylings of a Marlon Brandon-impersonating Anthony Hopkins.)
This isn't that much of a departure from Marsden's real-world look, aside from the fact that the actor usually isn't seen walking around with a pistol and a ten-gallon hat. Still, though, for fans who hadn't seen Marsden out of his X-Men Cyclops visor, his Westworld role is a big departure from what they'd come to expect.
Rodrigo Santoro (Hector)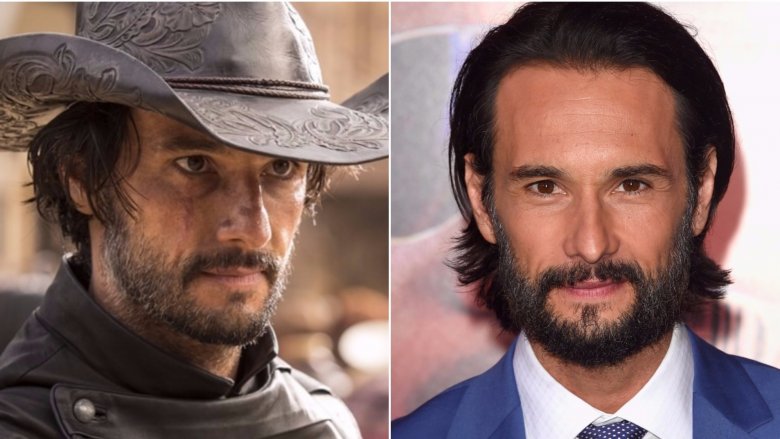 Getty Images
The internet was pretty shook when viewers realized that Hector, Westworld's most famous outlaw, was actually the mild-mannered Karl from Love Actually. (He was also Paulo from Lost, but we don't like to talk about that one.) In a far departure from Rodrigo Santoro's past roles, Hector rocked some intense facial scars and a short beard, along with dark leather clothing and distinctive hat, in his time terrorizing the townsfolk of Westworld. 
There have been some theories about Santoro's real-life look and how it could impact Westworld, although they have yet to be confirmed. Some have theorized that Hector is somehow related to William's friend Logan (Ben Barnes), who bears a pretty striking resemblance to the non-scarred Santoro. While it's tough to say for sure whether their characters are actually different people, we do know that in real life, Santoro is his own person, with no facial scars and, unfortunately, no all-leather outfits. (At least, not yet.) 
Angela Sarafyan (Clementine)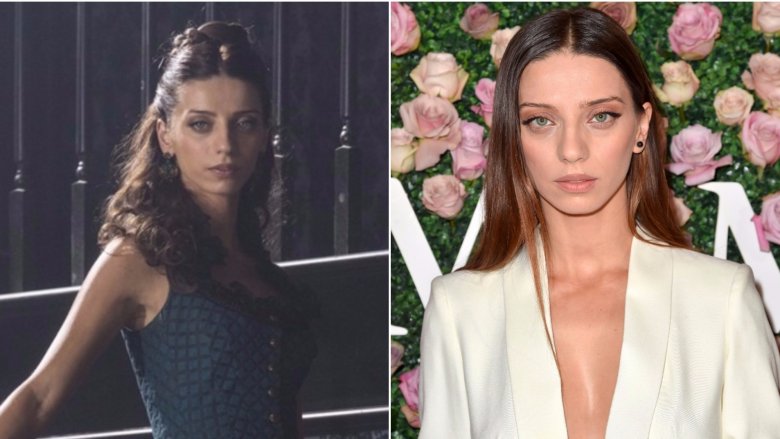 Getty Images
Angela Sarafyan went through quite the journey on Westworld as the host Clementine—and the actress has had a pretty interesting life off the set, too. Sarafyan was born in Armenia and lived there until she was four, when her parents moved the family to Los Angeles.
She has since popped up in a few notable projects, including Buffy the Vampire Slayer and the final Twilight film, and has been the subject of a lot of attention for her daring red carpet looks. While most of them wouldn't exactly fit in the wild west, we like to think Clementine would approve of her bold fashion choices.
Jeffrey Wright (Bernard)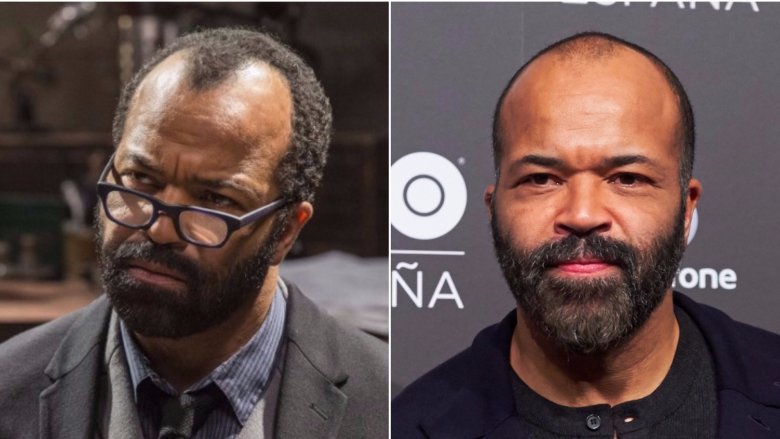 Getty Images
Jeffrey Wright was part of one of Westworld's biggest twists as Bernard, the engineer who was eventually revealed to be a host. Wright, unlike some of his castmates, was informed of the twist pretty early on, with the creators sitting him down and letting him know right after they filmed the pilot.
Wright used this knowledge to put in little clues that savvy fans picked up on, leading some to figure out the twist early. The actor's brilliant turn as the character earned him an Emmy nomination; it's his second try at the major award, which he earlier won, along with a Golden Globe, for his part in Angels in America in 2004. In real life, the versatile Wright is definitely (probably) not secretly a robot, but he does keep a similar look to Bernard, sticking with simple fashion.
Anthony Hopkins (Dr. Ford)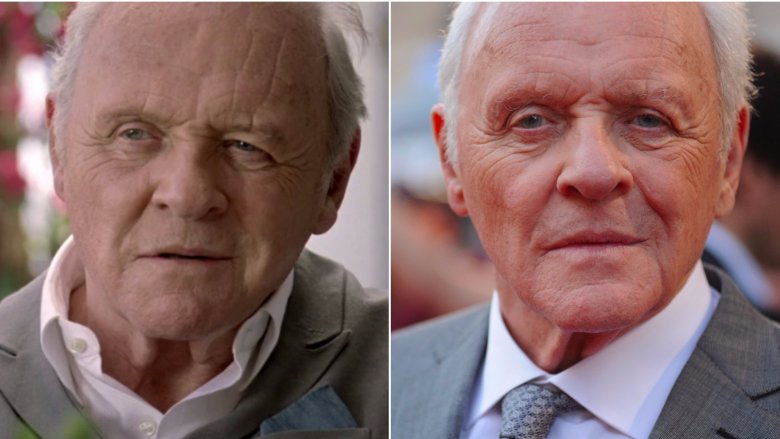 Getty Images
Oscar winner Anthony Hopkins gave himself a chance to add another Emmy to his collection when he signed on to Westworld—he already has two for his performances in The Lindbergh Kidnapping and The Bunker. Hopkins' Dr. Ford may have met a tragic end at the conclusion of the show's first season, but creator Jonathan Nolan has teased that there's always a chance we could see him back again.
On the show, Ford keeps his grey hair slicked back, and usually sticks with a vest and tie combination, although he's been known to vary his suit from time to time. In real life, Hopkins looks pretty similar to his character, although he usually wears his hair shorter, and he's a little more varied with his fashion, sometimes switching ties for scarves on the red carpet.
Ben Barnes (Logan)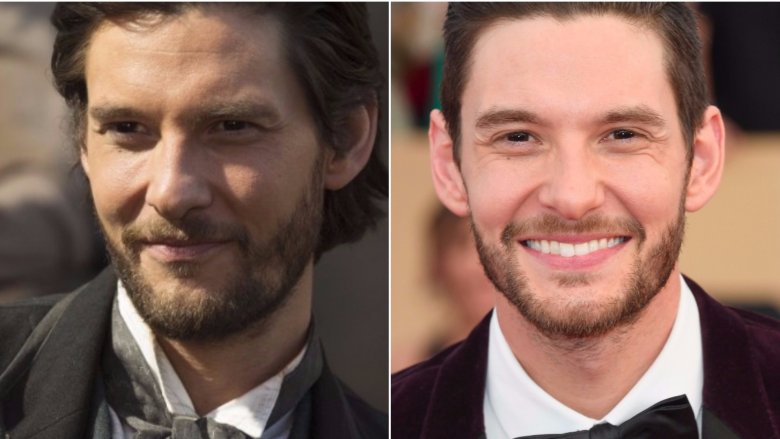 Getty Images
If you're a fantasy fan, you probably already recognized William's not-so-great friend Logan from his role as Prince Caspian in the Chronicles of Narnia series. Barnes wasn't originally cast in the role, with the actor replacing Eion Bailey after he left due to scheduling issues, but he still did a great job with the part, playing Logan convincingly cocky and cool while selling some of the character's deeper moments. 
Barnes usually keeps his hair a bit shorter in real life, although he also knows how to rock some facial hair. While we're not sure if Barnes will be back for season two, Simpson has hinted that he might be, and we're excited to see more; if not, viewers can see Barnes again when he stars in Netflix's The Punisher, due out later this year.
Tessa Thompson (Charlotte)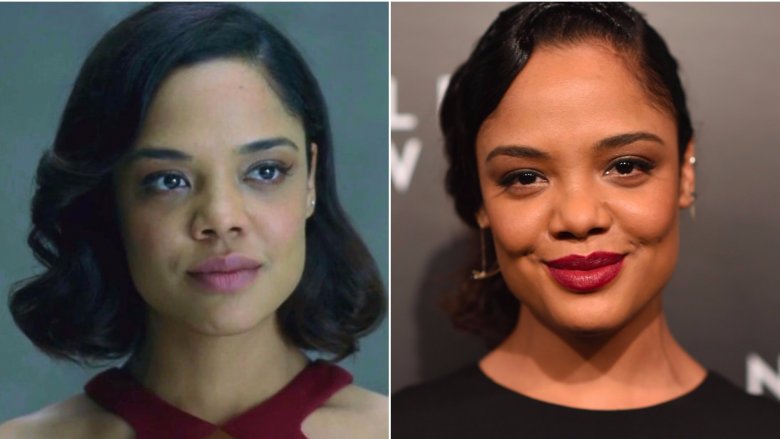 Getty Images
Tessa Thompson played Delos executive director Charlotte Hale in Westworld, a role which let the actress unleash her corporate side—a pretty big departure from her past parts. Thompson, who is set to make her MCU debut in Thor: Ragnarok, wore some business not-so-casual fashion for Westworld, keeping her look simple but always ready for the boardroom.
In real life, Thompson is a bit more laid back, and she's played with a few different styles throughout her various roles and red carpet appearances. The rising screen talent is also a fashion superstar, and always someone to look out for when it comes to amazing looks. 
Luke Hemsworth (Stubbs)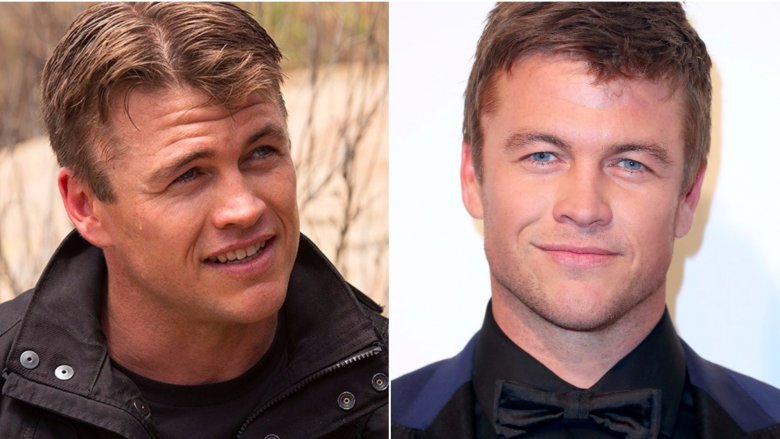 Getty Images
The third Hemsworth brother finally broke into the spotlight in Westworld, with Luke (brother of Chris and Liam) starring as the park's burly security guard Ashley Stubbs. While Ashley's fate was left up in the air after season one, Hemsworth has already confirmed that he's back for the show's sophomore outing— he just won't say what form he'll be in. (He also briefly showed up in the season two teaser.)
As a (presumed) non-host, Ashley keeps his wardrobe fairly simple on the show, although his distinctive hair part definitely sets him apart. Hemsworth usually wears his hair a little differently in real life, but he does keep up his character's tough physique off camera. Must be in the genes. 
Shannon Woodward (Elsie)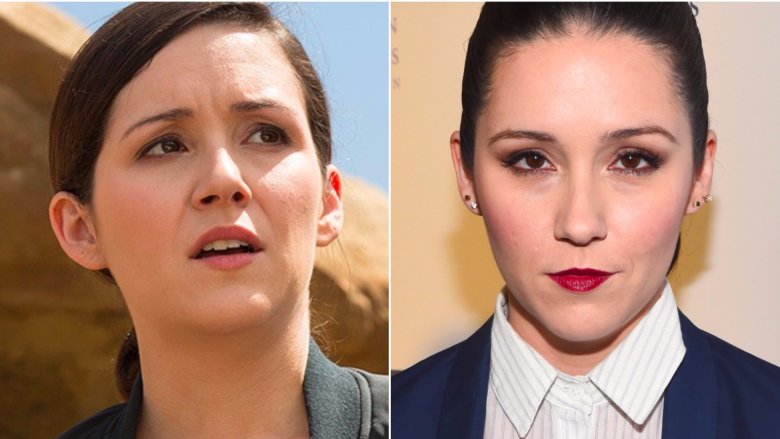 Getty Images
As one of Westworld's techs, Elsie makes fairly simple fashion choices, usually keeping her hair up and sticking with suits for her time in the lab and more athletic wear for her time out in the park. (Which she may want to avoid if she ends up surviving to a second season, considering it hasn't gone super well for her in the past.) 
In real life, Woodward likes to play a lot more with her fashion, going through lots of different looks in her red carpet appearances. While she usually sticks with her medium-length brown hairstyle, she likes to play with different makeup looks—and they all work.