New The Punisher Trailer Unveiled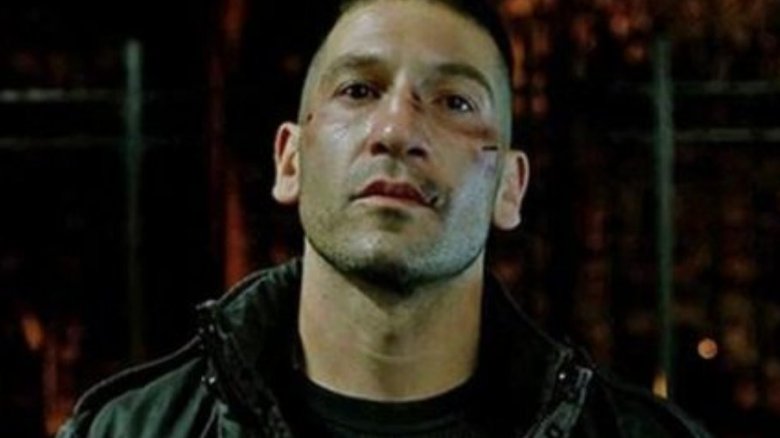 Netflix has unveiled an all-new trailer for The Punisher, and it's far more violent than Marvel's other superhero series. 
The clip depicts Frank Castle, played by Walking Dead actor Jon Bernthal, on a vengeance-seeking, bad guy-slaying romp through North and South America. One moment, Castle is throwing bikers in Alabama to the wayside; the next, he's in New York City, murdering a sleazy business man in an airport bathroom. South of the border in Juarez, Mexico, he's shown gunning down a drug lord (mid-coitus, mind you) from a safety point in El Paso. 
A final man begs for Castle to spare him his life. Per Mashable, the man pleads, "Please, you've killed everyone. The bikers, the cartels, the Cajuns, the Irish, they're all gone. What's it going to change if I'm dead?" Castle meets him with an unmoved, impassive, "Nothing."
But this bloodshed isn't for nothing: Castle becomes the eponymous Punisher because he's motivated by a need for some kind of justice to right an unknown wrong that occurred in his past. A scene shown early in the trailer features Castle teaching his daughter to play guitar, so his violent tendencies may stem from a tragedy involving his family.  
Footage of the trailer hasn't yet surfaced online, but we'll update you as soon as it does. 
Bernthal was previously seen as the Punisher in the second season of Netflix and Marvel's Daredevil, and will reprise the role this August for Marvel's The Defenders. 
Joining Bernthal for The Punisher are Jason R. Moore (Curtis Hoyle), Michael Nathanson (Sam Stein), Webber, Amber Rose Revah (Dinah Madani), Ebon Moss-Bachrach (Micro), Jaime Ray Newman (Sarah Lieberman),  Deborah Ann Woll (Karen Page), and Ben Barnes (Billy Russo).
The Punisher is expected to arrive on Netflix later this year. While we wait to see Castle kick some major behind in the series, check out the facts about the Punisher you may not know.