The CW Sets Date For Next Arrow-Verse Crossover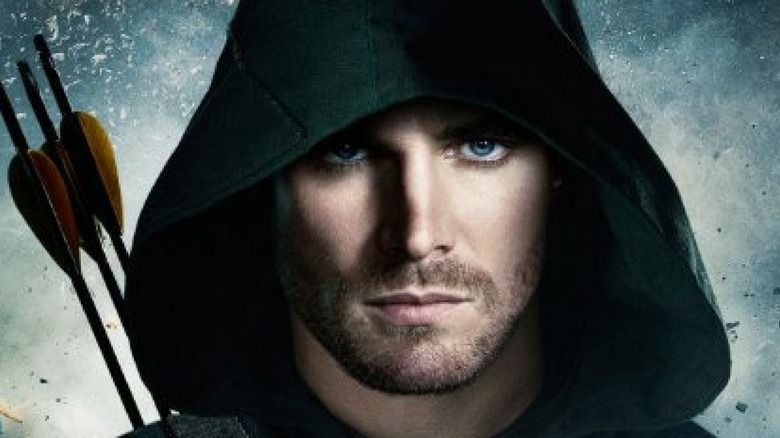 Another Arrow-verse crossover is coming your way. Entertainment Weekly reports that The CW has set two nights in November for a four-way crossover between Arrow, The Flash, Legends of Tomorrow, and Supergirl.
The crossover will kick off with Monday, Nov. 27's episode of Supergirl at 8 p.m.; it will then be followed by Arrow, in a special Monday 9 p.m. time slot. The crossover will conclude with the Tuesday, Nov. 28 episodes of The Flash and Legends of Tomorrow, both in their regular time slots. This is contrary to last year's Invasion crossover, which aired over four nights.
"Last year's crossover was our most successful week I believe in CW's history," The CW's president Mark Pedowitz said. "We felt that in this particular case, we already had Flash and Legends paired. It would be better and tighter in terms of storytelling to make it like a two-night, two-hour miniseries. We thought this was a tight, concise way of doing it. Next year, we may go back to four nights."
Arrow-verse executive producer Andrew Kreisberg previously said that he wanted this year's crossover to be a "true" four-way crossover, unlike last year's, which, aside from a brief scene at the end of Supergirl's episode, took place mostly on The Flash, Arrow, and Legends of Tomorrow. That crossover was also critiqued for focusing heavily on individual storylines for each of the shows while not including enough true crossover moments. 
According to Kreisberg, this should be remedied by Supergirl's solidified place at The CW, with most of the issues in the past coming over from scheduling issues that remained after the show's move from CBS. However, the shows now all have build in shut-down days so that they can easily crossover. Unfortunately, one superhero show will be left out of the mix– Black Lightning, which is set to premiere in 2018 and which will not be a part of the Arrow-verse. (At least, not yet.) 
While Pedowitz wouldn't reveal who the heroes would be facing off against in the crossover, he did tease that "romance is in the air." "What's the joy of having the third Avengers?" he said, comparing the crossover's scale to the Marvel team-ups. "It's the fun of having everybody get together, that's the fun of it. You get to see a whole different thing. They're all big episodic productions, but this will be even bigger."
While we wait for the crossover to air, see how some big and small screen DC superheroes should really look based on the comics.