Black Lightning Won't Be Part Of The Arrow-Verse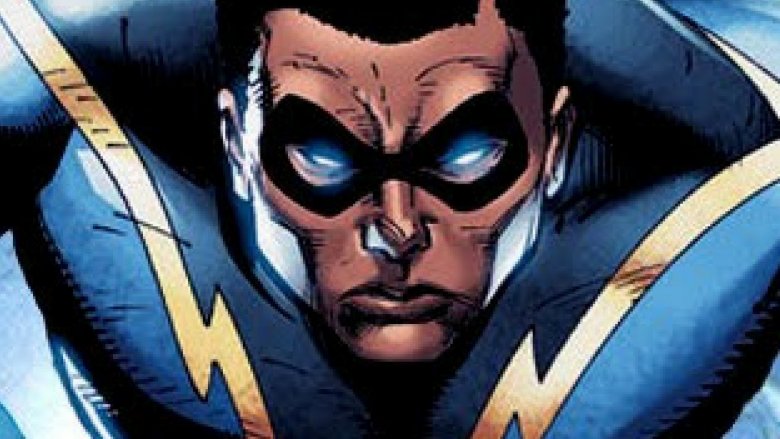 It doesn't look like The CW will be hosting a five-way superhero crossover anytime soon. Entertainment Weekly reports that Greg Berlanti's upcoming Black Lightning series won't be a part of the larger Arrow-verse when it premieres midseason.
Arrow, Supergirl, The Flash, and Legends of Tomorrow currently reside in the Arrow-verse, and, even though Black Lightning was initially developed at Fox, many were hoping that the series would join its fellow CW heroes when it moved over to the teen-oriented network. However, according to CW president Mark Pedowitz, that's not the case, at least for now.
Black Lightning will star Cress Williams as Jefferson Pierce, a father of two and a principal at a charter high school that serves as a safe haven in a neighborhood full of gang violence. Pierce is hiding a secret: his ability to harness and control electricity, something which he used for years during his time as a vigilante. Although he gave that up long ago, he decides to return to the life under the mask when the local gang The One Hundred begins to threaten the community. Nafessa Williams, China Anne McClain, and Christine Adams also star.
Pedowitz calls the show "a separate situation" from the networks' other series, something which is compounded by the fact that Black Lightning films in Atlanta while the rest of the shows film in Vancouver, making a crossover even more unlikely. While this will surely upset many fans who wanted to see Black Lightning alongside Oliver Queen and Barry Allen, Pedowitz at least offered some hope for Arrow-verse enthusiasts, confirming that the network is planning a four-way crossover between its other series for next season. 
Pedowitz also reaffirmed the network's decision to hold Black Lightning for midseason, saying that it's unlikely that viewers will ever see all of the network's superhero shows on at the same time. "We believe we have the best superhero programming around anywhere," Pedowitz said. "Our belief is that we will never have more than four DC shows [on] at a time, as far as that goes, so we'll always have a rotation of some sort." 
Although it's already crowded with superheroes, Pedowitz says the network has plans to continue to pursue dominance over the drama. "This programming will last as long as people want to watch it, as long as we have quality programs, which we have thanks for Greg Berlanti, and soon Greg Berlanti, Salim and Mara Brock Akil," he said, referencing Berlanti, the man behind the Arrow-verse, and Salim and Akil, his partners in producing Black Lightning. "We're going to have something very unique in Black Lightning. But [superhero programming will] last as long as people want to watch it. It's lasted my whole lifetime, so it'll keep going."
While it's unfortunate that we won't get to see Black Lightning join the Arrow-verse, it's also nice to see that The CW is willing to branch out and to pursue superheroes outside of its central series. While we endure the long wait before the show premieres, see how some big and small screen DC superheroes should really look.