Is Isabel May Really Leaving Yellowstone's 1883?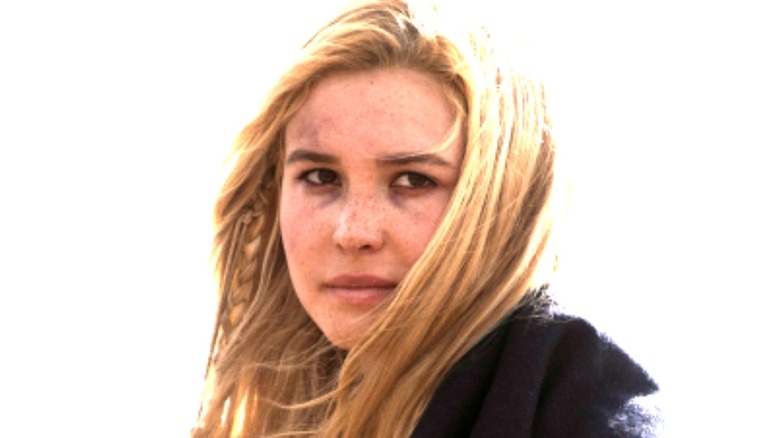 Emerson Miller/Paramount+
Galloping to rip-roaring ratings success for Paramount+ from the moment it premiered in December 2021, the streamer's epic "1883" transported viewers back to the American frontier for 10 richly-imagined episodes and an enviable Rotten Tomatoes audience score of 80%. The prequel series to writer-director Taylor Sheridan's equally successful "Yellowstone," which provides viewers with a soapy contemporary take on life in the great American West, featured an ensemble cast of major A-list talent. The incredible cast includes Tim McGraw as patriarch James Dutton, Faith Hill as his wife Margaret, Sam Elliott as Pinkerton agent Shea Brennan, and LaMonica Garrett as Thomas, Brennan's right-hand man. "1883" also featured some stellar guest appearances from such major players as Billy Bob Thornton as Marshal Jim Courtright and Tom Hanks as Union General George Meade.
But the character with one of the show's most dedicated fan followings would have to be the Dutton's spirited daughter, 17-year-old Elsa, portrayed by Isabel May. As the series' primary point-of-view character, much of the action is drawn directly from the eldest Dutton child's detailed narration during the time the family's wagon train is making its way to Montana. It is through Elsa that viewers are brought deep into the world "1883" and her words that make every plot twist or character development all the more powerful.
Given the events of the final episode of Season 1, "This Is Not Your Heaven," it's natural that fans will be left to wonder if any rumors about May exiting the series are true. Here's what we know about the young actor's future on "1883."
Elsa's story ends tragically in Episode 10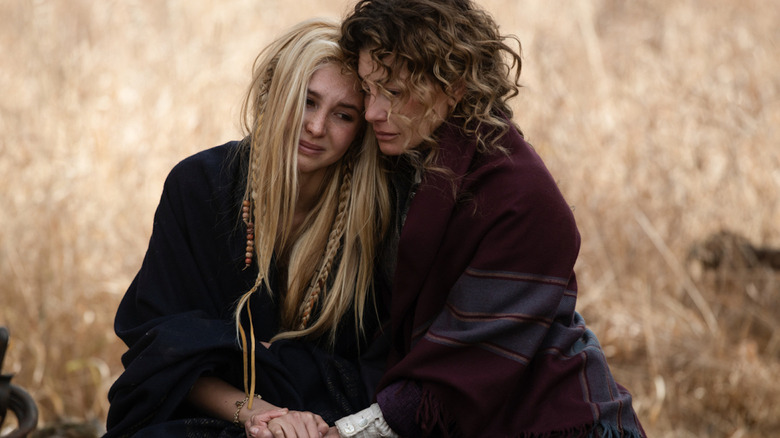 Emerson Miller/Paramount+
As the strong-willed daughter of similarly indomitable parents James and Margaret Dutton, Isabel May's Elsa Dutton is the narrative center around which much of the main storyline of "1883" revolves. Youthful and often willfully oblivious of her parents' expectations and social rules on the family's journey across an untamed and dangerous wilderness, Elsa viewed the wagon train's progression as one long, thrilling adventure — until it isn't. As it turns out, Elsa would make a fateful choice toward the end of the series that would result in her character facing consequences that would affect her future in no uncertain terms.
At the start of Season 1, viewers watch as Elsa sustains a serious injury, taking an arrow to her side during what appears to be a raid on at least one of the covered wagons she is traveling with. In the penultimate episode, we learn that the opening scene in Episode 1 is a flash-forward and, by the time the story circles back to this jarring moment, we know she was hit with an arrow while defending her traveling companions, but the Lakota warriors who attacked mistook her party for a group of ne'er-do-wells who first struck their tribe. The effects of Elsa's life-threatening wound play out in the episode "This Is Not Your Heaven." It is made clear that she is mortally injured by the Lakota arrow after she heroically lures attacking warriors away from the rest of her family. 
Despite her father's multiple attempts to try and get medical attention, the Duttons must accept that Elsa is not long for this world. In the closing scenes, "1883" fans watched as Elsa and James separated from their family and friends, heading deeper into Montana. A rest stop turns into a bittersweet farewell as Elsa dies in her father's arms, accepting her fate as she goes to her final resting place: A heaven where she can ride horses with Sam (Martin Sensmeier), her true love, across open plains. 
Isabel May's Elsa Dutton will not return for a new season of 1883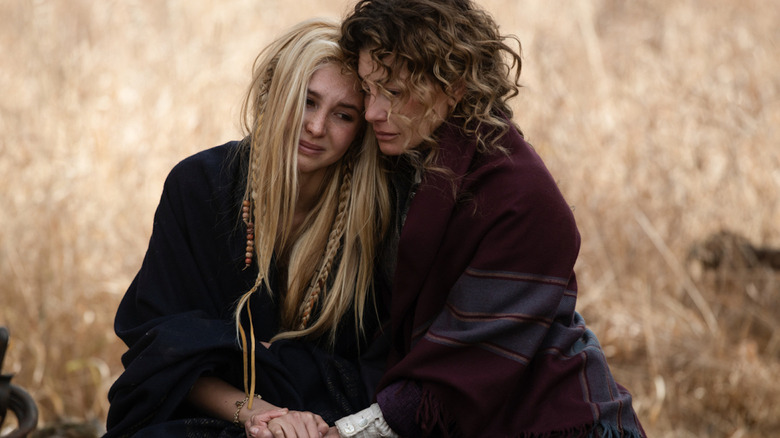 Emerson Miller/Paramount+
While fans may have been desperately holding out hope for her survival, Elsa's tragic death dashes any chance that she will be back for a new season. Paramount may have ordered more "1883" episodes (via The Hollywood Reporter), but with the show revealing to us that Isabel May's character has apparently been narrating the story of her family's journey to Montana from the afterlife, chances seem very slim she will show up in the future. Yes, there is always the possibility that May could reprise her character through additional narration (now that the show has established at least one dead character can address the audience), but interviews with "1883" creator Taylor Sheridan and May imply Elsa's story is well and truly done.
Speaking with Deadline in the wake of the finale, Sheridan's comments about Elsa have a striking tone of finality. He shared with the outlet, "I created this peek through time to show you this one specific journey. I'm not someone who likes to tie everything up in a bow and explain how everyone lived happily after — or didn't. I'd rather you imagine it." Although he made no mention of Elsa, his pointed comments about being purposeful in choosing what elements of the story to focus on give the impression that we've seen all we are ever going to see of the eldest Dutton child. Sheridan remarked, "For me, as a storyteller, it feels close-ended. I'm going to peek through the window of a different era and see what I see then."
As for May, who chatted with TV Guide about the finale, she recalled how she felt when Sheridan told her how Elsa's story ends. "It was the first sentence he uttered when he called me," she shared, "so I've had quite some time to just be comfortable with that. And I think it's a beautiful, very real story. It's tragic, of course, but it's reflective of, unfortunately, most people's journeys at that time." Much like Sheridan, May's words sure make it sound like fans have seen the last of this incredible "1883" character.