The Real Reason It Takes Euphoria So Long To Film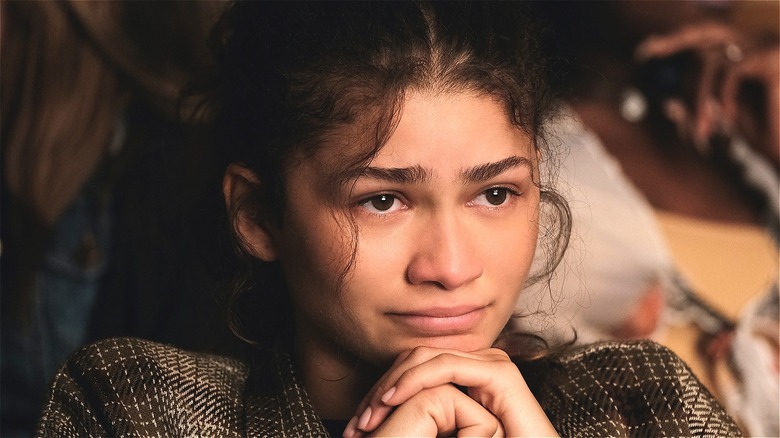 Eddy Chen/HBO
"Euphoria" wrapped up its second season on Sunday with the highly anticipated high school play from Lexi (Maude Apatow.) The season was full of extreme highs and extreme lows, taking viewers on a winding story as they caught up with Rue (Zendaya) and the other students at East Highland High School. This go-around was definitely one for the history books as it generated multiple memes, from Maddy's (Alexa Demie) "You better be joking" to Cal's (Eric Dane) "I am who I am."
Now that this season has met its end, fans across social media have the excitement of knowing that "Euphoria" has been greenlit for a third season, but the agony of knowing its arrival is most likely not coming anytime soon. The official "Euphoria" Twitter account announced the show was greenlit for another season but did not specify when fans can expect to see their favorite glitter-covered characters on the small screen again. There is heavy speculation that the show will not return until 2024 due to Zendaya's busy schedule and the gap that took place between Seasons 1 and 2.
Besides COVID-19 delays, the series takes a long time to film. "Euphoria" Season 1 aired in 2019 and production on the second season was delayed due to the pandemic. However, even when the show was able to go back into production, fans didn't get the second season until 2022. So, why does it take so long to film "Euphoria?"
The Euphoria cast says filming intricate scenes can take hours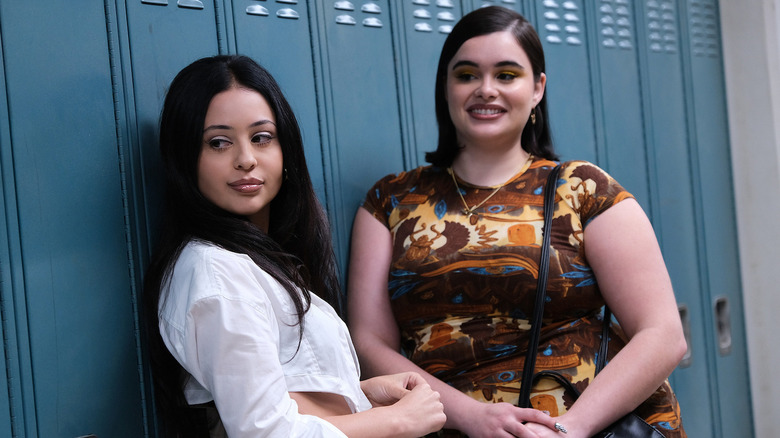 Eddy Chen/HBO
In an interview with IMDb (via YouTube), Kat actress Barbie Ferreira revealed why it takes so long to shoot seasons of "Euphoria." The actress explained that scenes in the show are extremely thought out, so they can take over eight hours to film simple scenes to get them just right. "Everything is intricately shot," Ferreira explained. "So, let's say I'm walking down the hallway to go to the mall. That will take about eight hours." The actress also stated that it is not usual for shooting to go over eight hours, with production sometimes going until around 2 in the morning.
"Euphoria" is well known for its beautiful and artistic imagery, so it's not surprising that it takes time to craft these scenes. However, the long filming days were confirmed by Ferreira's co-stars Maude Apatow and Jacob Elordi, whose comments on just how exhausting filming could be were shared by Thrillist. Additional sources who spoke to The Daily Beast for an in-depth report on the controversies surrounding Season 2 also noted a typical day of filming could hit the 15- or even 17-hour mark.
The way Euphoria is filmed is a factor, too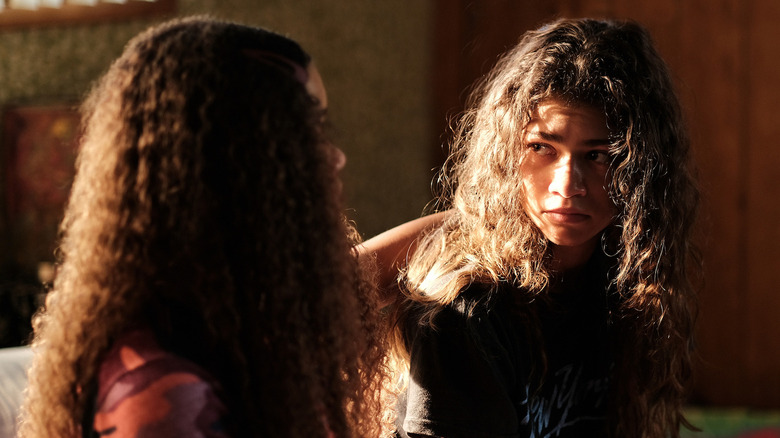 Eddy Chen/HBO
Furthermore, the second season of "Euphoria" was shot on film in the 35mm format (per No Film School). This can also cause production to lengthen as shooting on film is both harder and more expensive than shooting digitally. The show's first season was shot digitally, however, show writer Sam Levinson made the switch to compliment the atmosphere of the second season. In a sneak peek at Season 2 (via YouTube), he remarked, "If Season 1 was a house party at 2 a.m., Season 2 should feel like 5 a.m., way past the point at which everyone should have gone home."
Lastly, with Zendaya as the show's lead actress, scheduling may have been a factor in the amount of time it took to get Season 2 to the screen, as she's also juggled "Dune" and "Spider-Man: No Way Home" duties in recent years. This was the case in 2021 for the actress, as stated in an interview with Elle: "Along with filming 'Euphoria,' she was traveling the world promoting 'Dune' alongside Timothée Chalamet and wrapping production on 'Spider-Man: No Way Home.'" So, with all these factors combined, plus the fact that the creative team was ever-mindful of staying safe amidst the COVID-19 pandemic, it's easy to see why "Euphoria" takes a bit of time to film and wrap production on a season.