Is Juno Temple Really Leaving Ted Lasso?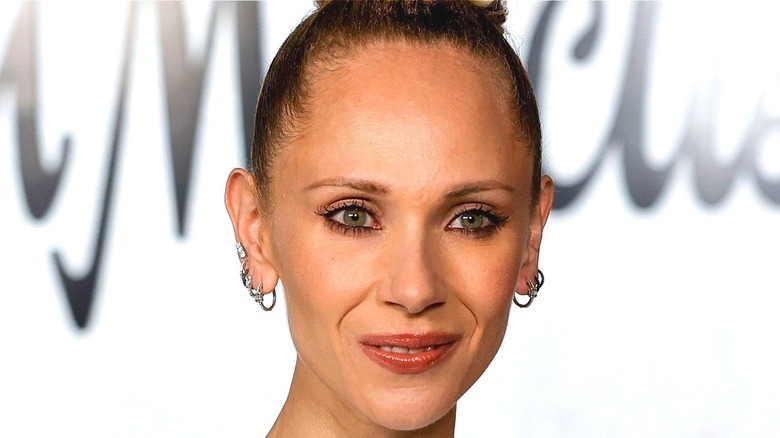 Frazer Harrison/Getty
Juno Temple is an integral part of the witty, charming, and warm cast that makes up AFC Richmond in the Apple TV+ series "Ted Lasso," which first premiered in August 2020. The show stars series creator Jason Sudeikis as an American former college football coach who takes a chance at a job out of left field to coach an English Premier League soccer team in the U.K. "Ted Lasso" has been an outstanding success for Apple's streaming service. According to CNN, "Ted Lasso" Season 1 received the most Emmy nominations for a comedy series in the award show's history back in 2020, and the series just received an award for best comedy ensemble at the most recent Screen Actors Guild Awards (via The Hollywood Reporter).
In "Ted Lasso," Temple portrays Keeley Jones, who begins the series as the girlfriend of talented striker Jamie Tartt (Phil Dunster) and eventually grows into AFC Richmond's head of public relations and marketing, as well as team owner Rebecca Welton's (Hannah Waddingham) best friend. By the end of Season 2, Keeley is happily dating Roy Kent (Brett Goldstein) and takes an offer to start her very own PR firm outside of the soccer club. With Keeley leaving AFC Richmond as an official team employee at the end of Season 2, some fans might grow concerned that the actress won't be a series regular in "Ted Lasso" moving forward. 
Luckily, worried fans can rest easy while they await Season 3, as it doesn't appear that Keeley or any other fan-favorite character is going anywhere.
Juno Temple and other cast members are reportedly getting a raise for Season 3
Not only is Juno Temple sticking around as part of the "Ted Lasso" cast for Season 3, but reportedly the entire cast will get a pay raise for the upcoming season. According to The Hollywood Reporter, Temple and cast members Waddingham, Goldstein, and Brendan Hunt, who plays Coach Beard, all negotiated pay raises from the $50,000 to $70,000 an episode range during the series' first two seasons, to somewhere between $125,000 and $150,000 an episode for Season 3. 
These raises appear to be part of contract negotiations between the show and Warner Bros. Television, which produces "Ted Lasso," which resulted in raises for a large majority of the cast and the creative team behind the show. Recent negotiations between Warner Bros. Television and Apple TV+ also touched on which company will own linear rights to air eventual repeats of the show, and whether or not Apple covers the series' increasingly high production costs for future seasons (via THR). Apple TV+ renewed "Ted Lasso" for a third season all the way back in October 2020, signaling Apple's faith in the series. 
But Sudeikis has insisted in the past that he only concepted three seasons for "Ted Lasso" when the series was created, which he spoke about on the "Fake Doctors, Real Friends with Zach and Donald" podcast back in December of 2020 (via ComicBook.com). In June 2021, Sudeikis also told Entertainment Weekly that he had not yet anticipated what might happen once Season 3 is complete. THR's newest reporting states that actors' new contracts have options for potential future seasons of "Ted Lasso."