Gratiela Brancusi Admires Her 1883 Character For Taking This Risk - Exclusive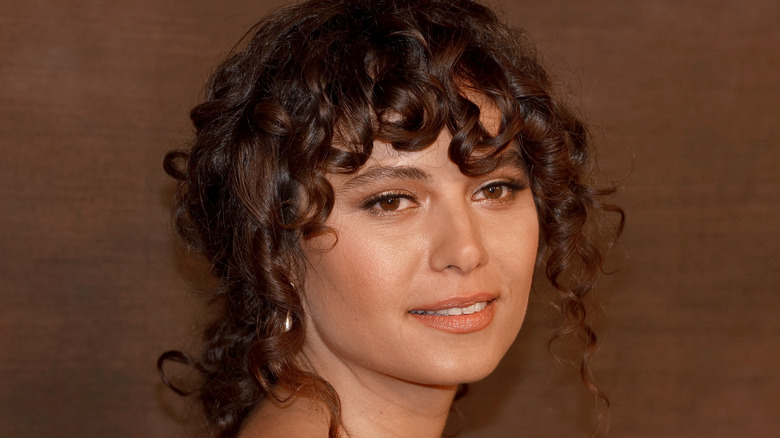 Ethan Miller/Getty Images
There's a lot going on in the world of "1883," the "Yellowstone" origin story streaming exclusively on Paramount+ that follows a wagon train of pioneers traveling across the Wild West looking for a better life. There are murderous bandits, vengeful Native Americans, and treacherous travel conditions that leave the series feeling action-packed week after week. It's the compelling characters that truly keep fans coming back for more — from the wide-eyed Elsa (Isabel May) and her exasperated parents (played by Tim McGraw and Faith Hill) to the tormented expedition leader Shea (Sam Elliott), there's no lack of drama on the trek.
One side story that fans may be invested in is the unlikely courtship between Roma widow Noemi and Black cowboy Thomas, portrayed by Gratiela Brancusi and LaMonica Garrett, respectively. It's a tale that tackles both interracial relationships and a woman finding her independence in the 1800s, as Thomas is committed to helping Noemi become self-sufficient on the trail.
It's a topic that was touched on during an exclusive interview between Looper and Brancusi, who revealed the thing she admires most about her "1883" character.
Taking a new lover is a 'bold' move for a Roma widow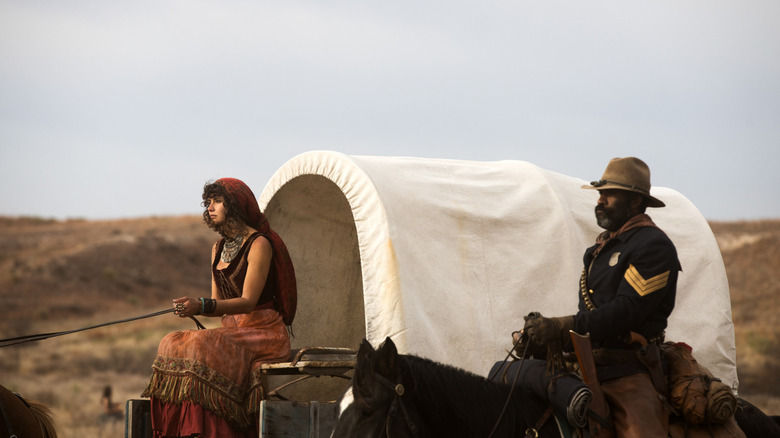 Emerson Miller/Paramount+
In the first few episodes of "1883" as the expedition was starting out, Noemi's husband was killed and she was left a widow with children. After begging Shea to take her as a wife, which he refused, she found an ally in Shea's right-hand man Thomas. By Episode 6, the two had coupled up — and Brancusi says that left Noemi "freer" than ever before.
However, making that move was a big risk on Noemi's part. "As a Roma woman — Roma widows, once your husband dies, you're a widow for the rest of your life," explains Brancusi. "You don't remarry or else you're excommunicated from the community. This is very bold for her, and it's like she's shedding skin, really, to do this."
That risk, though, is worth it, according to Brancusi. "I so loved their love story and the way that it's like a slow burn, and he's been empowering her in a way that I don't even know if I've experienced," she says. "He's been helping her build herself up so that she doesn't rely on him, which is like this selfless kind of love. She sees that, and it's the first time she experiences this kind of love."
The finale of "1883" saw Thomas and Noemi proverbially walking off into the sunset to start a new life together by staking claim to land in Oregon as the Duttons settled down in Montana. While additional episodes of the series have been ordered, there's no word yet on when those episodes will air or whether Garrett and Brancusi will return.
All episodes of "1883" are now streaming exclusively on Paramount+.