Are David Eigenberg And Christian Stolte From Chicago Fire Friends In Real Life?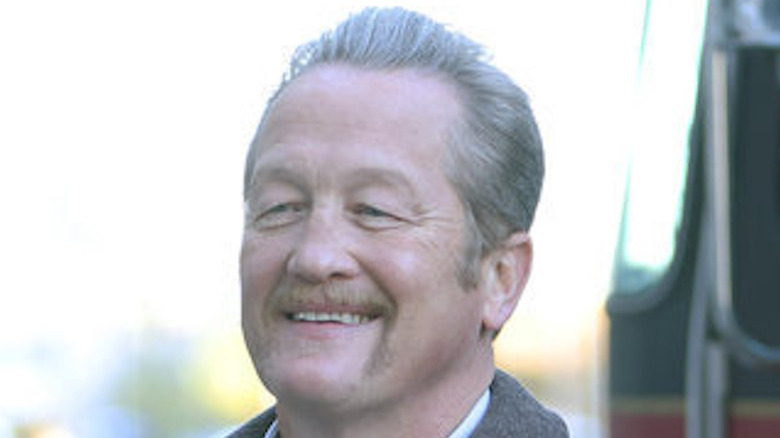 Adrian S. Burrows Sr./NBC
Can firefighters who've shared the confines of the same "Chicago Fire" station house and innumerable life-threatening blazes and emergency rescues for 10 long seasons still be pals off the set? Let's say these first responders are longtime series veterans David Eigenberg, who plays Christopher Herrmann, and Christian Stolte, who's seen onscreen as Randall "Mouch" McHolland. And let's also note that the two actors who play these Firehouse 51 vets have been on duty in the popular "One Chicago"-verse show for over 200 episodes and counting. Isn't it possible, or even likely, that they've started to get on each other's nerves by now? Or could they be thicker than thieves?
Since the popular characters they play have been with the show since it hit the airwaves back in 2012, it really wouldn't be surprising if Eigenberg and Stolte needed some away-from-each-other time when not battling high-rise fires or rescuing victims from massive train wrecks and collapsed buildings. But, as it turns out, there's verifiable evidence to found online about this burning "bros-or-not-bros" question. With no further ado, then, let's settle the issue of whether or not this fan-favorite actor duo on "Chicago Fire" is actually friends in real life.
They appear to be pretty good buds when not filming Chicago Fire
As noted above, David Eigenberg and Christian Stolte have been performing in close quarters ever since "Chicago Fire" laid the foundation for what would become producer Dick Wolf's "One Chicago" world of procedurals a decade ago. But, as indicated by Eigenberg and Stolte's respective Instagram accounts, it turns out that they appear to be pretty friendly when they're not filming new episodes.
For instance, a November 2013 post on Eigenberg's Instagram grid reveals that, even in the early "Chicago Fire" days, the actors were friendly with one another when cameras weren't rolling. A black-and-white Instagram post from Stolte in January 2017 features the actors mugging for the camera with a train seen in the background and a caption reading, "Eigie and me, we're leavin' on that midnight train to Georgia." A picture that showed up on Eigenberg's page in October 2018 seems to seal the deal as far as the two guys willing to hang out together during their downtime. In the photo, they're pictured sharing a carnival-style display showing their faces poking through two cut-outs of Christmas elves with a caption about their upcoming radio show interview (via Instagram). Perhaps the best social media post of the bunch, the one that showcases just how friendly and at ease these guys are with one another, was shared by Stolte in March 2019. The actor shared a shot of Eigenberg's face playfully cut-and-pasted into what appears to be an ad for "The Terminator," with the caption "The Herrmannator" plastered across it.
So, even though the two have shared much of the past ten years on screen together on "Chicago Fire," Eigenberg and Stolte seem to genuinely enjoy a strong friendship with each other in real life.