The Law And Order: SVU Season That Earned Mariska Hargitay Her Only Emmy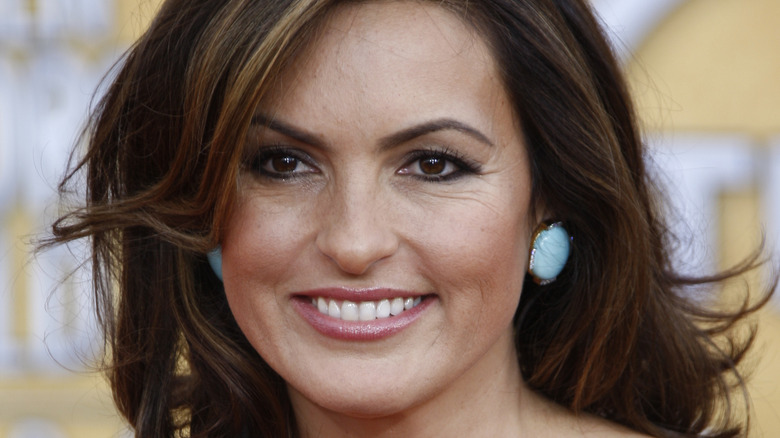 Joe Seer/Shutterstock
Olivia Benson on "Law & Order: Special Victims Unit" is one of the iconic characters of 21st-century TV. Mariska Hargitay, the actor who's been playing the character to widespread audience and critical acclaim for well over 20 years now, has become beloved by "SVU" viewers for her turn as the tough but compassionate sexual crimes investigator. Despite having been nominated for an Emmy Award for her work on the show a total of eight times, Hargitay has won just once.
This isn't the first time an actor behind an iconic television character hasn't reaped what would seem to be their share of awards during Emmy season (paging George Costanza), so maybe all the Olivia Benson fans out there should consider themselves fortunate that Hargitay won an Emmy at least once. In any case, it's interesting to take a look back at exactly which season of "SVU" Emmy voters considered her performance to be worthy of the outstanding lead actress in a drama series award.
Hargitay won her only Emmy to date for SVU's seventh season
Mariska Hargitay brought home the award for outstanding lead actress in a drama series at the 2006 Emmys. That year's eligibility window was between June 1, 2005, and May 31, 2006, which means that it was her performance on the 7th season of "Law & Order: Special Victims Unit" that won her her only Emmy (so far). 
We can even go a step further and pinpoint which episode won Hargitay her Emmy Award, thanks to a clip shared by the official "Law & Order" YouTube channel: Episode 3, "911." In the clip, Benson and NYPD officers search for footprints in a field to find a little girl who had been drugged with chloroform and buried alive. Thankfully, the search ends in triumph, with Benson discovering and reviving the child.
Unfortunately, Hargitay's last Emmy nomination was over a decade ago, in 2011, but there's always a chance she'll be able to reclaim Emmy gold for her work as the beloved Olivia Benson in this or future seasons of "Law & Order: SVU."