Who Plays Coop In All American?
The CW has produced many popular shows over the years, whether that's "Supernatural," "The Vampire Diaries," or any of their superhero series like "Arrow" and "The Flash." However, 2018's "All American" has continued to make a splash with critics and audiences (via Rotten Tomatoes). Back in March of 2020, it was even Netflix's most popular show (via Insider), as The CW releases episodes on Netflix after they air on their network.
"All American" follows high school football phenom Spencer James (Daniel Ezra) as he is presented with an opportunity from Coach Billy Baker (Taye Diggs) to attend a high school in Beverly Hills to play with his team — one that could further Spencer's career. After deciding to take the offer during Season 1, Spencer encounters some conflict with Billy's son Jordan (Michael Evans Behling). Not to mention, Spencer takes a liking to Jordan's sister Olivia (Samantha Baker) as the two bond over their own struggles. "All American" is now on its fourth season, and audiences have been through a lot with Spencer.
So far, Season 4 has featured tensions between Billy and Jordan, relationship struggles between Olivia and Spencer, and quite a bit of conflict with Spencer's childhood best friend, Tamia "Coop" Cooper after the events at the end of Season 3 where she was almost killed. Coop has been with Spencer since the beginning, having to deal with plenty of personal struggles, including coming out as gay, pursuing a music career, and trying to cut ties with a local gang member. Here's who plays Coop on "All American."
Bre-Z plays Coop in All American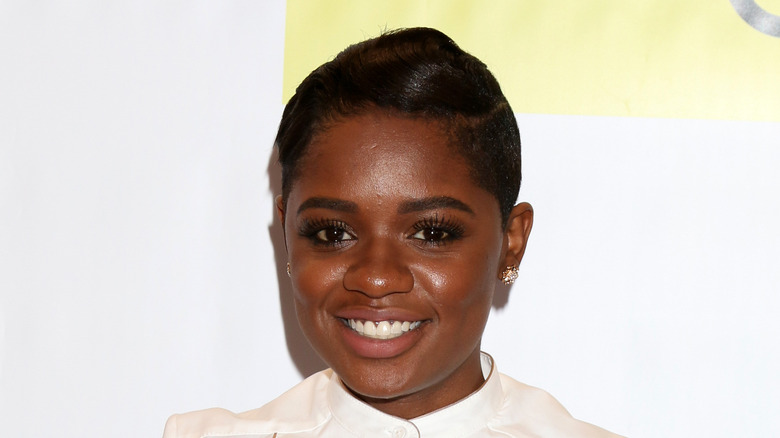 Kathy Hutchins/Shutterstock
Actor and musician Bre-Z plays Spencer James' best friend Coop in "All American." The 34-year-old had an impactful start in the entertainment industry back in 2015, as she appeared in "Empire" for the recurring role of Freda Gatz alongside stars Terrence Howard and Taraji P. Henson (via IMDb). She would play Freda for over 30 episodes from 2015 to 2019. In 2016, she portrayed herself in the TV documentary "The Hip-Hop World News," and then moved on to playing characters like Winnie in 2017's "Fat Camp" starring Chris Redd and Annabelle Acosta. However, it wouldn't be until 2018, during her second-to-last year on "Empire," that Bre-Z would appear as Coop for the first time on "All American." She has been a part of over 50 episodes of the show. It is certainly her biggest project to date.
Bre-Z also makes music, similar to Coop's pursuits as a rapper in "All American." She made many additions to the soundtrack for "Empire" during her time as Freda, along with releasing two full albums — "FULL CIRCLE" and "The Grl." Her most recent single is "BACKEND," although her most streamed song is "You Don't Ask – Remix" (via Spotify). As there has been no confirmation for a Season 5 of "All American" as of yet, it will be interesting to see what projects Bre-Z will move on to after her time with the show concludes.
Audiences can watch Bre-Z as Coop in Episode 9 of the fourth season of "All American" this Monday, February 28 on The CW.