The Mindhunter Actor You Likely Forgot Starred In Glee
"Glee," the six-time Emmy Award-winning television series that aired on Fox back in the mid 2000s, has arguably become one of the most iconic shows of its time. Following the lives of the William McKinley High School show choir The New Directions, and their teacher Will Schuester (Matthew Morrison), the series gave viewers a coming-of-age story about outcast teens who find a sense of togetherness and achievement pursuing a Show Choir National Championship. Much of the original cast from "Glee" have used the show as a springboard for their entertainment careers moving forward: There's Lea Michele, for one — who famously portrayed the passionate and outspoken Rachel Berry – who has gone on to be part of "Scream Queens," while Chris Colfer, who plays the character of Kurt Hummel, has gone on to voice characters in animated shows like "Ridley Jones." The 31-year-old is also an author with a #1 New York Times Bestselling Series, "The Land of Stories" (per The Children's Book Council).
Outside of The New Directions' original lineup, many actors who played supporting roles in Season 1 of "Glee" have also gone on to have flourishing careers in entertainment, including someone you may know from Netflix's "Mindhunter." The 2017 series, set in the 1970s, follows two FBI agents, Holden Ford and Bill Tench, who are particularly interested in the psychology of serial killers, supposedly being the first to create the Behavioral Sciences Unit (BSU) in the agency. Tench is played by veteran actor Holt McCallany, and Ford is likely a very familiar face for any longtime fans of "Glee."
Jonathan Groff was Jesse St. James on Glee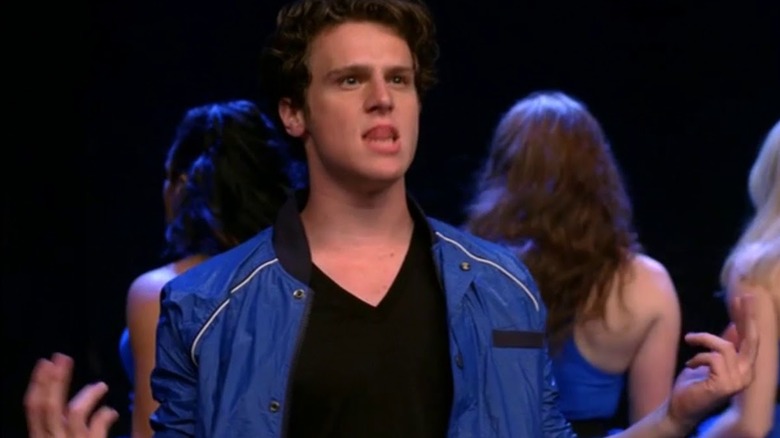 Fox
Long before starring as Holden Ford in "Mindhunter," actor Jonathan Groff was appearing in supporting parts in the early 2000s with movies like "Taking Woodstock," along with continuing a theater career on Broadway through characters in "Spring Awakening" and "In My Life." In 2010, Groff would land what would essentially be his breakout role in film and television — playing Jesse St. James, the lead singer in Carmel High School's show choir group Vocal Adrenaline on "Glee." He first appeared as Jesse in the Season 1 episode titled "Hell-O," which saw him interact with The New Directions' Rachel Berry in a record store, seemingly by happenstance. We later find out that he was tasked to woo Rachel in an effort to sabotage The New Directions.
Although Groff's Jesse would only appear in a total of 14 episodes throughout the entire six seasons of Glee, he had a complete arc in the show. Jesse's extended role at first involved trying to apologize to Rachel for the way he treated her, then taking on a role as Vocal Adrenaline's new coach, and ultimately marrying and supporting Rachel as she wins a Tony Award on Broadway in the distant future. Groff's Jesse is a fan favorite character (as seen on Reddit), who became absolutely essential to Rachel's storyline in "Glee."
Groff continues to be a major part of Hollywood. In this past decade, he has voiced Kristoff in both of Disney's "Frozen" films, along with recently appearing as Dr. Paul David in "And Just Like That..." and the newest incarnation of Agent Smith in "The Matrix: Resurrections."