The Real Reason Kate McKinnon Agreed To Join Joe Vs. Carole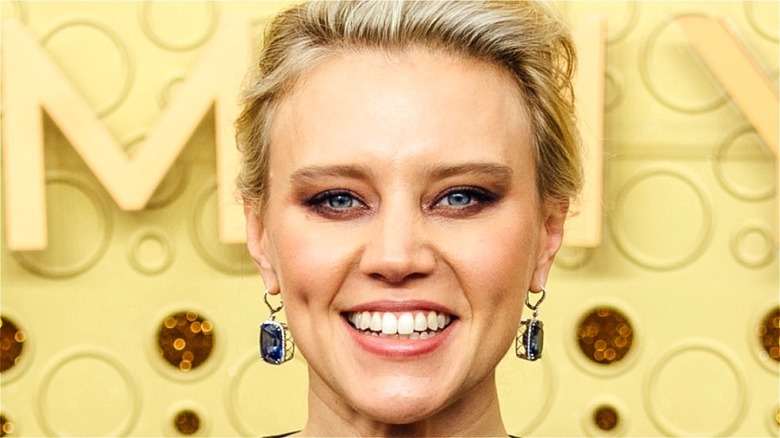 Emma McIntyre/Getty
At this point, there aren't many true crime stories more well known than the real-life feud between Joe Exotic and Carole Baskin. The story earned widespread attention around the world when the Netflix documentary series, "Tiger King," premiered on the streaming service in March 2020, and it has continued to enrapture and interest viewers in the years since that show's debut. However, before "Tiger King" brought so much attention to Baskin and Exotic's feud, the real-life story was covered in the second season of the Wondery podcast, "Over My Dead Body," which premiered in August 2019.
The podcast season served as the key source material and point of inspiration for the new Peacock original series, "Joe vs. Carole," which brings the feud between its titular characters to life in a scripted format. The series stars "Hedwig and the Angry Inch" director John Cameron Mitchell as Joe Exotic and "Saturday Night Live" cast member Kate McKinnon as Carole Baskin, and counts reliable heavy hitters like Kyle MacLachlan, Dean Winters, William Fichtner, and Nat Wolff as some of its supporting cast members.
Odds are, most "Tiger King" fans would probably assume that the show's actors signed onto it because they were intrigued by the prospect of bringing the story's many outlandish characters to life. However, for Kate McKinnon, that was only part of the reason she agreed to star in "Joe vs. Carole."
Kate McKinnon wants people to see Carole Baskin in a whole new light
In a recent behind-the-scenes featurette for "Joe vs. Carole," Kate McKinnon opened up about what initially drew her to the project and what it was about Carole Baskin that actually motivated her to accept the role in the Peacock series. "I listened to this podcast on Wondery. I thought, 'That's a kooky lady. She'd be fun to play.'" McKinnon said. "And then, as I did more research, I began to really admire her."
The actor went on to say that she felt a desire to make people better understand who Baskin really is, including everything she's accomplished and experienced throughout her life. "I really want people to see that she is a kick-ass businesswoman, a very passionate activist, and is a survivor," McKinnon revealed.
Whether or not "Joe vs. Carole" successfully manages to do what McKinnon hopes it will is, of course, impossible to know for sure. However, the show's creative team is clearly interested in exploring all the different sides of both Baskin and Exotic. "The writers have incorporated some flashbacks of the lives that [Joe and Carole] had before we meet them," Kyle MacLachlan teases in the featurette, noting that he thinks the show's exploration of Exotic and Baskin's lives outside of their feud will "give the audience a greater understanding of why they do what they do."
In other words, viewers shouldn't go into "Joe vs. Carole" expecting to see McKinnon give an entirely comedic performance as Baskin. Instead, fans should be prepared to watch McKinnon conduct a much deeper exploration of the "Tiger King" figure than they may have expected to see in "Joe vs. Carole."