Who Plays Joe Exotic In Joe Vs. Carole?
Over the past few years, TV viewers have been treated to plenty of attention-grabbing, newsworthy miniseries. However, few limited series in recent memory have captured the world's attention quite as quickly or intensely as "Tiger King" did. Premiering on Netflix in March 2020, the true-crime documentary series introduced many viewers to the chaotic life of Joe Exotic, a convicted felon who was a zookeeper prior to his arrest. In specific, the series focuses intensely on the rivalry between Exotic and Carole Baskin, the owner of an animal sanctuary named Big Cat Rescue, which ultimately resulted in Exotic being arrested and convicted for trying to hire hitmen to kill Baskin.
Considering just how popular "Tiger King" turned out to be, it didn't come as much of a surprise to many of the show's viewers when it was announced that a scripted limited series was in development based on the real-life rivalry between Baskin and Exotic. The series, titled "Joe vs. Carole," stars "Saturday Night Live" cast member Kate McKinnon as Baskin and a talented writer, director, and actor as Joe Exotic.
The multi-hyphenate talent in question is practically unrecognizable in "Joe vs. Carole," which is why most viewers will probably go into the series wondering who exactly it is that plays its titular male character. With that in mind, here's who plays Joe Exotic in "Joe vs. Carole."
Joe Exotic is played by John Cameron Mitchell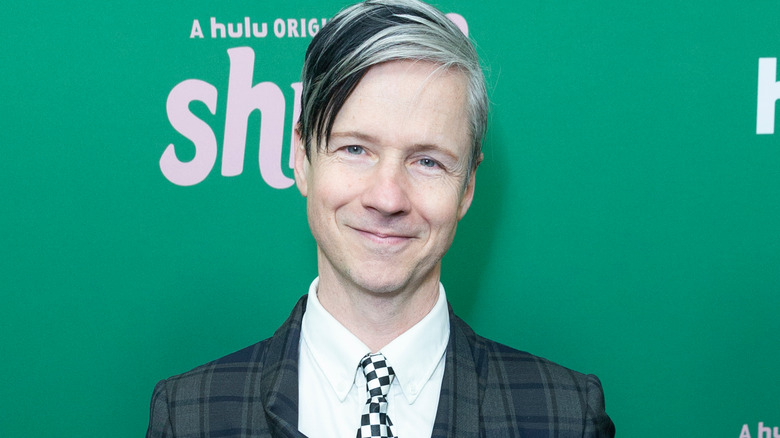 lev radin/Shutterstock
In "Joe vs. Carole," Joe Exotic is played by none other than John Cameron Mitchell. That's a name that may be familiar to certain viewers for a few different reasons, as Mitchell has extensive experience working both in front of and behind the camera. He is, perhaps, most well-known as the writer, director, and star of "Hedwig and the Angry Inch," the beloved 2001 film adaptation of his Broadway musical of the same name. Beyond his turn as the titular character in that film, Mitchell also played David Pressler-Goings in HBO's "Girls" and Andy Warhol in the short-lived musical drama series, "Vinyl."
As an actor, Mitchell also had recurring roles in "Mozart in the Jungle" and "The Good Fight," and he played Gabe Parrish in the Aidy Bryant-led Hulu series, "Shrill." Meanwhile, in addition to his work as the director of "Hedwig and the Angry Inch," Mitchell also directed the Nicole Kidman-led drama "Rabbit Hole," as well as episodes of "Nurse Jackie" and "GLOW." His other directorial credits include the 2017 sci-fi comedy hidden gem, "How to Talk to Girls at Parties" (via IMDb).
Taking all this into account, Joe Exotic is, undoubtedly, one of the biggest screen roles that Mitchell has ever taken on. That said, his transformation in "Joe vs. Carole" makes it clear that Mitchell really did bring everything he could to his performance as the notorious "Tiger King" figure.