Peacock's Joe Vs. Carole Trailer Promises A Whole New Perspective On The Tiger King Drama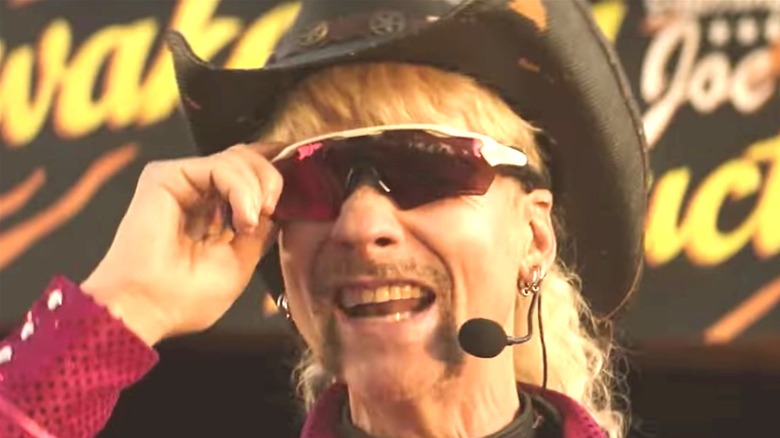 Peacock/YouTube
2020 will be remembered for a lot of things, including the time that Netflix dropped arguably its wildest true crime series ever — "Tiger King: Murder, Mayhem and Madness." In March 2020, when many people around the world were hunkering down at home due to the COVID-19 pandemic, they showed up in hoards to watch the series chronicling the life of Joe Exotic. 
The stranger-than-fiction tale follows Joe, an eccentric man who used to own and operate the G.W. Zoo in Wynnewood, Oklahoma. He loves writing original songs, bossing people around and playing with his tigers and other exotic animals. However, the one thing on this Earth that he can't stand is Carole Baskin, which is how he ended up in the prison he's still in today. Baskin, for her part, is the owner of Big Cat Rescue in Tampa, Florida. Long story short, Exotic was charged and convicted for paying a hitman to murder Baskin, his sworn enemy. 
Since the release of "Tiger King," both Joe Exotic and Carole Baskin have become household names. Interest in the show has led to plenty of other content being produced — including an upcoming Peacock TV show that will offer a fictionalized take on the wild story. Now, the trailer for "Joe vs. Carole" has been released, teasing a first look at what viewers should expect.
Carole Baskin takes center stage in Joe vs. Carole trailer
Peacock has finally released a trailer for "Joe vs. Carole" starring John Cameron Mitchell and Kate McKinnon as the titular stars. The trailer takes a different, more dramatized approach to the story than the true crime series which inspired it, with a larger focus on the mind and experiences of Baskin as she tries to protect herself from Exotic. Kyle MacLachlan (of "Twin Peaks" fame) plays Howard Baskin, Carole's husband and right-hand man ... no, not the husband that Exotic thinks Carole fed to the tigers. 
The trailer for this upcoming limited series not only centers around the infamous murder-for-hire plot of Baskin, but also touches on the filming of the documentary that later became "Tiger King." It breaks the fourth wall entirely, by showing how not only how the personal back-and-forth took its toll, but as well as the public's perception of the characters once they blew up on Netflix (Baskin, for instance, experienced death threats). This also serves to differentiate it from "Tiger King," which will be necessary for many viewers.
Stay tuned, because the wait won't be long: "Joe vs. Carole" is set to premiere March 3 on Peacock.