The Star Trek: Discovery Line Fans Thought Was Way Too Cringey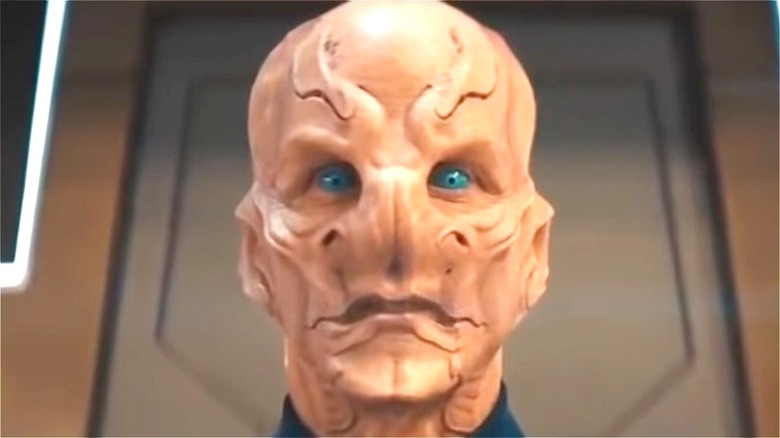 Paramount+/YouTube
Although it's been a few years since audiences have seen a new "Star Trek" movie on the big screen — the universe continues to flourish on the small screen. "Star Trek: Discovery" introduces a brand new ship, with a fresh cast of Starfleet officers to boldly go where no one's gone before. The series mainly follows Michael Burnham (Sonequa Martin-Green), a free-spirited Starfleet officer who also happens to be Spock's (Ethan Peck) adopted sister. The series starts well before the events of the original 1966 series, but the Discovery's adventures later take them into a far-flung future where Starfleet is a shell of its former self.
That's without mentioning the way it dabbles with the Mirror Universe — something longtime "Star Trek" fans will be familiar with, as it's an alternate version of our reality where everyone's a little more villainous. In fact, the entire human empire is ruled by Emperor Georgiou (Michelle Yeoh) who doesn't die in the parallel universe — instead, she becomes a bloodthirsty dictator.
The reviews have been kind to "Star Trek" Discovery," and it holds an 86% critic rating on Rotten Tomatoes against a disappointing 36% audience score — ouch. The series was met with backlash before its 2017 premiere due to complaints about its brilliant diverse cast. On the other hand, it's clearly successful and popular enough that CBS continues renewing the series. However, there is one "Star Trek: Discovery" line that fans thought was way too cringey.
Star Trek fans didn't like the Elon Musk reference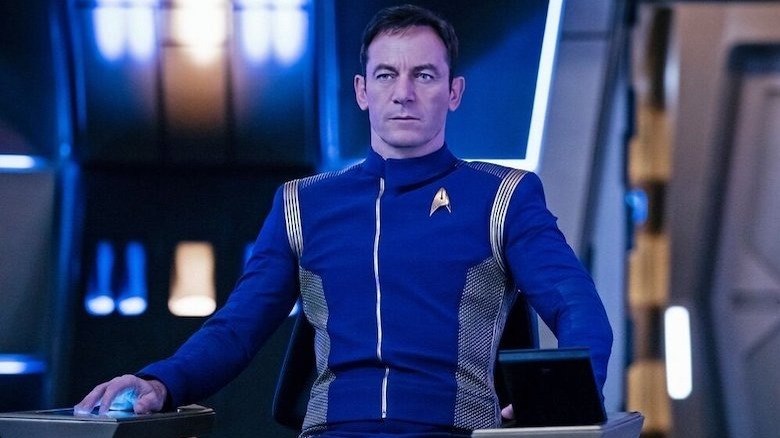 Paramount+
In "Star Trek: Discovery" Season 1, the titular ship is captained by Gabriel Lorca (Jason Isaacs) — a tough, but fair leader who isn't afraid to be spontaneous when it comes to operating in uncharted territory. He's also not afraid to butt heads with his crew when it comes to getting them to obey his orders, as seen in Season 1, Episode 4, "The Butcher's Knife Cares Not for the Lamb's Cry."
When Lorca orders Lieutenant Stamets (Anthony Rapp) to put aside his research to activate the experimental Spore Drive, he motivates him by suggesting it will cement his place in history. He says "How do you want to be remembered in history? Alongside the Wright Brothers, Elon Musk, Zefram Cochrane?" 
"Star Trek" fans on Reddit weren't happy that the show name-dropped the high-profile businessman. Many people thought it was an awkward reference, including r/U mr_mini_doxie, who wrote, "Oh, yeah. That one made me cringe hard." u/Anndra27 joked that because Lorca holds Musk in high regard, the line is the "first clue he was from the mirror universe." Meanwhile, u/OrwellianUtopia1984 added, "We're already in the mirror universe. Our Musk IS the mirror Musk." Well, that's a scary thought.