Why Howard Baskin From Joe Vs. Carole Looks So Familiar
It wasn't necessarily expected that the true-crime docuseries "Tiger King," about the life and times of Joe Exotic, would become one of Netflix's biggest-ever runaway successes. But what was even less expected was that the show would provoke such a shockwave of public interest in the Exotic case as to inspire even more probing and mining by TV production houses.
But now, here we are, standing right before "Joe vs. Carole," the fictional limited-series take on the story previously laid out by "Tiger King." Developed by Etan Frankel with the second season of the Wondery podcast "Over My Dead Body" as its primary source material, "Joe vs. Carole" is streaming on Peacock on March 3.
As tends to be the case with dramatizations of famous real-life sagas, the show has already drawn a lot of attention for its casting decisions, with particular media fanfare having resulted from the enlistment of John Cameron Mitchell as the Tiger King himself. Around him are equally interesting choices like Kate McKinnon as Carole Baskin, Nat Wolff as Travis Maldonado ... and, of course, the TV legend who's playing Carole's husband, Howard Baskin. Here are a few of the shows and movies where you might have seen this iconic actor before.
Kyle MacLachlan started out as David Lynch's go-to leading man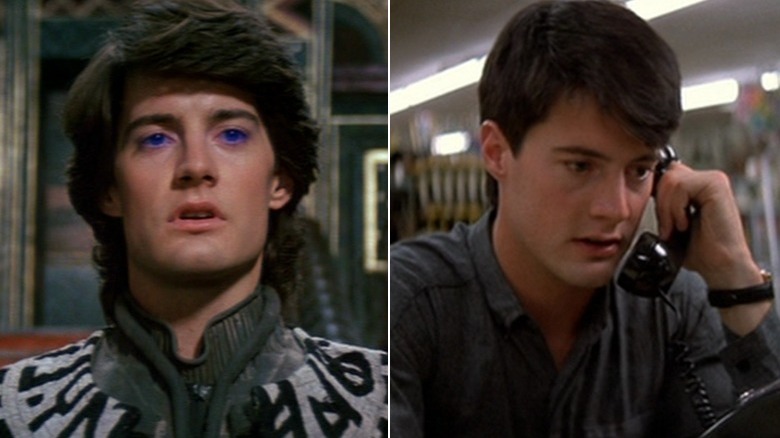 Universal Pictures, De Laurentiis Entertainment Group
Kyle MacLachlan began his trajectory as an actor in high school, when his mother made him enroll in a local youth theater program in Yakima, Washington, of which she was the director (via The Los Angeles Times). Years later, he got a BFA in Drama from the University of Washington and began to act in plays. His stage experience eventually led him to be found by a casting agent working for producer Dino de Laurentiis, who was looking for a young actor to star as Paul Atreides in the first screen adaptation of "Dune."
MacLachlan got the part, and, although the 1984 "Dune" was a critical and box office flop, it allowed the actor to develop a successful working relationship with director David Lynch. Thus, when callbacks when hard to come by following the failure of "Dune," it was Lynch who gave MacLachlan a lifeline, by casting him in the lead of his 1986 neo-noir masterpiece "Blue Velvet." In what would become his signature film performance, MacLachlan played Jeffrey Beaumont, a college student who begins to investigate a dark suburban mystery.
He became a superstar as Agent Dale Cooper on Twin Peaks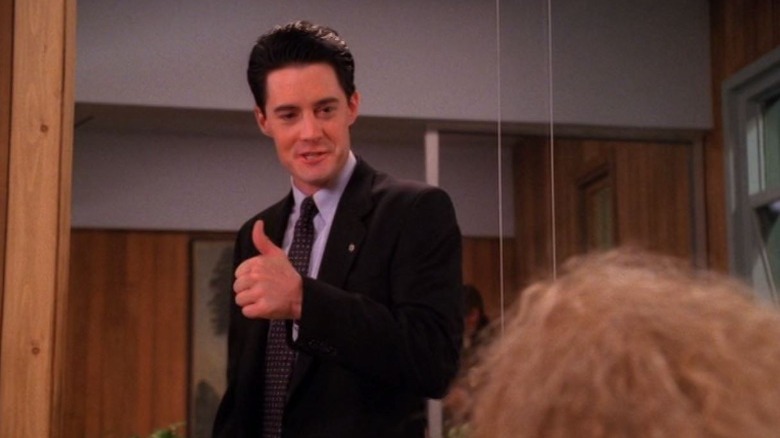 ABC
By the 1990s, Lynch and MacLachlan were inseparable enough as associates that the actor's casting on "Twin Peaks" was a no-brainer. The ABC mystery drama, created by Lynch and Mark Frost, permanently changed the face of TV over the course of its three surreal seasons, serving up more iconic episodes, moments, characters, lines, and images than the next 10 network TV mysteries put together. And no character was more iconic than Dale Cooper, the FBI Special Agent who's sent to the titular town to investigate the death of Laura Palmer (Sheryl Lee).
Quirky, idealistic, cheerful, and idiosyncratic, Dale Cooper was totally unlike any other cop show lead, and MacLachlan committed resolutely to a cheerful performance style that made him a vital offset to the surrounding darkness. David Lynch himself, when asked about MacLachlan's star-making moment in a 1992 issue of GQ, explained that "Kyle plays innocents who are interested in the mysteries of life. He's the person you trust enough to go into a strange world with" (via Twin Peaks France).
MacLachlan also reprised the role, arguably his most famous and recognizable one, in the 1992 prequel film "Twin Peaks: Fire Walk With Me," and the 2017 prequel miniseries "Twin Peaks: The Return."
He was Charlotte's dream catch Trey MacDougal on Sex and the City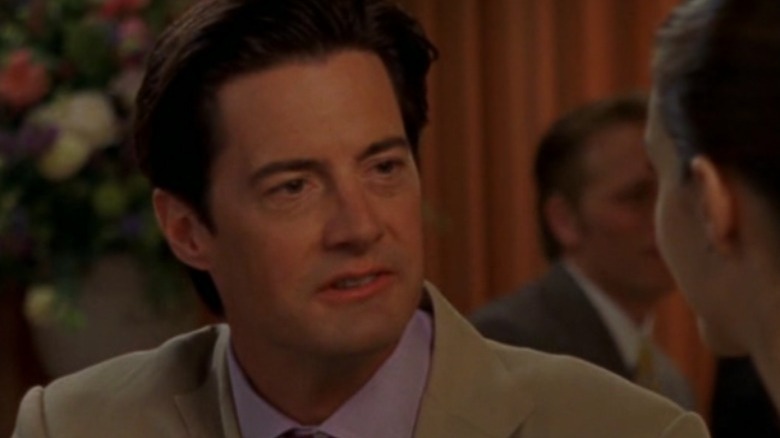 HBO
"Sex and the City" was, at its best, a show that mined the harsh realities of love and relationships for great comedy and deep pathos. An example of that came on Season 3, when Charlotte York (Kristin Davis), right on the heels of leaving a horrible date, nearly got hit by a taxi — only for the man of her dreams to emerge from said taxi to help her.
Trey MacDougal, played by Kyle MacLachlan across Seasons 3 and 4, was Charlotte's knight in shining armor. Elegant, charming, handsome, well-employed as a Park Avenue cardiologist, and incredibly rich, he was everything she looked for in a potential boyfriend or husband. For a while, their relationship seemed too good to be true. And indeed it was, as Charlotte quickly learned that Trey's old-money upbringing made him clueless, lacking in passion, and unhealthily subservient to his mother Bunny (Frances Sternhagen). The two did eventually get married, but matrimony only brought about more trouble in paradise. Man, Charlotte really couldn't catch a break.
He was the mysterious Orson Hodge on Desperate Housewives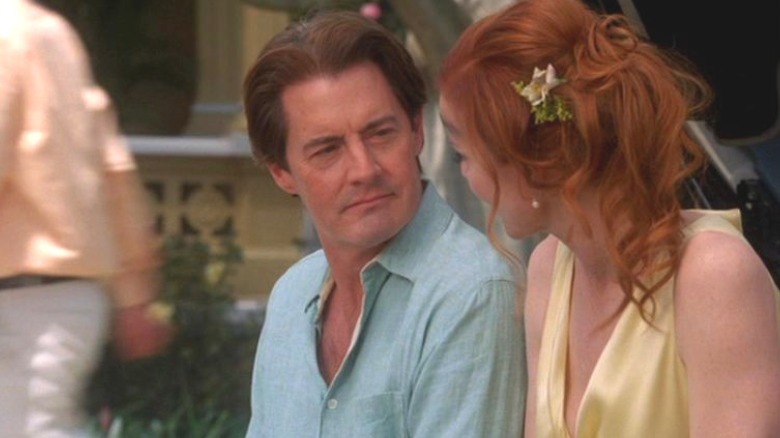 ABC
"Sex and the City" wasn't the only high-profile TV series Kyle MacLachlan appeared in post-"Twin Peaks." He also guest-starred on a memorable episode of "Law & Order: Special Victims Unit" in 2004, and had a leading role on the short-lived ABC crime drama "In Justice." But it wasn't until "Desperate Housewives" that he returned to TV screens in a full-time capacity.
MacLachlan's character, Orson Hodge, was initially introduced in the last few episodes of Season 2 as a new, intensely compatible, and committed love interest to Bree Van de Kamp (Marcia Cross). In typical "Desperate Housewives" fashion, the season finale revealed that there was a darker, dangerous side to Orson. From then on, MacLachlan became the focal point of the series for the majority of Season 3, with the mystery of his past and his connection to a murder case making up the bulk of the season's intrigue. By the end of the season, Orson was consolidated as a Wisteria Lane resident, and MacLachlan continued to appear on "Desperate Housewives," as a regular until Season 6 and as a guest or recurring star on the final two seasons.
He was Daisy's conflicted dad Calvin Johnson on Agents of S.H.I.E.L.D.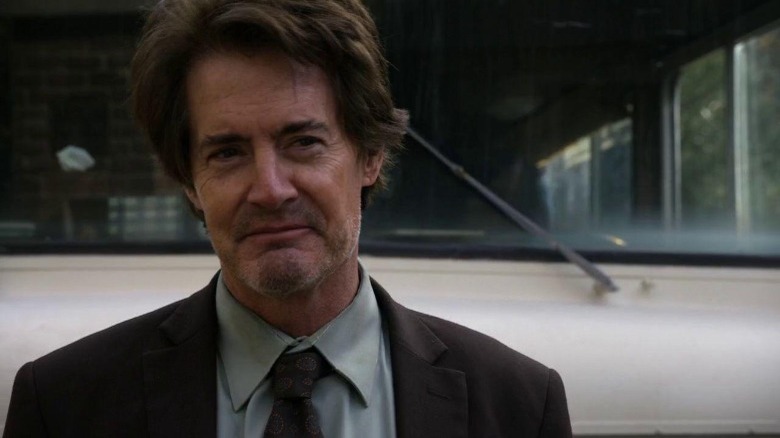 ABC
When we talk about recent, popular shows that went through some growing pains before hitting their stride, one of the first to spring to mind is Marvel's "Agents of S.H.I.E.L.D.," which aired on ABC between 2013 and 2020. While the show's charismatic cast and perky MCU-esque tone made it a breezy enough watch, a lot of the first season was concerned with meandering, underdeveloped plots that struggled to retain interest. After the in-universe shakeup spurred by the events of "Captain America: The Winter Soldier," however, "Agents of S.H.I.E.L.D." took off, and stayed in the stratosphere until the end of its run.
Fans of the show will usually point to one exact stretch where "Agents of S.H.I.E.L.D." became appointment viewing, with compelling drama, fascinating character dynamics, and savvy exploration of comics lore: The Season 2 Mister Hyde arc. If the show's protagonist, Skye/Daisy (Chloe Bennet), previously suffered from undercooked characterization, the discovery that she was a superpowered Inhuman descended from the Inhuman leader Jiaying (Dichen Lachman) and mad scientist Calvin Johnson helped Daisy mature along with the show. And it's no exaggeration to say that MacLachlan's performance as Calvin was among the best and most memorable in all the MCU. His wavering between campy supervillain and devoted yet conflicted father and husband was just that much of a high-wire act.