The Law & Order Cameo That Had Fans Buzzing During The Season 21 Premiere
"Law & Order" recently returned to screens for the first time in 12 years, becoming the latest beloved series to be given the revival treatment. The 21st season of Dick Wolf's beloved legal drama has arrived at a good time for the franchise, with spin-offs "Law & Order: Special Victims Unit" and "Law & Order: Organized Crime" still going strong in their own right. Given how much the actors of this franchise enjoy working with each other, it wouldn't be shocking to see some crossover episodes in the near future. But that's all hopeful speculation for the time being.
Season 21 will feature returning players like District Attorney Jack McCoy (Sam Waterston) and Detective Kevin Bernard (Anthony Anderson) along with newcomers such as Detective Frank Cosgrove (Jeffrey Donovan), Lieutenant Kate Dixon (Camryn Manheim), Executive Assistant District Attorney Nolan Price (Hugh Dancy), and more. The future looks bright for "Law & Order," but the creators haven't forgotten about the past either, as evidenced by the unexpected comeback in the season premiere.
The return of Jamie Ross was 'comfort food' for Law & Order fans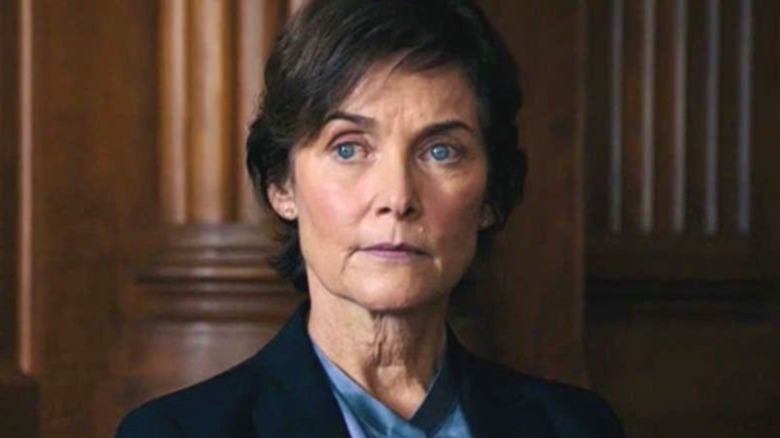 NBC
Carey Lowell, who played Assistant District Attorney Jamie Ross in "Law & Order" and its spin-off "Law & Order: Trial by Jury," shocked fans when she reprised her role in the 2022 revival. In the first episode, she meets with Nolan Price, who questions her for a trial involving a sexual predator named Henry King. Ross was involved with a previous case against the criminal, but she isn't willing to answer any of his questions.
It remains to be seen if Ross will have a bigger part to play in Season 21, but "Law & Order" fans were delighted to see her back, even if it only amounted to a cameo appearance. "She killed it! Still risking her career for her 'bleeding heart' ideals," wrote Twitter user @RobotHeather. This sentiment was echoed by @MMcDougal_80, who revealed that her "jaw dropped" when she showed up before describing the cameo as "comfort food for the soul."
However, some viewers wanted more from the character's return. "I loved seeing her back but I was a little disappointed we didn't get a scene with her and Jack," noted @Justicerocks11.