Ainsley Seiger Talks Christopher Meloni And Dylan McDermott On Law & Order: Organized Crime - Exclusive Interview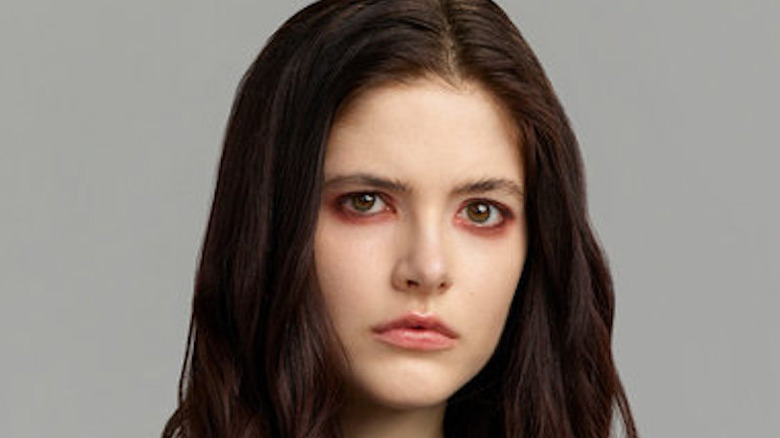 NBCUniversal Media
When "Law & Order: Organized Crime" premiered in 2021, it became the seventh overall series in the "Law & Order" franchise and the first spin-off of "Law & Order: Special Victims Unit." It also was Ainsley Seiger's very first acting role in Hollywood, portraying hacker-turned-NYPD detective Jet Slootmaekers.
The 23-year-old actor stars alongside Christopher Meloni and Dylan McDermott on the series, which returns to NBC tonight (February 24) after a winter hiatus. The veteran actors play Detective Elliot Stabler — whose role originated on "SVU" — and notorious mobster Richard Wheatley, respectively, who are embroiled in a game of cat and mouse as Stabler suspects Wheatley murdered his wife.
It's a storyline that's expected to wrap up soon, even though it dominated the first two seasons of "Organized Crime," as McDermott has been tapped to star in another show on another network, CBS' "FBI: Most Wanted," which was also created by "Law & Order" mastermind Dick Wolf.
Before his exit, Looper spoke exclusively to Seiger, who talked about working with him and Meloni and gave some insight into what it's like being a "newbie" on set and where her character's storyline might go.
Ainsley Seiger tries to keep an 'open mind' as an industry 'newbie'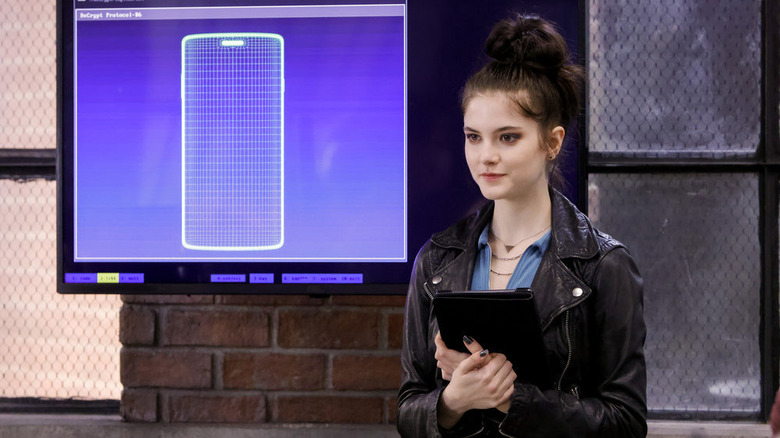 Will Hart/NBC
We're really excited for Season 2 of the show to return. I know last season was basically your very first acting gig. Was it trial by fire, and do you feel like an old pro by now?
It certainly was trial by fire. It still feels a little bit like that, if I'm being honest. Not in the sense that I'm constantly as anxious as I was during Season 1, but in the sense that I still very much am learning. Chris [Meloni] joked the other day, I said something about wanting to make sure that I stuck the landing on my mark before I delivered the punchline. He was like, "Look at her. Three months in the industry and already she knows more than all of us!"
I am trying, at this point, to every day, keep a super open mind. What's refreshing and the most relaxing part about being the newbie is that being the newbie affords you a lot of room to make mistakes. It also affords you the room to be able to keep a beginner's mind, which is such an important concept for any actor. I actually don't know much of anything. It's way easier to stay present in the fact that I don't know anything.
Has anyone in the cast taken you under their wing and helped guide you or mentor you in any way?
This is also another really great aspect of being a newbie. I am surrounded by so many actors who are way older than I am, who have so much more experience than I have, and who are also kind and generous and willing to help guide me rather than being sticklers who are like, "Ugh, come on. Just hit your mark and say your lines." There's so much more involved in the process. It's always nice to know that people who are making these shows and who are involved in these shows who have been doing it for as long as they have been aren't jaded, aren't uninterested, aren't just showing up for the paycheck. Everyone really cares.
That being said, I feel really lucky to have a great relationship with Chris, and with Mariska [Hargitay from "Law & Order: Special Victims Unit"]. Danielle [Moné Truitt] too, I'll talk to her about stuff that's going on in my own personal life. We were about to start shooting a scene the other day and she leaned over before the camera started rolling and she was like, "Hey, okay, let me give you some advice. Next time this happens..." It's very clear that everyone really cares. I am very, very grateful to be going to work every day in an environment where I feel safe and taken care of by them.
Christopher Meloni is 'always willing to dive into a joke'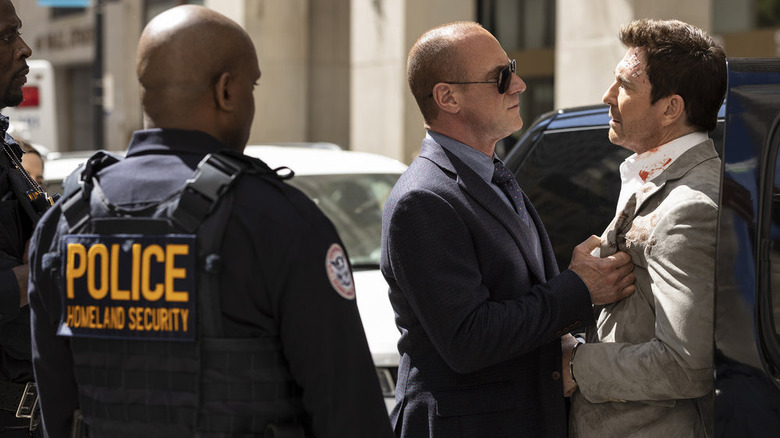 Eric Liebowitz/NBC
What's it like working with Chris and Dylan McDermott? Any funny or memorable stories you can share?
Dylan actually is one of the people who, when I worked with him for the first time — Wesam Keesh, who plays Malachi, and I had a little conversation with him and he was the first person to put that into words, this concept that he's been doing it for so long and he still loves doing it. He does it because he loves it, not because he feels obligated. It was a really eye-opening conversation and such a relief to see someone like him who's still doing so well. [He's] someone who still cares about the craft as much as he does in the sense that, okay, I'm 23 years old and I don't have to lose the love for it. This feeling doesn't have to end.
I have only worked with Dylan, not even a handful of times, maybe once or twice. Having worked with Chris as much as I have, I do have a lot of great stories. My favorite thing to say about Chris is that he is so funny and he is so willing to dive into a joke or a bit, and he doesn't take anything personally, which is great because I have been so mean to him. That's my favorite thing about working with him. He can be very intense and very serious, and he can be very "I'm protective Elliot Stabler." When the cameras are not rolling, he is having the best time. I love to look over in the corner of the room and see him almost in splits, just hanging out.
It's presumed that Dylan is ending his run on the show as he's moving over to "FBI: Most Wanted." How do you hope his storyline gets wrapped up — gone for good or chance to come back?
I hope that we never have to see him again, not because I don't love Dylan, or because I don't have love for the Richard Wheatley arc or even the character. He's been around since the inception of our show, but I am ready to see Elliot be able to grow past this rivalry that he has with him. There's something about Richard Wheatley that cancels out something in Elliot. They're perfect foils in that way, which is beautiful to see on your television screen. I also am hoping for the best and rooting for Stabler, always. I want him to be able to move past this, and I want him to be able to thrive and flourish and not have to be constantly looking over his shoulder every two seconds to see if this bastard in a Prada trench coat is on his tail.
She made a surprising connection during the SVU crossover event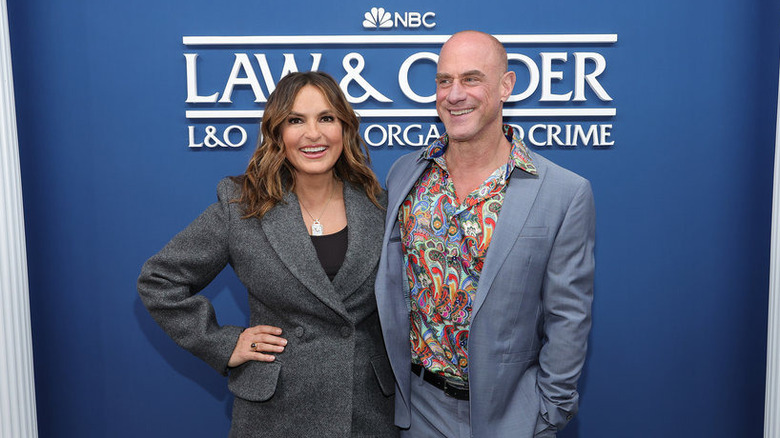 Cindy Ord/NBCUniversal
I know Jennifer Beals and Denis Leary were recently added to the cast. Have you worked with them yet, and what do you hope they bring to the show?
I have not worked with them yet. I've been so excited that they've joined though because I've heard nothing but great things. I was excited to sit down in the makeup chair and have our makeup artists be like, "Oh, and by the way, they're great. Denis is, oh my God, he's such a standup guy." It never gets old when the people who are involved in the show are saying good things about the people who are joining the cast. Our show, in general, has been profoundly lucky in the sense that everyone who comes and works on it is aware that it's a labor of love, and is committed and excited, and are good people to the core. I'm super excited about the prospect of working with them eventually, if that ever happens.
How was it filming the "Law & Order: SVU" crossover event at the end of 2021? Did anything about the experience change how you approached your character or your acting style or anything?
I had so much fun on the "SVU" set. It was one of the first times that I got to work with actors who were a little bit closer in age to me, so it was nice to be around people who, when the cameras weren't rolling, I was joking around with and constantly having fun and chatting about life, even though I was supposed to be pursuing them as a cop.
It was also great because I worked with Taylor Trensch on that episode very briefly, we had a couple of days together. When we were sitting and chatting at one point, I looked at him and said, "I think you were in the first ever Broadway show that I went to." And he goes, "Oh, really?" Because I had gone to see "Wicked" when I was in maybe the eighth grade, and he was playing Boq at the time, and I still have the Playbill. He was like, "Oh man, it was your first Broadway show? It was my first Broadway show too!" And then we were on "SVU" together, which was this super cool, full-circle New York moment.
Other than that, "SVU" was great because it was also the first time that I got to hang out with and work with these actors, these characters, who I have been watching on TV for so long. It was the most insane, crazy day — and also the most fun. I love Mariska. I was so excited to get to be a part of that universe, even for a little bit.
She wants to know more about Jet's background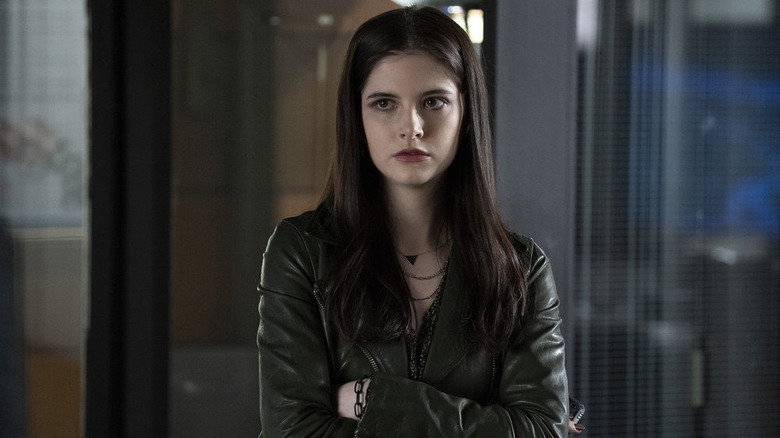 Virginia Sherwood/NBC
The original "Law & Order" is back for a 21st season after more than a ten-year hiatus. If there was a crossover event with that show, who would you be most excited to work with? I know Sam Waterston and Anthony Anderson are returning, and Hugh Dancy and Camryn Manheim have been added.
First of all, I've already been so lucky in the people that I now have in my work circle. To get to add Anthony Anderson and Sam Waterston to that circle would be mind-blowing. I also would not at all be mad about getting to work with Hugh Dancy. I am such a huge fan of his as an actor. See, even thinking about it now, my brain is short-circuiting and I'm unable to really find the words, but if a crossover event were to happen with the original "Law & Order," I certainly would not say no.
Do you have a dream storyline that you'd like to tackle on a "Law & Order" crossover event?
It would be really cool to tackle some kind of case that is really, really heavy on the cyber-crime side of it. I would love to get to see that for Jet, to be able to go really in depth into what her job actually entails as well as to see how she's handling things like that. That's why I think the Constantine arc on "Organized Crime" has been super fun because it's this gray area. I honestly don't think Jet is super used to that. It's been fun figuring out how she puts all the puzzle pieces together while figuring out morally where she stands.
What would be your dream scenario in "Organized Crime"? Where do you hope to see your character go in terms of storyline?
It's [tough] because there's so much that I want for Jet that it's a little overwhelming. I would love to see Jet outside of work. We explored it very minimally at the beginning of Season 1, and there's even a fun little email Easter egg in one of the episodes about an art show that I'm doing. I would really love to see what Jet has going on behind the scenes, creating one of her weird little sculptures or going to an art gallery. Does she have friends? Does she have parents? Did she just spring out of the ether one day, magically spawned into this world? I would love to see a little bit of what is going on in Jet's personal life. That would be fun for me.
What's the biggest thing you have in common with Jet in real life?
I think the biggest thing that I have in common with Jet is we both have very short tempers and we both love to be inside.
Season 2 of "Law & Order: Organized Crime" returns to NBC tonight at 10:00 p.m. ET, with new episodes airing every Thursday.