The Law & Order Crossover Moment That Left Fans' Jaws On The Floor
The "Law & Order" franchise is one of television's most enduring institutions, with "Law & Order: Special Victims Unit" hitting a milestone of 500 episodes earlier this year. The crime show's lasting popularity can largely be attributed to fan-favorite character Olivia Benson (Mariska Hargitay), who is now the captain of her precinct of the NYPD. Fans have been watching her character develop for over two decades — including her relationship with former partner Elliot Stabler (Christoper Meloni).
Now, the will-they-won't-they duo is reunited once again as "Law & Order: Organized Crime" follows Stabler's investigation into the murder of his wife, Kathy (Isabel Gillies), and crosses over with "SVU." The latest crossover, "The Christmas Episode," follows Stabler's family as they struggle to cope with Kathy's absence, and his son gets framed for the murder of an escort.
As Stabler works to clear his son's name, he confronts Richard Wheatley (Dylan McDermott), the main suspect in Kathy's case. However, he's redirected to Wheatley's ex-wife, Angela (Tamara Taylor), and their daughter, Dana (Christina Marie Karis). Understandably, the confrontation was a real jaw-dropper.
Law & Order fans were stunned by Angela's deceit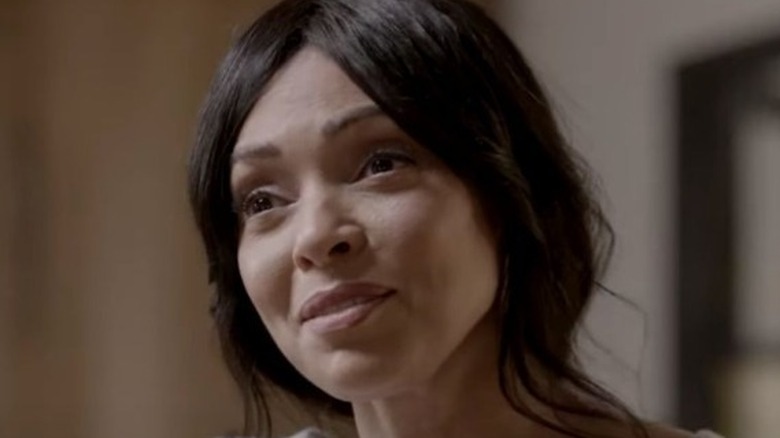 NBC
After Elliot Stabler and his partner Ayanna Bell (Danielle Moné Truitt) walk away from a seemingly fruitless encounter with a dazed and physically weak Angela Wheatley, "Organized Crime" fans were stunned to learn that they had been fooled. Angela, who had been limping around with a cane, begins to walk as usual and pours two glasses of wine. Then, she warns Dana to lay low until Richard makes another arrangement.
Fans have known to be wary of anyone associated with the Wheatley family, but this revelation comes as a surprise. Many didn't realize that Angela had been faking her injuries, taking to Twitter to call her a "mastermind" and "a stone cold assassin."
"Never thought I might hate Angela Wheatley more than Richard," wrote @StephanieLee08.
Some fans saw Angela's betrayal coming, though. "I knew it!!!" tweeted @Cathy20212022. "I knew shady Angela was playing everyone!!! Wheatley family is evil to the core!!!"
Others praised the devious character's commitment to her act, with @kathleen_hanley joking about giving her an Oscar and @FictionLoui saying, "She's an icon, she's a legend, and she is the moment."
"Law & Order" fans will have to stay tuned to find out how long it takes everyone to catch on to Angela's game.